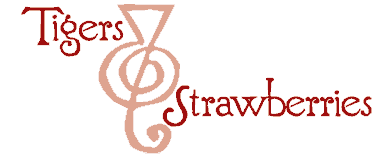 Cook Local, Eat Global
Meg of Megnut posted an article that appeared earlier this year in the Washington Post about recipes and copyright, and Kate of the Accidental Hedonist wrote a bit about it on her blog this week. When the article came out, I remember writing about it on The Paper Palate, back when I was editing that blog, and I think that the issue is pretty clear cut and simple.
Legally speaking, a recipe, per se, cannot itself be copyrighted in the USA. The list of ingredients and amounts cannot be copyrighted, but the literary expression–that is to say–the wording, grammar, syntax and sentence structure used to convey the method of putting those ingredients together is seen as a unique intellectual property akin to a poem or a short story, and thus, -can- be copyrighted. An entire cookbook, as a literary product, is copyrighted, but each individual recipe, most particularly, the ingredients list, is not.
What does this mean for us food bloggers?
Well, it means that if you read a recipe in a book, newspaper, magazine or blog, and copy the ingredients list exactly and then just rewrite the instructions for putting the recipe together in your own words, then technically, you are not "stealing" copyrighted material. You are then under no obligation to say where you got the recipe in the first place.
However, legality is not the same thing as ethics. Plenty of unethical actions are, or were at one time, perfectly legal. Slave-owning, for example, was, at one time legal in the US. That didn't make it morally or ethically defensible, it just meant that it was legal.
No, slave-owning is not the same thing as taking a recipe that someone else wrote and presenting it as one's own-I just used the first example off the top of my head of an action that was at one time legal, but was, in my opinion, never ethical to make my point that the law of the land is not the same thing as personal ethics.
As a blogger, I find it very important to have a strong sense of personal ethics that are not limited by the letter of the law.
Why?
Because I work hard writing my blog, and as a writer, I don't want anyone else presenting my work as their own. I am sure that every other writer in the world understands this, and I am pretty certain that most readers do, too. It sucks to have one's work co-opted by someone else who then takes credit for the creativity that it represents.
So, here is my take on the -ethics- of the issue of recipe writing, publishing and blogging:
If I present my own recipes to my readers, all free of charge, and give them away with the caveat that I only want them to tell folks where that recipe came from–in other words, pass down the story that tells the origin of that recipe–because that is the fun part of this blog writing business–storytelling, then it behooves me to give the same courtesy to all other recipe writers.
That means, that if I am inspired by a recipe I read in a book, newspaper, magazine or blog, and I write about it, I am obligated to tell the truth of the origin of the recipe, as that is part of the story of its origin. That way, I am not taking credit for someone else's work.
What happens if I change the recipe considerably, however, before I blog about it?
This is a good question, because really–I seldom -ever- cook a recipe as written, no matter who wrote it. Madhur Jaffrey can write it, and I don't care, I will still change it. It is just how I am. So, if I change it, do I still feel obligated to tell where it came from?
Of course. It is still part of the history of the recipe. It is part of its origin. Personally, I feel obligated to tell what inspired me to make a recipe, even if I change it beyond all recognition.
Why?
Well, I think it is because at heart I am a storyteller, and because I was trained as a journalist, and I have an interest in the history of food.
As a storyteller, I want to tell folks why a recipe is interesting, and why they should cook it up in their own kitchen. Sure, the food is tasty and all, but I don't read cookbooks just because I want to read about what food tastes like. That is secondary–I want to know the -story- behind the recipes. What compelled someone to make up this recipe? Where did it come from? Who made it first? Who passed it down to whom, how and why?
As a journalist, I remember having it drilled into my head that we must be factual, and we must, above all, tell the truth. I mean, I tend to be a bluntly honest person anyway, but that has been bolstered over the years of doing straight news reporting, which is all about "just the facts, ma'am."
And as an armchair historian, I think that food and recipes are repositories for human culture that are often overlooked by the sorts of historians who see human history as a series of wars, conflicts and names and dates. Yes, yes, all of that is interesting, and is contains the material for many a fine story, but I like to look for the story of humanity in different places–like the kitchen. And so, when I present recipes, I like to be very thorough in my description of their historical pedigree, because I think that I cannot possibly be the only person of a historian's bent who finds this stuff fascinating, and maybe, in my own little way, I am helping to document a little bit of 20th-21st century kitchen history.
So, there we are–my thoughts on the ethical considerations of recipes, writing, publishing and blogging.
What are other folks' feelings on the issue?
26 Comments
RSS feed for comments on this post.
Sorry, the comment form is closed at this time.
Powered by WordPress. Graphics by Zak Kramer.
Design update by Daniel Trout.
Entries and comments feeds.