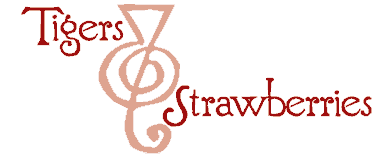 Cook Local, Eat Global
Zak decided, what with our imminent status as the parents of a newborn, that he should read up on what is going on in the world of parenting. So, he subscribed to an email newsletter about parenting from The Washington Post, and thus found out that one of the things that parents are concerned about is feeding their kids.
You know, back in the dinosaur days when I was a kid, (the late sixties and early seventies) it didn't seem that parents fretted quite so much over what to feed their kids, mostly because their kids ate what the parents ate.
I mean, yeah, we all were bottle-fed (with a few exceptions), and most of us were weaned on baby food from jars (though not an insignificant number of us also were given mashed up adult food, too), but after that, we ate what Mom and Dad and the rest of the family ate. There didn't seem to be as many concessions made to "kids' tastes" as there seems to be now.
There were no Lunchables, microwavable Kraft Mac n Cheez (like that powdered stuff is hard to make in its original form) or Chicken Nuggets, Fingers or Stix, and we kids ate vegetables other than french fries and ketchup. Parents didn't seem to do as much catering to their kids, treating the home kitchen like a restaurant, with kids eating a separate dinner from the adults.
And, near as I can tell, we middle-aged folks seemed to grow up okay.
So, anyway, I have this thing about Kids' Food. I think it is an invention of clever marketing drones and fast food emporia which have managed to get parents caught up in the idea that kids need or want to eat differently than adults. I also think that this has been detrimental to the nutrition of kids, too–fried Chicken Nug/Fing/Stix, fried potatoes and boxed Mac N Cheez are not exactly loaded with healthy vitamins, minerals and good carbs. Far from it. They are loaded with fat, salt, fat, bad carbs, some more salt, some sugar, and weird nuclear orange cheez powder, oh, yeah, and a lot of fat. This is not a nutritious diet for anyone.
Oh, and whatver happened to kids drinking milk? What is up with most kids drinking soda nowadays? When did that happen? When I was growing up, soda was a treat, and milk and water were the drinks du jour. Milk gives kids calcium to grow nice strong bones, (and fat to grow nice smart brains), but soda gives them what? Phosphorus, which makes for nice brittle bones (it leaches out calcium) and lots of sugar for nice decayed teeth and mushy bodies.
So–Kids' Food.
I don't believe in it.
But whether I believe in it or not, lots of other people do, and marketers are giving folks what they seem to want.
And this isn't just an American obsession–folks all over the world seem to be taking issue with how kids in their countries are eating.
Let's take a look at some news about kids and food:
Nick, Disney and Sesame Street Characters Start Marketing Fruit and Veg to Kids
This news is kinda old, really, but it was in that Washington Post Parenting Newsletter thingie Zak forwarded to me. Apparently, instead of just using trademarked characters like Dora the Explorer and SpongeBob Squarepants (can anyone explain to me why this cartoon is popular?), to feed kids bad food, kids network Nickleodeon has made a deal with various fruit and vegetable growers and distributors to use them to get kids to eat organic edamame, fresh cherries, pears and apples, and other healthy edibles.
I guess this is better than making Spongebob canned pasta shapes and Dora sugar cereal, but it is still weird. It is still marketing food directly to kids, using cartoon characters from shows that kids haven't quite figured out aren't real and aren't their friends. (Yet another reason to eschew TV for wee kids, as if we needed any more.) I don't much like the idea of marketing food or really, anything else to kids, because kids are vulnerable and cannot make anything resembling wise decisions based upon any kind of judgement. TV is real to a lot of kids, so they aren't equipped to really tell the difference between a show for entertainment and an ad, and well–that is really kind of, oh, not fair.
But I shouldn't just rag on Nick for this, since Disney has made a deal with Krogers to market "healthy" foods to kids that include fruit, yogurt, and other breakfast items. (Do you know how much high fructose corn syrup is in most yogurt products? No? Take a look at some of them, and then come back and tell me how healthy that really is for kids.)
Eventually, other products to be introduced will include cheese, character-shaped frozen and canned pasta; fresh and frozen meals; cut vegetables with dip; and snacks including granola bars, fruits cups and apple sauce. (Once again–how "healthy" are these foods, really? Canned pastas are usually full of high fructose corn syrup, fat and sodium. Dips for cut vegetables usually are fat laden, and granola bars are mostly sugar, high fructose corn syrup and fat.)
I really hope that parents read the labels on these new cartoon foods and not just take these companies' words on the fact that these foods are "healthy."
Some Kids May Be Genetically Predisposed To Find Veggies A "Bitter Pill"
This story, also linked via the Washington Post parenting newsletter, I found to be both interesting and frustrating.
It is interesting, because researchers have found a gene that in some variations might make some people, especially kids "supertasters" who can detect very small amounts of bitter compounds in water. When kids in a recent study were tested the same way, the ones who tended not to like vegetables such as cucumber, broccoli and olives, showed evidence of being similarly endowed with a super sensitive variant of that gene.
See, that is cool, and I can see the evolutionary advantage of such a gene, since a lot of plants with bitter compounds have poisonous alkaloids in them, some of which are deadly even in very small concentrations.
What frustrated me, however, was the ways in which parents were advised to treat kids who kept refusing to eat vegetables. Along with the sound advice to offer vegetables that kids don't like cooked rather than raw (this removes many of the bitter compounds), and suggesting tasty sauces and dips to go with the vegetables (even though the scientists noted this was probably not the most healthy way to get kids to eat veggies), the researchers said for parents not to "impose thier own tastes upon their kids."
However, most pediatricians and nutritionists say that kids' food preferences are formed very early on–perhaps as early as the first two years of life (now researchers are saying that food tastes may even be formed earlier, within the womb during the last trimester of pregnancy). This is part of the reason why nutritionists and pediatricians tell parents to keep offering foods, particularly vegetables to kids, even after they reject them once, twice, three, or ten times. What I have heard and read over and over is this: "keep trying."
Cook it differently, serve it raw, make it into soup, stew or souffle, but eventually, most pediatricians believe that you can get most kids to eat a variety of foods if you keep modelling the behavior of eating it (that means you need to eat it and enjoy it and let the kid see that) and keep getting the kid to taste it.
Hence, why I was frustrated with the statement "don't impose your tastes on your kid, because they may not be having the same taste experience you are having."
Mom's Diet Obsessions Can Be Unhealthy for Kids
I read the headline in the Washington Post and heard a big "duh!" in my head.
But I also heard another sound. The sound of a double standard, "damned-if-you-do-damned-if-you-don't" blame the parent for everything media statement that hit my brain like a crate of SlimFast.
Kids are supposedly obese, right? I mean, we keep hearing about that, right? (Even babies are obese these days.)
So, shouldn't parents model good behavior and go on diets?
Nope, because if Moms obsess about their own weight, this can lead to their daughters modelling similar behavior and ending up with eating disorders and low self-esteem?
Do you see why I am irritable with this news story? Sure, it is true that if Mom is weird about her weight, her daughters are going to pick up on it, but I find it ironic that reporters on the one hand keep talking about the dangers of obesity, how Americans are all getting fatter, and how kids are going to have lower life expectancies from it, and then, criticize women for trying to lose weight and foster dieting as a method of weight loss for thier kids.
Isn't that a little bit like saying, "Don't be fat–but, don't be weird about not being fat. I mean, don't be obsessed with not being fat to the point that you, like, make your kids crazy. But for god's sake, you don't want them to die, do you? So, don't let them be fat. But don't diet. Because if you do that you are a BAD MOTHER!"
Yeesh.
Lunch Box Inspections Allow Teachers To Become Food Police
And, now, just to prove that it isn't just Americans who are starting to obsess over fat kids, here is a story from Australia, where teachers are apparently inspecting kids' lunches from home and rejecting some of the foods parents have packed.
Chocolate birthday cake is bad.
But plain vanilla cake, without much if any icing, is okay. (But I bet there are still eggs, butter, sugar and white flour in vanilla cake…hrm.)
Basically, school teachers are going through kids' lunchboxes and taking out what they think is inappropriate for kids to eat and say that they are "educating parents" about what an appropriate diet for the kids is.
Actually, what I think they are doing is pissing parents off. At least, that is how I would feel if I was a parent who sent my kid to school with food and had it sent back as "inappropriate." Especially if it wasn't. I mean, what if they took away Thai coconut milk curry because it was "too high in fat." Or if a food fundamentalist vegan teacher decided that chicken wasn't appropriate?
Talk about a "nanny state!"
So, in closing–what is a parent to do about feeding their own kids?
Should we ignore television ads, and cartoon spokespersons and make up our minds about what is healthy?
Should we fix separate meals for kids?
Should we diet?
And for goodness sake–should we let teachers snoop around in our kids' lunch boxes?
My feeling is this–there should be no such thing as "Kids' Food."
There should just be food that kids eat. And it should be healthy (but we should let them have a bit of chocolate cake with icing now and again, too, because food is also about joy), and we should protect our children equally from food marketing and food fundamentalists.
I am sure that my readers are going to enjoy listening to me rant on this topic for years, as Kat grows, and eats or doesn't eat whatever it is her loving parents give her….
Until then, though, happy reading and eating.
15 Comments
RSS feed for comments on this post.
Sorry, the comment form is closed at this time.
Powered by WordPress. Graphics by Zak Kramer.
Design update by Daniel Trout.
Entries and comments feeds.