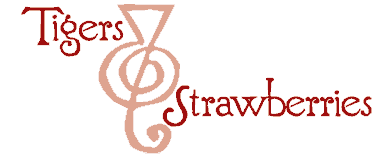 Cook Local, Eat Global
So I was cruising around the net, and reading blogs the other day and on Slashfood, I found a link to this Seattle Times article: Non appetit: Dietary restrictions can complicate social dining.
Basically, it is about the fact that because of greater prevalance in food allergies and awareness of diseases such as celiac in the US, and the growing number of people on various versions of a vegetarian diet, hosting or attending a dinner party has become an experience fraught with no small amount of issues and anxieties.
For hosts, it used to be about choosing the perfect mixture of guests, a sock-em-dead menu with the perfect wine(s) and a scrummy dessert. Now, other factors have come into play which make an already complicated social event a little bit more difficult.
From my perspective as someone who cooks for people a lot, I have a philosophy, and it is a simple one: I cannot please everyone all the time.
When it comes to health issues like food allergies, I -will not- play games or monkey around. That was beaten into my head in culinary school–that if a server comes to you and tells you that someone at table 11A has a food allergy, you -damned well- had best pay attention and if you cannot be certain that your food doesn't contain a speck of whatever it is that they can't eat, you'd best tell that server to hightail it on back to the table and tell the guest to please not order that item, because no cook anywhere, wants to be responsible for killing someone. And that is how dire some food allergies are. They can kill. End of story.
I don't mess with that. So, if I am cooking for someone for whom I have not cooked in the past, I always ask, "Are there any foods you are allergic to?"
I also will not mess with celiac disease, which is essentially a genetically-linked disorder that is a severe form of gluten intolerance. I have a friend who has it, and I have watched her suffer for over a decade through incorrect diagnoses, poor health, and not being able to tolerate or eat anything. Now that she has the correct diagnosis, and is healther than she has been in years now that she avoids gluten, I will be damned if I feed her something that is going to make her sick. Celiac disease is the same thing as a food allergy in my book–not to be questioned by a host, or ignored, but to be taken seriously, because it is related to health.
I also will not mess with religious prohibitions.
I have a Muslim friend, and she will obviously not eat pork or drink alcohol. No problem. When she comes over, I will cook pork, but only if I am cooking other things that she can eat. She isn't so strict that she will not eat from a kitchen where pork has been cooked. When she comes to eat, I make my pie crusts with butter instead of butter and lard. No big deal. It is still good, and she can eat, and we are all happy. End of story.
If a friend is a vegetarian, I make vegetarian options. No worries.
But.
There comes a point when it all gets to be too weird, too much or too strange, and I will throw my hands up in the air and say, "Screw it," and probably never ask a person back.
If someone is on a low-cholesterol diet, or they are avoiding fat or salt or they are on Atkins or whatever weight loss plan, or they only want to eat organic foods, or local or sustainable foods (though, in truth the latter is not a problem at my house) and I am giving a big party and they are coming–and they give me the list of things they avoid that while it may be for their health, it isn't a case where eating the restricted items will kill them–I will not be as likely to honor their requests.
I also don't tend to honor simple food dislikes, either. "I don't eat red meat because its icky," or "I don't like mushrooms" will not fly very far in my house, especially if I am already making concessions for people who have real food problems which will either kill them or get them in the bad graces of God.
I mean, look, I know that both Zak and Dan don't much like mushrooms (Zak is of the belief that because mushrooms grow in poop, and poop is unclean, that therefore mushrooms are also unclean), but the rest of us do, so I -will- put them in a pasta dish, and they both will pick them out and toss them into everyone else's bowls as they eat.
No harm, no foul.
And neither of them whines about it in the least. (Okay, they do whine now and again, but mostly in a kidding way. It is certainly not meant to be taken seriously, and I never do.)
But if I had invited someone over who only wants to eat sustainably raised organic food or whatever, (someone quoted in the Seattle Times story was like that) and nothing I cooked was that, and so they wouldn't eat–yeah, I would be offended. That would be rude. I also think it would be rude of them to tell me their preferences before they accept the invitation, too, because, as far as I am concerned, preferences do not have to be honored, while truly dire restrictions do.
One meal of non-organic food will not kill anyone.
One meal of something with some fat in it will not destroy a person's cholesterol count. One meal that includes carbs will not jeopardize someone's success at losing weight the Atkins way. Picking around a food that one doesn't like has never caused a person lasting harm.
However, acting like a spoiled brat who won't eat this or that, or making demands on a host that are unreasonable, might ensure that one is not invited back for dinner again.
There are solutions to these problems. There are ways to be a good guest, even if you really can eat barely anything because if you do you will swell up and die for real.
If you really are that allergic to everything, and you explain it gently to your host, and then offer to bring a dish or two that you -know- you can eat, you will go a long way toward gaining their respect and eternal gratitute. Some hosts might be offended (and if they are, they are the ones acting like spoiled brats, and maybe you shouldn't accept that invitation anyway) , but not me. That tells me that you are serious about your food issue and will take responsibility for it, and that makes me happy. That gets you invited back.
If one wants to invite a bunch of people who all have various health issues, religious dietary restrictions, lifestyle choices and food preferences, then one -could- instead of having a formal dinner party, make it a potluck. Then, everyone brings at least one thing that they and their family can eat, so that no one goes hungry. Of course, one runs the risk that no one can or will eat each other's food, but well, that is probably better than having the host tear out her hair and run sobbing from a kitchen which she has set on fire in a screaming fit of despair.
But with me, I am cool with it. When I have a lot of people over, and I am cognizant of all of the deadly food problems, I usually just make an extremely varied menu that is wide-ranging enough that pretty much everyone has something that they can eat and enjoy on the table.
And if there are a couple of people picking bits of this or that out of something and setting it aside, I don't sweat it. That is okay. They will live.
And really, if I hear any complaints about not liking this or that or another thing, I will generally ignore it, and perhaps make a note never to invite that person again.
But I rarely have that problem anyway.
Maybe it is because I hang out with people who don't assume that they are such the center of the universe that a person inviting them over for dinner has to cater to their every food neurosis or whim, no matter how trivial it is.
Yeah, I think that is why I have never had that problem: I only hang out with cool people who know how to act when they go over to another person's home.
(Which of course, makes me wonder about everyone else in the world–where did they grow up that making trivial dinner demands on a host is considered okay?)
30 Comments
RSS feed for comments on this post.
Sorry, the comment form is closed at this time.
Powered by WordPress. Graphics by Zak Kramer.
Design update by Daniel Trout.
Entries and comments feeds.