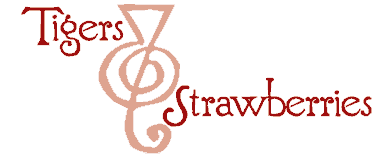 Cook Local, Eat Global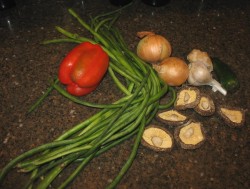 The bounty that comes from my CSA box is continually astounding to me.
This past Saturday, we were treated to a bundle of one of my favorite Asian vegetables, Vigna sesquipedalis, also known as Chinese yard-long beans. (They are also known as asparagus beans, but I have no idea why–they do not taste a thing like asparagus to me.) These beans are the same thing as a dried pea that is known in the US as black-eyed-peas or crowder peas. I never much cared for black eyed peas when I was growing up–they had an odd sweet smell and flavor that I never grew to like.
What is particularly odd about that is the immature green pods, which are served as yard long beans, do not have a sweet flavor at all. In fact, they have a distinctive starchy flavor, and an interesting tender-crisp texture–almost like regular green beans that have been blanched.They are often likened to green beans, but I don't think that they are much alike at all–green beans are much sweeter and have a "greener" more grassy flavor. Yard long beans seem to have a starchy, proteinous flavor more like a dried bean, but in a fresh bean form.
They are particularly full of vitamins and nutritients: they are an excellent source of vitamins A and C, folate, protein, complex carbohydrates and a small amount of iron. They are low in calories, and, because they lack the strings that green beans have, they are simpler to prepare: simply snip or cut off the ends, and then cut into 2″ lengths to prepare them to stir fry.
Morganna's first day of school was today, so I told her I would make her whatever she liked for supper, as a celebration. She begged me to make a stir-fry, something that I haven't done as much of recently, because as I slow down and my energy wanes, my ability to efficiently do so much kitchen prep is lowered. But, for my girl, of course, I will make a stir fry.
We had the long beans, so I knew I had to use those, and we had pressed tofu and tender boneless pork loin chops. I had fresh green chiles and a sweet bell pepper that I thought would add a note of sugar to the dish, as well as providing a contrasting color to the deep velvety green of the beans. For seasoning, Morganna asked for fermented black beans, so I added sweet onions, garlic and ginger, and I limited the condiments to light soy sauce, Shao hsing wine and sesame oil. The last flavor note I added were three rehydrated black mushrooms, whose umami fragrance really brought a strong element of the savory to the dish.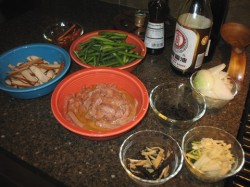 Stir Fried Yard-Long Beans with Pork and Pressed Tofu
Ingredients:
3/4 pound lean pork loin chop, trimmed of fat and cut into 1/4″ wide by 1″ long by 1/4″ thick slices
1 tablespoon Shao Hsing wine
1 tablespoon light soy sauce
2 tablespoons cornstarch
3-4 tablespoons peanut oil
1 small yellow onion, peeled and sliced thinly
1 tablespoon fermented black beans, lightly crushed
1 green jalapeno, cut into thin slivers
1/2″ chunk fresh ginger, peeled, and shredded into very thin slivers
3 large cloves garlic, cut into thin shreds
3 black mushrooms, rehydrated, stemmed and cut into 1/8″ thick slices
1/2 pound pressed tofu cut into similar sized slices as pork
1 tablespoon Shao hsing wine
1 tablespoon light soy sauce
3/4 pound Chinese yard-long beans, ends trimmed and cut on the bias into 2 1/2″ lengths
1/2 small red sweet bell pepper, cut into very thin, 2″ long slices
1/4 teaspoon toasted sesame oil
Method:
Mix meat and first amounts of wine and soy sauce together and toss with cornstarch until liquids thicken and are clinging to the meat. Set aside to marinate for twenty minutes, preferably while you prepare the rest of the ingredients.
Heat wok until it is smoking. Add peanut oil, and allow to heat for another thirty seconds, or until oil ripples and shimmers.
Add onion, black beans, jalapeno and ginger and stir fry for about a minute, or until very fragrant. Add garlic and mushrooms, and stir fry for another minute. Add meat, reserving any marinade that is not clinging to the meat. Spread meat into a single layer onto the bottom of the wok and allow to sit undisturbed to brown for about a minute or so. Add tofu to wok. Stir fry until most of the pink is gone from the meat.
Deglaze wok where marinade has clung to the sides and bottom and browned with wine and tofu, stir rapidly to scrape up marinade bits. Add beans, and stir fry for another minute to minute and a half, or until meat is done.
Add bell pepper, stir fry thirty seconds, then remove from heat and drizzle in sesame oil, stirring well to combine.
Turn out into a heated platter and serve with steamed jasmine rice.
7 Comments
RSS feed for comments on this post.
Sorry, the comment form is closed at this time.
Powered by WordPress. Graphics by Zak Kramer.
Design update by Daniel Trout.
Entries and comments feeds.