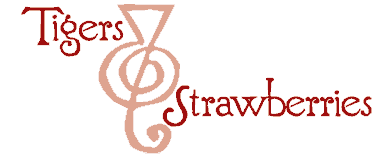 Cook Local, Eat Global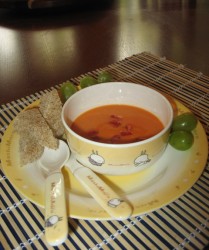 As my pregnancy wends its way into the home stretch, and I am continually reminded by the ever-more-frequent interior pummelling I am recieving of the incipient arrival of Kat, a small being whose food choices I will have a great deal of input into, I find myself thinking on the issues surrounding food and children more and more often.
Both food and children are subjects fraught with emotion to Americans; the intersection between them is a particularly perilous sea of contradiction, conflicting advice, well-meaning but misguided theories, media manipulation, health warnings, fears, paranoia and worries. Every parent must think on this issue, at least a little bit (I refuse to believe that parents just go on autopilot and feed kids whatever the television tells them to feed them–for this, I may be rightly or wrongly called an idealist), as they blunder through their experiences as the guiding light and civilizing influence upon the wee humans under their care.
We must remember that every parent brings his or her own food experiences, good and bad, prejudices, likes and dislikes and attitudes to the family table when it comes to feeding their kids, and we must also remember that no matter how poorly we think some parents make thier choices, often they believe that they are doing the best that they can for their kids and so we should be gentle in our criticism.
I cannot help but think deeply on this issue myself, because my experiences with food growing up were very different than my peers in most cases. Because my grandparents farmed, growing enough vegetables, fruits, fish, fowl, eggs, pastured beef and pork, to feed most of our family at least most of the time, I was not as firmly ensconsed in the advertising-led descent of the American diet into fast-food, packaged food mediocrity. At the time I was growing up–the late sixties and seventies, processed foods were still more expensive than plain, fresh foods, and fast food was still seen as an extravagance or treat. Sure, I still was given Kool-Aid or Hi-C to drink now and again, but water and milk were the beverages of choice, and soda or tooth-achingly sweet iced tea (which I never really liked) were given only in small amounts and as a summertime treat. People who drank soda habitually were looked down upon, and my mother and Grandmothers decried the practice of giving little kids soda habitually as being "bad for them." (Now, there was no real discussion as to what exactly was bad about it, except for the sugar content, but the practice was still widely condemned.)
So, I grew up with a mother and two grandmothers who cooked to different degrees from scratch, who used minimal processed foods, with aunts and a father who all could throw down and put a fine meal on the table, too. I learned to eat what adults ate, and little concession was made to my child's palate. Yet, still, my parents were not "food Nazis." We still enjoyed pizza and went out for McDonald's now and again, and more infrequently, to "nice" steakhouses and restaurants, where I got my first tastes of aged, rare-cooked filet mignon, a meat so far removed from my mother's thin, well-done steaks that I did not recognize them as the same food. I grew up with fishermen in the family, so, alothough I was a pre-teen before I tasted shellfish or seafood, I had a love of freshwater fish: lake perch, catfish, bass, and bluegill, with rainbow trout being my favorite food of all time.
And yeah, I ate my share of grilled cheese sandwiches made of Velveeta, with canned Campbell's cream of tomato soup, or peanut butter and jelly sandwiches on white bread. (Though, eventually, my mother relented when my father and I pressed the fact that we liked whole wheat bread (or as we called it, "brown bread") better and started buying it. I grew up with hot dogs from the neighborhood beer joint, piled high with chili sauce, raw onions, mustard and coleslaw, or fried baloney sandiwches doused in hot sauce.
But on the whole, I realized as I grew up and went over to friends' homes for supper, that my food history was very different from theirs. At their houses I encountered many more convenience foods such as frozen pizzas, Hamburger Helper, and tuna noodle casseroles (a hideous waste of canned tuna, packaged noodles and cream of mushroom soup in my opinion, both then and now), and was offered soda or Kool-Aid to drink, even though I would have preferred milk. It got to the point that I was more likely to have kids over to eat at our home, (with Mom's blessing) than I was to eat with my friends, because I couldn't stand the food they served, while with my Mom, I knew that my friends were getting good food. (And my Mom, bless her heart, would cook extra food for my friends who came from poorer households, and would carefully make sure to leave the table while we were still eating so that my friends could clear out the serving bowls without being made self-conscious. Neither she nor Dad ever said much about it, but it was their way of making sure my friends got healthy food as much as possible without hurting their sense of pride.)
Now, with all of this history behind me, I am looking forward to what it will be like to feed Kat as she grows up, continually in my care, her feeding my responsibility until she is old enough (and hopefully wise enough) to feed herself. I am both excited and humbled at the thought that it will be up to Zak and I to introduce her to the wide world of food, and it is an awesome responsibility. I -do- wonder if she will be a "picky" eater, though I am not too afraid of that possibility. If it is indeed true that food preferences are influenced in the womb, I don't think I will have to worry about Kat disliking anything, except perhaps large slabs of meat, as I have eaten a varied, whole grain, vegetable, fruit, dairy and egg-based diet from day one of this pregnancy with small amounts of fish and meat added in as I can tolerate them. If kids are affected by their parents' food choices, then I am not too concerned, as both Zak and I eat heartily and well, and Morganna, too, is very fond of good food, to the point where she cannot any longer tolerate fast food. (When she lived with her father, through most of her childhood, she ate mostly packaged and fast food, to the point that at times, I despaired of her ever liking real food.)
And, if television marketing of "kids' food" is influential, I am not too worried. None of the three of us who live in this house watch television habitually. In fact, we only have the television in order to watch DVD's of selected films and television shows, so we seem to miss out on advertising alltogether. Even our magazine consumption is such that we tend to miss most mainstream ads, to the point that when we visit friends and they have television on, we watch the commercials, stuptified at their number, inanity and crude techniques used to sell products that none of the three of us consider to be either useful or desireable. All I can think of when I watch them is "This stuff works?"
Apparently, it does with those who watch television, though, if the thing isn't even turned on, I guess marketing is pretty ineffectual.
I find myself cruising through the "inner aisles" of the grocery store, looking at all of the "kids' food" options, and pondering them. The cereal aisle is a wasteland of high fructose corn syrup and processed grains–simple carbohydrates all made "appealing" by the use of artificial food colorings in hues never seen in nature and smiling cartoon characters on the boxes. The frozen food section is rife with entrees and snacks aimed directly at kids: pizza rolls, "cheese" filled pretzel bites, corndogs, and chicken patties shaped like dinosaurs or Nickelodeon characters. A glance at the ingredients list of these items shows me that fat is apparently the primary food group for kids, with sugar and salt coming in close behind. Even the baby-food aisle is not safe from ickiness–sugar and starch seem to be the order of the day in those cute little jars of pureed foods aimed at every baby in every highchair in America.
You notice I am not even mentioning the phenomina of green or blue ketchup, as I find them to be to horrid to contemplate, because they further the idea that food for kids must be as fake as possible, and further the idea that food is not just food, but entertainment. While this is the case with adult food as well (El Bulli's novel approach to foodstuffs that surprise and delight adults comes to mind), I don't think that food she be marketed as entertainment to small children on the basis of making it look as little like food as possible.)
(Okay, there–I did mention the green and blue ketchup, even though I told myself I wouldn't.)
What is the point of this long and rambling post?
Well, that it really isn't -that- hard to cook for kids, and that cooking isn't even necessary in order to feed kids a decent meal, without resorting to crap from the freezer or from the fast-food joint down the street.
Kids don't need to eat french fries, tater or instant mashed potatoes just to save Mom the effort of cooking from scratch.
It just takes a bit of planning and effort is all.
Look at the wee lunch pictured above. Whole grain bread from the local bakery, trimmed of crusts and cut into triangles. (Kids like novel shapes cut into sizes to fit their little hands. I remember this from helping prepare lunch for my younger cousins.) Cream of tomato soup from Pacific Organics that actually tastes like tomato, and is low in fat, but still flavorful. (I like it with a dollup of sour cream, myself, but a sprinkling of freshly chopped cherry tomato is great, too.) And, locally grown white grapes, just in from the farmer's market on Saturday.
I didn't have to cook a thing, but it is a nutritious, tasty meal, balanced and flavored appropriately for a kid's palate. It is attractive, with contrasting colors and textures, and it comes on a plate with cute little Japanese cartoon character bunnies on it, with utensils sized to fit small hands.
What more can a kid ask for? And how long did it take me to put it together?
Five minutes.
I could have added cheese, in the form of a grilled cheese sandwich, made on that whole wheat bread, with some good aged cheddar cheese that is in the fridge. The only reason I didn't was because I didn't want to eat a grilled cheese sandwich after the photos were taken–so I ate bread instead. If I had done the sandwich, the time taken would have been upped to about ten minutes.
Ten minutes out of a day to make lunch is nothing. It isn't hard.
It also isn't hard to puree or mash a bit of what the rest of the family is eating for dinner to feed a baby. If you do more of it than is needed at a sitting, you can freeze it in ice-cube trays and pop the little portions into ziplock bags to be thawed up and reheated later. Heck, some adult foods care soft enough on their own without being mashed up much, and you get the added bonus that baby -wants- to eat whatever it is that is on your plate, and so will lunge for it heartily, while ignoring the very same thing that is right in front of her on her own plate. (Morganna was that way, as were all of my cousins. They saw what the adults were eating and wanted that and to hell with the crap out of jars that was being pushed at them.)
My point is this: I wish parents listened less to advertising, slowed down and spent more time in the kitchen and dining room with their kids, than worry so much about enriching their kids lives through playdates, early nursery schools, "educational" TV and infant swimming lessons.
Food is fundamental to human life. We -need- it to live, whereas a missed playdate is not going to kill us. The lack of Mozart in a baby's life will cause no great harm (what did babies do before Mozart was born, I wonder?) but, a lack of nutrients is deadly.
Food is also fundamental to culture–it is intrinsically tied to our own sense of self and history, and to our families, and to our communities. How we eat, and how we teach our children to eat reveals much about us as a people.
Currently, the dominant American media-driven culture is filled with artificial foods of dubious nutritive value, and as a partial result, we have what is continually touted as an obesity epidemic.
Is this what we want to pass on to our children?
I don't think so.
At least, I know that I don't want to, and I notice that here in Athens, where local, sustainable food is a goal worked on by a large group of committed community members, there are plenty of other parents who don't want to pass on to our kids the plastic, not so fantastic American fast food culture.
Instead, we opt to cook for our kids, and spend time teaching them what real food tastes like, where it comes from and what to do with it. We recognize the value of spending time with our kids in the kitchen and the dining room, teaching them healthy eating habits that not only help them grow strong bodies, but also happy hearts and minds. We opt to pass on older American traditions that value food as an intimate part of life, as a partner in creating bonds between family members and the community.
As we look back at these older traditions, I hope that we are also looking forward to a happier, healthier future for our kids, and others like them.
21 Comments
RSS feed for comments on this post.
Sorry, the comment form is closed at this time.
Powered by WordPress. Graphics by Zak Kramer.
Design update by Daniel Trout.
Entries and comments feeds.