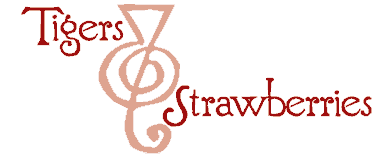 Cook Local, Eat Global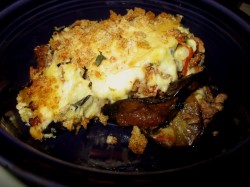 When I was pregnant with Morganna, there was one dish I craved continually, and for a while, I ate it at least twice a week.
Moussaka.
For those who have never had moussaka, it is generally considered to be a Greek dish, though, in truth, there are versions of it from Turkey, and the Balkan states as well. The Greek version is a casserole of sliced fried eggplant, layered sometimes with potatoes and maybe zucchini, a tomato and ground lamb sauce spiced with a hint of cinnamon and some garlic, and then topped with a cheese and egg-enriched bechamel sauce. (I know that I have talked bad about bechamel here in the past, and I still stand by my assertion that plain bechamel is the most boring sauce known to humankind, but the Greek version, which has all sorts of goodies added, is fantastic. Rich, but fantastic.)
When I was pregnant with Morganna, I always bought some at the local little Greek place in the mall in Charleston, and it was usually accompianied by dolmathes (rice and lamb stuffed grape leaf rolls) and spanikopita (phyllo pastries filled with spinach, mint and cheese). No matter what I ordered to drink, the owner, a lovely older lady, would give me milk (it got to be a joke between us) and usually, she threw in an extra spanikopita, or a little sweet, like a tiny piece of baklava.
She would fix me with a stern eye, and tell me, "You are carrying high–you will have a girl. That is good, all I have are a bunch of big useless boys." This statement was usually aimed at one of several of her very large sons who worked in the kitchen, patiently layering phyllo and fillings, or pulling huge pans of moussaka and pastitsio out of the ovens. Far from useless, the young men would all laugh, and when addressed thus, would invariably stop what they were doing and give Mamma a hug and a kiss; obviously, this affectionate nature was what made them "useless," for she would flap her apron at them, and give them a light cuff on the shoulder or hip.
"Back to work," she'd say with a fond grin. "See what I mean–useless–they are always finding ways to get out of thier jobs."
When I woke up yesterday with a hunger for moussaka, I was sad to know that I couldn't just head out to the mall and buy a piece from my old friends. Not only because I would not get to see them, but because that meant I had to make it myself. Which is fine–I don't mind, but it isn't a simple recipe.
One must cook the eggplant, and if one uses potatoes (I always do), one must par-cook those. One must make the lamb sauce and the bechamel, and then one must put them all together, and bake it.
The results were worth it, however, and I made enough that I had some to freeze for after Kat's birth, when I will be nursing and voraciously hungry and unwilling to take the time to make such an involved recipe.
There are a few notes I would make about moussaka, before going into the recipe:
One–if you want to lower the fat content of the dish, either grill, roast or broil the eggplant instead of frying it. Fried eggplant sucks up olive oil like a sponge. You -can- dust the eggplant with flour before frying in an attempt to forstall the soaking up of the oil, but it won't do much. The best you can do if you fry the eggplant, is have your oil heated up all the way before putting the eggplant in the pan–this will help it start cooking right away and will cause it to soak up minimal oil.
That said–I like the way that fried eggplant tastes, so that is how I do it.
Two–traditionally, one uses the big European/Middle Eastern eggplants for this dish, but I do not. There are several reasons for this. One, is that in order to purge bitterness from the large eggplant, one must slice it and then sprinkle it liberally with salt and let it "weep" for about twenty minutes to a half an hour. Then, one blots the resulting liquid from the surface of the eggplant with paper towels, and then goes about frying it.
With the little, skinny Asian eggplants that I use, one can avoid this step completely. They are so small, sweet and not as watery, that one need not purge them. They are fine without this step.
The other reason I use them is because they are the eggplants my CSA folks grow, so I have tons of them right now.
Three–one can use canned tomatoes in the lamb and tomato sauce business, but at this time of year, when my kitchen is inundated with tomatoes, why do that? It is silly. If you want to use canned tomatoes, then use them–just make sure you use somewhere around 3-4 cups worth of them, and recognize that there will be a lot of liquid to simmer away.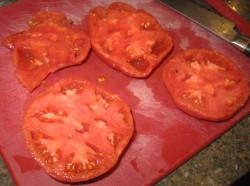 What kind of tomatoes did I use? Well, I could have used big plum tomatoes–they are coming into season now, but instead, I used a pair of huge beefsteaks. All I did was peel them, and seed them, then chopped them roughly. They were full of flesh, juice and flavor, and they made the sauce delicious, especially when combined with the dry red wine and the concentrated tomato paste. To seed fresh tomatoes, just peel them by whatever method you prefer, core them, and then slice them in half horizontally–across the equator fo the tomato. This exposes the seed capsules. With your fingers, dig out the seeds and dispose of them down the sink–not too fussy, not too messy, and very quick. Then, chop the tomato up, and you are done.
Four–the enriched bechamel. Technically, this sauce is supposed to be made with Greek kefalotiri cheese–a hard, dry aged cheese that is salty and easily grated. Well, that cheese is not so easily found in the US, so most Greek-Americans I know of use good parmesan instead, and that is what I used. In fact, in all of my years of eating moussaka, which has been many, I don't think I have ever had it with the actual cheese of choice, and have only had it with parmesan. (Some recipes add sharp cheddar to the sauce–and as much as I love sharp cheddar, I must put my foot down and say no to its involvement in moussaka. It has no place there–the flavor is too strong.) Now, my version of the sauce is pretty rich–because I added the cup of cream. That is because I didn't have three cups of milk, but only two. If you have three cups of milk and that cream scares you, use the milk, skip the cream, and make yourself happy. However, I will also say that I reduced the number of egg yolks from four to three, so you might want to add that extra yolk if you forgo the cream, in order to make a flavored bechamel with the right amount of body, and the proper silken texture.
Five–the breadcrumbs–I made my own from some stale whole wheat Itialian bread from the bakery down the road. They were great, and really added a nice crunch to the topping. Breadcrumbs from a tin–they are not as good, and don't really add much to the recipe, so I say, if you want crunch, make your own, if you don't care, leave them out.
Six–the meat. Lamb is the most traditional meat, and my favored one. Beef is a distant second in my book, because it lacks the succulence of lamb. I bet veal would be good, but I haven't tried it. A poster asked if they could use ground pork–I don't see why not, though I have not done it myself, and it would not be traditional at all. Finally, you can use ground chicken or turkey, but I don't suggest, because it lacks a lot of flavor. It might be able to be made good, but I am not sure how. Maybe you could mix lamb half and half with fowl and make a lower-fat option that way. (Really, this is not a low-fat dish, and trying to make it that way rather misses the point. Just eat it now and again and make it taste really good instead of monkeying about with it and making it lower in fat, but maybe not so good.) Oh, and one more thing about the meat–I add more aromatics to mine than most people do, but I like it that way. The addition of fresh herbs, Aleppo pepper, fresh Hungarian wax ripe chiles and more onion and garlic really add a lot of flavor to the meat, and pumps up the overall aroma of the dish, so I am all about my additions.
Okay, there go all the caveats, whytos and wherefores, so let's get down to business: the recipe. I know it is long and involved, but take heart, if a pregnant lady who is tired all the time can make this (though not quickly), so can you. And it will taste really good, I promise.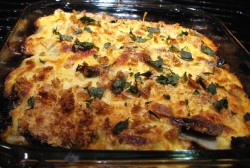 Moussaka
Ingredients:
For the Meat and Tomato Filling:
3 tablespoons olive oil
4 medium yellow onions, sliced thinly (about four cups)
1 tablespoon fresh ripe (red) Hungarian hot wax pepper, minced
1/2 tablespoon Aleppo pepper or freshly ground black pepper
1 teaspoon salt
1 tablespoon fresh rosemary, stemmed and minced
3 cloves garlic, minced (about three tablespoons)
1 tablespoon fresh oregano, minced
1/4 teaspoon ground cinnamon
1 pinch ground cloves
1 pound ground lamb
3/4-1 cup milk
2 large tomatoes, peeled, seeded and roughly chopped (about 3-4 cups chopped tomato)
1 cup dry red wine
3 tablespoons double concentrated tomato paste (the kind that comes in a tube)
2 tablespoons fresh mint, minced
2 tablespoons fresh Greek basil (mine is Greek columnar basil–or you can use 1 tablespoon regular basil) minced
1 tablespoon fresh oregano, minced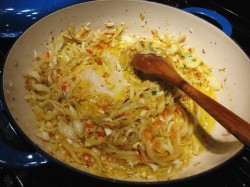 Method:
Heat olive oil in a heavy bottomed pan on medium heat. Add onions, Hungarian hot pepper, and Aleppo or black pepper. Sprinkle salt over the onions, and cook, stirring, until onions are golden. Add rosemary, garlic, oregano, cinnamon and cloves, and cook until very fragrant–about three more minutes. Add lamb, and milk, and cook, stirring, until lamb browns and falls apart, and most of the milk is cooked away.
Add tomatoes, red wine, and tomato paste, and turn down heat. Cook uncovered until the tomatoes have broken down and incorporated into the meat and most of the liquid has evaporated. Keep lightly warm. Just before using to layer the moussaka, mix in the rest of the freshly minced herbs.
For the Eggplant and Potatoes:
6-8 small Asian eggplants, well washed and dried
olive oil
2 russet potatoes, peeled
salt
Method:
Without peeling eggplants, cut them into thin rounds or ovals, about 1/4″ thick.
Heat enough olive oil in saute pan to cover bottom thinly. When it is hot, add a single layer of eggplant slices. Do not crowd pan. Beware–they will sputter and pop. (I used a splatter shield to keep the stove top and myself clean.) Allow to cook until golden on one side–about two minutes, then turn, and cook one minute more–until golden–on the other side. Remove and drain on paper towels. Repeat as necessary until all eggplant is fried, adding to olive oil in pan as necessary.
Cut potatoes in half longways, and then cut into 1/4″ thick slices.
Bring salted water to boil, and add potatoes. Cook until they are almost tender, but still a bit crisp–about eight to ten minutes. Drain carefully.
For the Bechamel:
4 tablespoons butter
4 tablespoons flour
2 cups warmed milk
pinch ground nutmeg
1 cup cream
3 egg yolks, well beaten, in a bowl bigger than you think you need
1/4 cup lemon juice
1/2 cup grated parmesan cheese
salt and either black pepper or Aleppp pepper to taste
Method:
In a medium, heavy-bottomed, saucepan, melt butter.
Add flour, and stir to combine. Cook, stirring, for about three minutes, until it forms a light tan paste (roux) that smells slightly nutty.
Add warmed milk, whisking continually. Bring to a simmer, whisking like mad. Add nutmeg, and allow to simmer to thicken.
Add cream, and whisk like mad, and allow to simmer to thicken some more. Lower heat to the lowest setting possible without going out entirely.
Take about 1/2 cup of hot bechamel, and pour into egg yolks, and whisk madly. Do not try to add naked egg yolks to the hot bechamel on the stove! This will cause the egg to cook separately, make ugly yellow lumps and all sorts of nastiness. Don't go there. This step, which sounds silly, will temper the egg yolks, warm them up slightly and let them get used to the hot sauce.
After the egg yolks are combined with the little bit of sauce, pour this mixture into the sauce and add lemon juice and parmesan and whisk like mad over very low heat until you have a thick, pale yellow sauce with cheese and egg perfectly combined.
Season with salt and pepper. Keep lightly warm.
For Assembling the Moussaka:
olive oil or oil spray
3/4 cup breadcrumbs
1/4 cup grated parmesan cheese
freshly chopped mint for garnish
Method:
Preheat oven to 350 degrees.
Grease bottom of 13X9″ glass baking pan with olive oil or spray. Sprinkle with 1/2 the breadcrumbs.
Cover the breadcrumbs with a layer of eggplant. Cover the eggplant with a single layer of potatoes.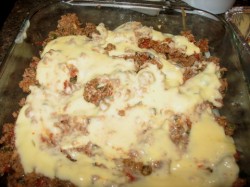 Top the vegetables with all of the meat and tomato mixture. Cover the meat with a thin layer of bechamel sauce. (The photo shows what this halfway stage of assembly looks like–just barely cover the meat with the sauce.)
Cover the bechamel with a layer of potatoes, then cover the potatoes with a layer of eggplant. Cover this with a generous layer of bechamel, and then sprinkle with all of the parmesan cheese and the remaining breadcrumbs.
Bake for 45 minutes, (25 minutes if you have a convection oven like we do) and then let sit for ten minutes before cutting.
Sprinkle generously with freshly minced mint for garnish before serving.
This is rich, so serve it with a very large, good greens-laden and vegetabliferous Greek salad. For a recipe for same, including the simplest, yet tastiest dressing in the world, come back tomorrow!

17 Comments
RSS feed for comments on this post.
Sorry, the comment form is closed at this time.
Powered by WordPress. Graphics by Zak Kramer.
Design update by Daniel Trout.
Entries and comments feeds.