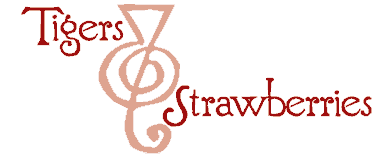 Cook Local, Eat Global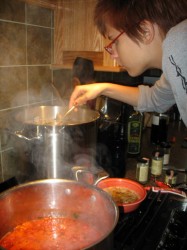 The photograph above gives a slight clue as to why there has been no post for the past two days: I have just been too darned busy.
Luckily for my readers, most of my busyness has been in the kitchen, though I have also been working on painting furniture for the nursery and working on Kat's quilt.
And today, Morganna was a strong taskmistress in the kitchen–she got me up and motivated enough to not only make stock–which you see her skimming above, but to use our huge supply of tomatoes to make marinara for the freezer for after Kat is born, and make chicken and noodles for dinner with mashed potatoes, so that we could both feed Dan, who went to Columbus with Zak to pick up our rocker-glider for the nursery, and have leftovers for the freezer. (And we had two good meal's worth of leftovers out of them–not to mention around twenty quarts of stock, two quarts of marinara sauce and chicken that we can use to make jambalaya for supper and for freezing later in the week.)
The Culinary Nerd gets very little rest…she is tireless in the pursuit of good food for her family. (I can only eat so much take out while recovering from childbirth, and so all of this work is very much worth it from my perspective.)
Needless to say–look for a big stock post on Tuesday. And maybe one about homemade marinara on Monday.
Tomorrow, I have some goodies from the blogosphere to share with you.
Until then, I leave you with this photograph–that also gives a look at the -other- action that happened in my kitchen today: Schmoo showing his unique way of getting a snack.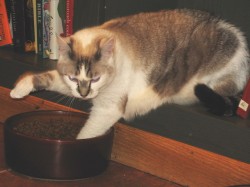 Silly Mooncat!
No Comments yet
RSS feed for comments on this post.
Sorry, the comment form is closed at this time.
Powered by WordPress. Graphics by Zak Kramer.
Design update by Daniel Trout.
Entries and comments feeds.