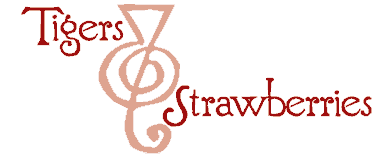 Cook Local, Eat Global
Thanks to Kate, the Accidental Hedonist, I was guided to read the web-version of the recent issue of The Nation, a very well-written leftist political journal, which is all about food.
After checking out the link and getting caught up in reading the various articles therein, I wanted to give a little taste of it to my readers and urge them to have a look as well.
The issue opens with a few words from Alice Waters, the Berkley chef who has been at the forefront of the movement to change the way America eats for decades. In "Slow Food Nation," she speaks eloquently about how we need to change from being a fast food nation into a people caught up in the joys of slow food, not only for our pleasure, but for the health and wellbeing of our bodies, our children, our environment and our nation.
Next up is a forum entitled, "One Thing To Do About Food," edited by Alice Waters, that asks a disparate group of thinkers, writers, activists and farmers (Eric Schlosser, Marion Nestle, Michael Pollan, Wendell Berry, Troy Duster, Elizabeth Ransom, Winona LaDuke, Peter Singer, Dr. Vandana Shiva, Carlo Petrini, Eliot Coleman & Jim Hightower) to answer the question, "How do we fix our dysfunctional relationship with food? What one thing do you recommend we do to change the course of our diet and destiny?"
By far the best, probably most eye-opening pieces in the issue are "Hard Labor," by Felicia Mello, which takes a long, critical look at the state of laborors on industrial organic farms and finds that their plight is often -worse- than on conventional industrial farms, and Eric Schlosser's "Hog Hell," which examines the mistreatment of workers in a hog slaughtering facility in North Carolina. These two hard-hitting articles open readers' eyes to the fact that our industrialized food system, whether it is organic or not, is not only unsustainable from an ecological standpoint, and is hell on animals, but also contributes mightily to the mistreatment of human workers.That really gives us something to think about when we eat–do we care more for the environment or the comfort of animals or the health of our own children than we do about the health and well-being of the people who bring us our food?
This issue of The Nation is well worth reading and I urge everyone who reads here, lurks here, or just checks out my recipes to take a look at what these writers have to say on the issue of food. Because, as I have said from the beginning of this blog, food is more than what keeps our bodies going–it sustains our minds, souls and civilization as well. And how we think about food, and how we consume it has a larger impact on our world than most of us realize.
8 Comments
RSS feed for comments on this post.
Sorry, the comment form is closed at this time.
Powered by WordPress. Graphics by Zak Kramer.
Design update by Daniel Trout.
Entries and comments feeds.