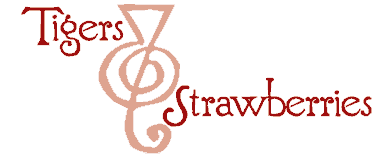 Cook Local, Eat Global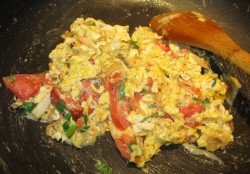 No, I don't cook eggs in the kitchen sink.
The name comes from the colorful saying, "Everything but the kitchen sink," which is meant to refer to a concatenation of stuff that is jumbled together, seemingly without rhyme or reason. In reference to this recipe, one could and might well say, "These eggs have everything but the kitchen sink in them," and be essentially correct–no kitchen sink is harmed in the creation of this dish.
What is the essential ingredients to Kitchen Sink Eggs besides eggs and lots of other stuff?
A strong appetite and laziness.
These scrambled eggs into which I habitually stir all sorts of other things came about one Sunday morning when I was too damned tired, clumsy and lazy (allright, and hung-over–these eggs first came about when I was a college student, way back in the day) to bother with an omelette, but I really wanted something that tasted like one anyway. I also had lots of leftover vegetables in the fridge, along with some bits of pieces of various sorts of cheese, some shreds of ham and a mushroom or two. And, a full dozen of eggs.
So, I decided to make myself an anti-omelette.
And I did.
And it was good.
When my next door neighbor smelled what was cooking, she came over and stuck her head in the door. (We were friends–she was a medical student while I was a journalism student, and we were always in and out at odd hours of the day and night.) She blinked muzzily and rubbed her hung-over face, (we had been over to friends' house watching movies and drinking beer, then ended up acting as midwives for his cat who went into labor on his lap until all hours) and said, "Smells good. Whazzit?"
From nowhere, the phrase "Kitchen Sink Eggs" popped out of my mouth, and a dish was born. I scraped half the pan into a plate for her and half for me, and we fell to with great glee and gusto. With a side of whole wheat toast and black coffee, the eggs helped clear our heads and fill our rebellious bellies, making us fit for human company.
Ever since that morning, I have made Kitchen Sink Eggs (henceforth to be known as KSE) for those times when I want something filling, but I don't really want to work at it. The recipe, such as it is, is infinitely malleable. It consists of whatever one has hanging around in the kitchen that would taste good mixed into scrambled eggs. Fresh mushrooms, caramelized onions, fresh or dried herbs, spices (curry powder or garam masala is particularly nice), leftover steamed or sauteed vegetables such as asparagus, potatoes or broccoli, bits of ham or crumbled bacon or cooked sausage, shreds of leftover chicken, sliced olives, and fresh vegetables such as tomatoes or chard, mixed with a bit of shredded cheese, have all graced a batch or two of KSE over the years.
Today's version included shreds of Alaskan wild-caught smoked salmon, a sliced fresh trumpet mushroom from my CSA, caramelized onion, raw-milk gruyere cheese, Aleppo pepper, fresh parsley, and the last of my CSA's fresh tomatoes. (They said there may be some more next week, but I doubt it. We've already had one frost and while the tomato plants survived that one, I am not sure they will make it through another one.)
I have served them for breakfast, brunch and dinner to myself, family and very close friends, because they are the epitome of homey comforting food that while it looks rather ugly, is very satisfying. Unlike omelettes, which can be dressed up to become elegant and presented on dainty plates for the most refined of guests, KSE are not really meant to be anything but rough-edged, down and dirty, quick, hearty sustainance.
There is nothing wrong with that, of course. Lazy Sundays are not the time for culinary flash, but instead are the perfect moment for something filling and flavorful, which these eggs most certainly are. Try them the next time you think you might want an omelette, but don't much feel like making one. The recipe I am giving today is the way I made it today, using what I had on hand. Just remember that the recipe is infitely mutable, and use what you have in your fridge in order to make your own unique version of KSE.

Kitchen Sink Eggs
Ingredients:
3 fresh eggs, well-beaten
1 tablespoon whole milk
2 tablespoons butter
1 teaspoon Aleppo pepper flakes or red chile flakes to taste (or black pepper to taste)
1 small onion, peeled and thinly sliced
1 medium trumpet mushroom, cleaned and thinly sliced
1 ounce Alaskan wild-caught smoked salmon, shredded
3 heaping tablespoons shredded gruyere cheese
1 very small tomato, sliced thinly, each slice cut into quarters
1 tablespoon minced fresh parsley
salt to taste–optional (with the cheese and the smoked salmon, I needed no salt in this batch of KSE)
Method:
Beat eggs well, then beat in milk until combined. Set aside.
Melt butter in a cast iron or non-stick skillet or wok over medium heat. Add Aleppo pepper, red chile flakes or black pepper, and onions. Cook until the onions are well light golden and transluescent. Add mushroom, and cook until the mushroom is golden and softened and the onion is well-caramelized and fully brown.
Add salmon, and continue cooking for one minute.
Add egg and milk mixture and reduce heat to low. Cook, stirring until the egg is nearly solid.
Sprinkle egg with cheese, and add tomato, continue cooking, stirring constantly until eggs are as set as you like and the cheese is melted and fully incorporated.
Sprinkle with parsley, and give one final stir before serving with well-buttered whole grain toast.
10 Comments
RSS feed for comments on this post.
Sorry, the comment form is closed at this time.
Powered by WordPress. Graphics by Zak Kramer.
Design update by Daniel Trout.
Entries and comments feeds.