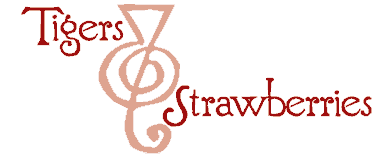 Cook Local, Eat Global
As I mentioned long ago, Madhur Jaffrey is the reason I first tasted Indian food. I had checked her cookbook, An Invitation to Indian Cooking out of the library, and enchanted by her descriptions of Indian food, got up the nerve to cook rogan josht. That one dish from that book started me on the road to seriously studying Indian cookery, and I owe it all to Ms. Jaffrey.
So, when I saw on Amazon that she had a memoir out, I of course had to nab myself a copy. I considered Climbing The Mango Trees a birthday gift to myself, and splurged on the fast shipping just so I could get my greedy hands on it sooner.
When it arrived, I devoured it as quickly as a new mother possibly can, which means I read it while breastfeeding Kat, while rocking her to sleep and while holding her while she slept. It took me about a day to read that way, because I kept getting interrupted by stuff like diaper changes, baby laundry and cooking dinner.
But, needless to say, I tore through it like a hot summer wind, and was sad to see it end.
How was it?
Well, it started slowly, with Jaffrey giving us a bit of a tour of northern Indian history, and placing her ancestors into that history. Luckily, I find such things fascinating, but I could see other readers going to sleep on it. Once she started talking about her own lifetime, the narrative picked up, and I was treated to Jaffrey's own voice as she recalled incidents from her past that were of both personal and national importance.
Jaffrey's childhood took place during very significant chunks of Indian history, and her perspective both as the child she was and the adult she is were valuable and very emotionally gripping. Of particular interest was her remembrances of Partition and the assassination of Ghandi. I found myself weeping with Jaffrey when she recounted the assassination and the resulting violence, riots and massacres. Her family, while Hindu, also had ties to the Muslim culture of northern India, and Jaffrey tells of her great sorrow during the tumult of the partition, at losing many Muslim friends and aquaintances, many of whom she never heard from or saw again.
All of the narrative is not sorrowful, of course. She does recount her food experiences, and here is where foodies will be most enthralled, because Jaffrey is endowed with a powerful taste memory, and has used this ability to recreate dishes from her childhood that might have gone lost to the world had she not written them down. The last chapter includes a number of recipes for particular dishes mentioned in the book, including many that have never been published before.
A delicious book, full of wit and wisdom, love, laughter and tears, Climbing the Mango Trees is well worth reading, especially for those who are interested not only in the food and culture of India, but also the modern history of the world's largest democracy.
11 Comments
RSS feed for comments on this post.
Sorry, the comment form is closed at this time.
Powered by WordPress. Graphics by Zak Kramer.
Design update by Daniel Trout.
Entries and comments feeds.