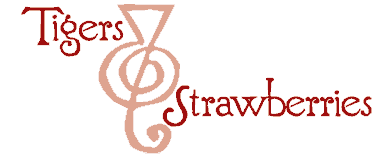 Cook Local, Eat Global
This post will be short, because I really want to go back to blogging about food, and not about myself, and since Kat only sleeps so much in a day, I have to make this quick post very brief.
First of all–to all the loyal readers and new readers who have been checking in this past month and a half or so when I have been AWOL–I give you my hearty thank yous, good wishes and general love. For the outpouring of love and concern from around the world–I have to say that words are not enough to express how helpful all of you have been, even if you never knew it.
You see, the reason I have been away from the 'net is because after we came home with Kat, and all should have been well, she began to improve and grow by leaps and bounds, and I began to sink into a miasma of post partum depression. It was not the worst case that anyone has seen, but it was bad. Bad enough to sap my will to do anything having to do with food or writing, and bad enough to convince me that I was the worst mother in the world.
Of course, logically, I know that I am not a bad mother at all, but at the time, I was struggling to feel anything other than despair, self-loathing and extreme sorrow. The chemical, hormonal imbalance that is the root cause of PPD was compounded by my memories of traumatic events surrounding Morganna's birth and early childhood, such that I struggled daily to keep myself together enough to get up in the morning, take care of my daughters, cook dinner, eat enough to lactate properly and care for myself.
I just had no strength left for the 'net.
For a while I kept up with email, but as my therapy continued and the traumatic memories kept being unburied and the emotions that they evoked in the present began to surface, I gave up even on that.
So, that said–for those who have commented on this blog over the past month or so–I am going through all of the comments and reading them over the next several weeks. If you asked a question here or on email, I will strive to answer it and I apologize profusely for the help coming late. For those who have wished me well, and asked me to return–here I am, with bells on! I am going to strive to post at least three times a week from now on, and if anyone has any requests for recipes or essays they would like to see, leave me a comment on this post and I will see what I can do!
For all of the love sent in my direction over these dark days–I can never thank you all enough. When I did get a glance at the net, and saw the sweetness of readers' words, it was a tonic for my heart.
Bless you all, and may all the new year bring everyone great joy and wisdom.
29 Comments
RSS feed for comments on this post.
Sorry, the comment form is closed at this time.
Powered by WordPress. Graphics by Zak Kramer.
Design update by Daniel Trout.
Entries and comments feeds.