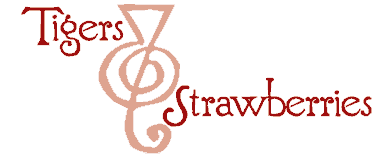 Cook Local, Eat Global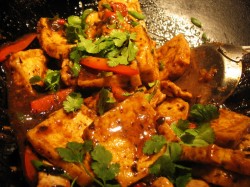 This is actually the second recipe I cooked from Revolutionary Chinese Cookbook, but I am presenting it first because so far, it is my favorite. It is a simple dish, though it does require the extra step of deep-frying the tofu. However, the results are so very worth the extra time, trouble and mess that I suggest that everyone ignore their instincts to skip it and pan fry the tofu instead, jump headlong in, use the oil and to heck with it. Even with the extra step of deep frying, the recipe isn't that difficult, and only a little more messy than it would be otherwise.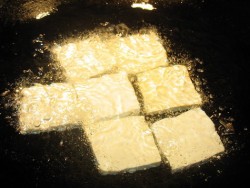 Secondly–I must suggest a few alternatives for vegetarians and Muslims here, as the recipe is typical of country Chinese cooking wherein a small amount of pork is added to a tofu dish to add flavor and a contrast in texture. Dunlop suggests that vegetarians simply omit the pork and use vegetable broth; I think that instead of doing that, vegetarians would be better off replacing the pork with dried rehydrated Chinese black mushrooms (shiitake) and using the soaking liquid in place of the chicken stock. The mushrooms would add richness and their slippery, unctuous mouthfeel would contrast beautifully with the chewy, craggy deep fried tofu.
Muslims can go with the vegetarian option, or they could substitute some top round beef for the pork. Or lamb flank steak would work equally well, and give a more distinctive flavor to the dish than the beef would.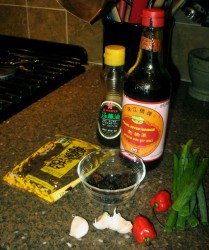 The main flavoring of this recipe, as one can guess from the photograph above are chiles and fermented black beans. I was amazed at the amount of black beans used in this dish, not because I didn't think it would taste good, but because I was happy to see evidence that someone in China uses black beans with the same heavy-handed abandon that I do! I learned to use fermented black beans from Cantonese recipes, and I had been feeling somewhat like an infidel for always using more black beans than most Cantonese recipes stipulated, but I simply loved the flavor so much, I just couldn't help myself. And I had found that I adored how they tasted in combination with chile peppers, both fresh and processed, and would find myself slipping those into classic Cantonese recipes such as Beef with Gai Lan, even though those dishes were never meant to be spicy.
Maybe, in looking through the recipes in this book, I realized that I was meant to be cooking Hunan dishes, not Cantonese, all these years!
I also want to note that I added two ingredients to the dish that are not original to either of the original recipes by Peng or Dunlop: I added red sweet bell peppers and cilantro. The reason is quite simple; I wasn't making a second dish of vegetables, so I wanted to throw in a bit more of a vegetable element to this dish to round it out. (In short, I was lazy.) If you want to use them, add one sliced bell pepper with the tofu just before simmering, and throw in a good handful or two of cilantro leaves at the very end, just before giving a final stir.
In writing out this recipe, I will also note that I followed my own method of marinating the meat and stir frying, so the order of operations and the way in which the ingredients are written out are different than Dunlop's method; however, the essence of the recipe is the same and will give the same basic result. (No, I really cannot follow any recipe completely as written anymore. I think that everyone knows that by now, but it doesn't hurt to reiterate it.)
Oh, and one more thing. Who is Peng?
He is Peng Chang-kuei, one of the most famous of all Hunanese chefs. He fled mainland China at the end of the civil war and has lived mostly in Taiwan since that time. Peng started making the dish in the 1960's or 70's as his own lunch in his restaurant in Taiwan, as a reminder of the peasant tastes of his home province. He never meant to serve such a plain and humble dish in his restaurant, however, when he would eat lunch in the dining room, customers inevitably asked what the chef was having, then requested that they, too, have the same dish. It ended up being one of the most favored dishes among his customers.
As for Peng–he is also the originator of another very famous Hunanese dish.
But, you should read that story yourself in the book.
For now have a taste of his home style bean curd.
Peng's Home-Style Bean Curd
Ingredients:
3 ounces boneless pork loin, thinly sliced
1 teaspoon Shao Hsing wine
1 teaspoon cornstarch
16 ounces extra firm bean curd, drained
1 cup peanut oil for deep frying
2 fresh red chiles (I used serrano chiles) cut thinly on the bias
1 tablespoon fresh finely minced garlic (about 2 cloves)
3 tablespoons fermented black beans, rinsed (I never rinse mine, btw)
1 cup chicken stock or broth
1/4 teaspoon dark soy sauce
1 tablespoon cornstarch mixed with 1 tablespoon cold water or chicken stock
3 scallions, green parts only, cut on the bias into very thin slices
1/2 teaspoon sesame oil
2 teaspoons chile oil (optional–I didn't use it)
Method:
Toss the sliced pork with the wine and cornstarch, and allow to marinate while you are preparing the tofu.
Cut the tofu into squares about 1/2 inch thick.
Heat the peanut oil in your wok until it reaches about 350-400 degrees F. (To test it, you can stick a bamboo chopstick into the oil. If tiny bubbles form at the end of the chopstick and dance up to the surface immediately, it is hot enough to start frying the tofu.) When the oil is hot enough, carefully slide 1/3 of the tofu slices down the side of the wok into the oil; this keeps the oil from splashing up and hitting your skin. The raw tofu will sink to the bottom. As it cooks, it will begin to slowly ascend to the top of the oil where it will bob and float, slowly turning pale gold with a bubbly, crusty exterior.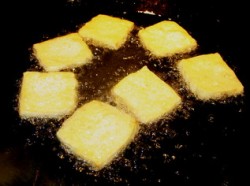 When the tofu is uniformly pale golden, remove from the oil with a skimmer and drain on paper towels. Repeat with the other two thirds of the tofu. Do not overcrowd the wok; if you do so, you will end up cooling the oil and this will result in oil-soaked tofu.
Pour off the oil, reserving about 3 tablespoons. Clean the wok, reheat it over high heat until it smokes and add the reserved peanut oil. Add the garlic, chiles and black beans and stir fry until very fragrant, about forty seconds to a minute. Add pork, settle it into a single layer and allow to brown on one side undisturbed–about one minute or so. When it is brown on the bottom and turning white at the edges, start stir frying until there is no pink left on the pork.
Pour in the stock and the soy sauce, then slip in the fried tofu. Bring to a boil, then reduce heat to low to simmer and braise the bean curd for several minutes to allow the flavors to penetrate its craggy surface. Add cornstarch mixture and stir until the sauce thickens. Stir in the scallion slices and the sesame oil and chile oil if you are using it.
Serve with steamed rice.
17 Comments
RSS feed for comments on this post.
Sorry, the comment form is closed at this time.
Powered by WordPress. Graphics by Zak Kramer.
Design update by Daniel Trout.
Entries and comments feeds.