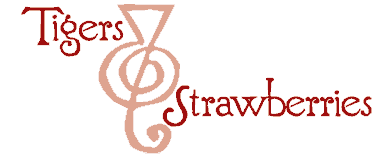 Cook Local, Eat Global
As a special Valentine's Day treat, the New York Times printed an article entitled, "He Cooks. She Stews. It's Love."
Basically, it is about the power struggles married or cohabiting couples experience in the kitchen when it comes to daily meal preparation, cleanup, entertaining and just plain chores. Naming the primary cook in a couple the "alpha cook," and the other member of the couple the "beta cook" (at least they didn't adopt the newly trendy parlance of BDSM and call them "tops" and "bottoms"), the article stated that what often happens is that despite the fact that many beta cooks have perfectly adequate cooking skills, they often get treated to a litany of criticism, humiliation and impatience by the alpha cook to the point that many of them retreat from the kitchen altogether. (Hrmm. Maybe that BSDM lingo is more appropriate than it first seems.)
And, while there were a few examples of female alphas and male betas, most of the article focused on alpha male behavior in the kitchen and how tiresome and destructive it can be. One male alpha cook even stated: "Men have gotten better at cooking, and that's all positive," Mr. Richman said. "But men can't share. If you can find a man who's O.K. with a woman being in charge in the kitchen, tell any woman to marry him immediately."
Whoa. Dude. Whatever happened to equality? You know, share and share alike?
And what a switch from Betty Friedan's 1950's when women were expected to have dinner on the table every night for her husband, as well as being "the hostess with the mostess" while her husband might be trusted to pour drinks and grill saurian-sized slabs of meat over a charcoal fire.I mean, which is worse–being expected to be the chief cook and cleanup crew, day in and day out, while getting accolades from the guests on the delectable feasts prepared, or being the unappreciated prep cook and dishwasher who is never appreciated by the guests, the host or anyone?
I can't even begin to figure that one out.
However, it isn't like I have one ounce of room to talk.
I admit to being an alpha cook, big time, however, I do attempt to moderate my critiques of those who graciously help out in the kitchen.
But what about Zak, my beloved soulmate husband? Is he the beta cook?
Hardly, though at one time he did try the job out for size.
Back about eight years ago, when I was successfully teaching culinary arts publicly and privately, he decided to become a student of mine. We decided we would use the dinner prep hours three times a week so he could learn how to cook.
It was an utter and complete disaster, and not because of Zak.
It was because of me.
In the classroom, and among the private students who came to my home for lessons, I was known as the soul of patience, wit, and generosity who would not hesitate to demonstrate a particularly tricky technique fifty two times if I had to, and who would answer as many questions as it took to get a point across. I was praised in evaluation forms as being a font of knowledge and creativity who always inspired her students to keep trying new techniques, recipes and ingredients, all with good humor and self-deprecation.
Well, I would like to say I was the same way with Zak, but I am ashamed to admit that I wasn't.
I was impatient. I would show Zak a technique, and when he didn't get it right away, I would sigh and roll my eyes. Zak's culinary timidity did not help the situation, but it was mostly my own fault. He would struggle to cut vegetables precisely enough to stir fry evenly, and instead of just accepting imperfection, and being patient with the fact that he was slow at cutting, I would end up doing most of the cutting myself without giving him a chance to learn.
I discovered that trying to teach someone while I am hungry and attempting to cook dinner after a long day of personal cheffing or teaching was not a good idea. It brought out every ounce of my own native impatience, bossiness, and every insufferable quality I had witnessed among male chefs and culinary students during my education, and I didn't like it.
As much as I disliked it, Zak hated it, and he put down his knife in frustration one night and has seldom picked it up since.
Even now, he will cook with Morganna, but not with me, and I have no one but myself to blame for that.
As for Morganna, after my failed experiment in teaching Zak, I have learned to be more patient in the kitchen, even when I am cooking dinner and starving. She is growing quite well into a budding culinary artist, though she has her own alpha cook shadow to confront. I have caught her now and again bossing around her friends mercilessly in the kitchen and have intervened. Once, she even had the temerity to snap at me that I was in her way in the kitchen.
I mildly smiled and informed her that a chef is never in the way in her own kitchen.
But, even as I try very hard to be quiet and compassionate in my kitchen, even as I am dismembering vegetables and dead animals and frying them or otherwise exposing them to soaring flames, I am told by my father in law that I am one of the most intimidating persons he knows, especially in the kitchen. And, I will admit to, even recently, (at Morganna's birthday party last month) barking at Karl to not argue with me over how chafing dishes work, since I was the one who used to be a caterer, while he only used to be a doctor. He forgave me though, taking into account that I was feeding over twenty people an Indian feast of over twelve dishes and three desserts.
I have learned, however, that rather than accept help in the kitchen from others, sometimes it is just best to refuse politely, and do it myself. When Karl was visiting with his father last month, I was preparing a Chinese meal with homestyle bean curd and stir fried mixed vegetables. When Karl asked if he could help me prep anything, I smiled and said, "I love you, but no, thank you."
I would have been fine if I had stopped there. Instead, out burst from my mouth, "This cutting requires precision, and as much as I love you, you are not precise."
Sigh.
At least Karl took it well, with a laugh and a smile. He knew I didn't mean it in any unkind way; I was just being honest. Maybe a bit more honest than perfect politeness required, but well, I am not perfect.
I guess I need to keep struggling to keep my alpha cook tendencies at bay. (Thank goodness for my study of Zen, the exercise of mindfulness. It helps. A lot.)
So, now that I have made my own confession, what about the rest of you? Any alpha cooks out there? How alpha are you?
And you betas–speak up, too. I want to hear from everyone.
Especially those of you who somehow manage to work and play well with others without falling into either category.
30 Comments
RSS feed for comments on this post.
Sorry, the comment form is closed at this time.
Powered by WordPress. Graphics by Zak Kramer.
Design update by Daniel Trout.
Entries and comments feeds.