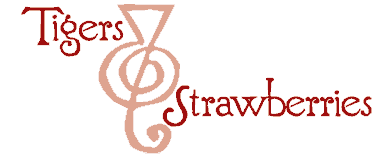 Cook Local, Eat Global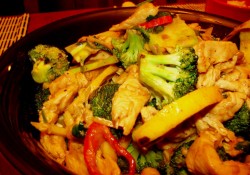 Chicken with broccoli is one of those dishes that you will find on every Chinese-American restaurant menu; lemon chicken is another old standard.
However, I have never been partial to any rendition of either of those dishes.
Which is really odd, considering that I like chicken, broccoli and lemons. Chicken was my favorite meat when I was growing up, and I loved broccoli so much, I used to snag bits of it from the garden to eat raw while going about my business of chores and play at my grandparents' farm every summer. And lemons–well, I used to eat them like oranges until my dentist told me that the citric acid wasn't good for my tooth enamel. That dulled my enthusiasm somewhat, though I still would drink gallons of very sour lemonade every chance I got.
When it comes to the standard American-Chinese restaurant dishes, however, there was seldom much for me to like. Chicken with broccoli is usually swimming in nondescript brown sauce, while the deep-fried nuggets of battered chicken of lemon chicken were always inundated with a candy-sweet nuclear-yellow glop that bore no resemblence in actual color and flavor to real lemons.
What to do?
Make up my own recipe, of course!
I love broccoli cooked with lemon, so I decided to combine the basics of the two dishes into one recipe. Forgoing thick sauces, I decided to pare the ingredient list down as far as possible. The only Chinese pantry basics I call for in this recipe are light soy sauce, Shao Hsing wine or sherry and sesame oil. These are easily found in most grocery stores, as are the rest of the ingredients: fresh ginger, scallions, lemons, chile peppers, raw or brown sugar, cornstarch, chicken and broccoli.
About the chile peppers: I used red fresno peppers, which are moderately hot. I suggest you use whatever you like, though red peppers look prettiest in this dish, and also allow those who cannot handle a lot of heat to avoid eating them if they wish. Red jalapenos would work just as well, and if you really like heat, red Thai chilies would be great. You can leave the chilies out of this dish, but I find the balance between the heat of the peppers and the sour tang of lemon to be a sparkling complement to the mild chicken and intense green freshness of broccoli. And as usual, the number of peppers and level of heat is totally to your taste. Put in as many or as few as you like. As written, this is a medium-spicy dish.
One could substitute deep fried tofu for the chicken here, but I bet that wheat gluten, also known as seitan would be even better here. It has a wonderfully chewy texture, and it would soak up the flavor of the tangy sauce very well.
Oh, and in order to cut the ginger into fine jullienne, cut the peeled rhizome into thin slices first. Then stacking the slices three high, cut them into thin matchsticks or slivers. It is that simple.
At any rate, on to the recipe:
Lemon-Ginger Chicken and Broccoli
Ingredients:
1 pound boneless skinless chicken breasts or thighs, cut into 1″X!/2″X1/4″ pieces
1 teaspoon light soy sauce
1 tablespoon fresh lemon juice
1 teaspoon brown or raw sugar
1 tablespoon Shao Hsing wine or sherry
2 tablespoons cornstarch
4 tablespoons peanut or canola oil
5 scallions, white and light green parts only cut thinly on the bias
3″ cube fresh ginger, peeled and cut into fine julienne
2 ripe red fresno or jalapeno chile peppers, sliced thinly on the bias
zest of two lemons, in long, thin pieces, and divided into two equal portions (I used a zester, rather than a microplane grater to get these pieces)
2 tablespoons Shao Hsing wine or sherry
1-2 tablespoons light soy sauce
1 pound broccoli, florets broken up into bite sized pieces, with the large stalks peeled and cut into thin slices (If you do not like the stalks don't use them, but Zak likes them better than the florets, and I think they are delicious, so into the wok they go.)
juice of two lemons
1 lemon washed and cut in half longitudinally, then cut into 1/4″ thick half-moon slices
1/4 teaspoon sesame oil
Method:
Mix chicken with the next five ingredients, and allow to marinate for twenty to forty minutes.
Heat wok over high heat until a thin thread of smoke rises. Add 3 tablespoons peanut or canola oil (reserve last tablespoon until later) and allow to heat another thirty seconds. Add scallions, ginger, chilies and half of the lemon zest and stir fry for thirty to forty seconds, or until all is fragrant.
Add marinated chicken, and spread into a single layer on the bottom of the wok, and leave undisturbed for about one minute, or until the chicken browns on that side. Stir fry until the chicken is 2/3 done–in other words, 2/3 of the chicken is white or brown, and the rest is pink. Add half the lemon slices and stir fry for another thirty seconds, then remove chicken and lemon from wok to a clean bowl.
Add reserved tablespoon of oil to wok, and allow it to heat thirty seconds. Add broccoli and stir fry for thirty seconds, then add wine and lemon juice. Deglaze any browned bits sticking to wok, and add chicken back to wok. Add soy sauce and continue stir frying until chicken is completely cooked. Add other half of lemon zest and slices, and drizzle with sesame oil, and serve over steamed rice.
(This recipe will serve between four to five people, depending on how much rice they eat.)
3 Comments
RSS feed for comments on this post.
hi Barbara

i am so glad i peeked in your blog,, wow i found basket full of recepies i love,, mostly the chinese,, thank you for sharing them with us

Pai–you are very welcome. I am going to start another longer series of posts on Chinese cooking in the next week or so, so be patient–I hope you find even more useful stuff for yourself there.

Blessings!

I love the taste the smell and the look. One bite will make your tastebuds crackle. yum delicieur.

Comment by shay — November 13, 2009 #
Sorry, the comment form is closed at this time.
Powered by WordPress. Graphics by Zak Kramer.
Design update by Daniel Trout.
Entries and comments feeds.