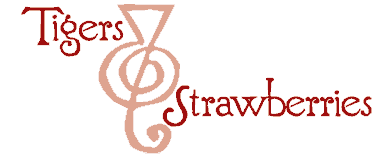 Cook Local, Eat Global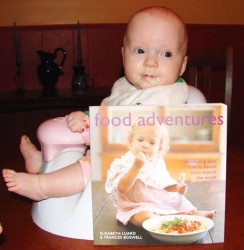 Kat is just a few days shy of her six-month birthday, and her new pediatrician, after hearing how the wee tenacious one has been dive-bombing after my toast every morning, has given us the all-clear to start her on solids. In the US, that means giving her rice cereal, which is deemed the most harmless of food substances; in China, many a baby's first solid food is congee or jook–a porridge made of rice cooked until it falls apart.
So, with a happy heart and light hands, I mixed up a bit of fortified rice cereal with expressed milk and let Zak feed Kat her first solid meal.
While watching Kat learn to take cereal in her mouth, roll it around, taste it and swallow it, it was only natural that I think about what other people from around the world feed their babies when they are ready to start taking nutrition from solid food.
It seems that I am not the first person to think such thoughts; two food writers, a mother-in-law/daughter-in-law team, have also wondered enough about the issue of what babies and children all over the world are fed to actually write a cookbook on the subject.

Food Adventures: Introducing Your Child to Flavors from Around the World by Elizabeth Luard and Frances Boswell can be seen as a reaction to the prevalence of "kids' food" made especially for and marketed toward children in the United States. With many children eating separate meals from their parents based upon processed foods like macaroni and cheese and chicken nuggets, the authors of Food Adventures are urging parents to avoid the entire idea of children's food as a separate category and instead give their children a taste of the global kitchen from the beginning.
The very first chapter deals with traditional "first foods' from various parts of the world, including a chilled Scandinavian blueberry soup, and a leek and potato puree from Belgium. Each recipe comes with a tiny bit of cultural information and recommendations for the proper age to start the child on the food. I was unhappy, however, to see junket–pudding made from whole cow's milk–suggested for the consumption of six month old babies. The American Academy of Pediatrics recommends no whole cow's milk for children under the age of one year, because the proteins are not digestible by human infants. In addition, there is too much of some minerals, which can lead to overburdening the kidneys of babies, and of course, there is a risk of inducing a milk allergy if cow milk is given to early to a child.
That is the largest complaint I have with the book; unfortunately, it is fairly significant.
Later chapters, however, are delightfully written. The authors advocate that parents engage children's senses at the table, teaching them to delight in food that is pleasing to the eye and nose as well as the palate. My favorite chapter is entitled, "Sniff and Seek," and includes recipes meant to introduce children to the myriad scents that aromatic ingredients such as spices and herbs have to offer. Recipes such as Thai Chicken Rice with Lemongrass and Lime Leaves and nutmeg-scented Swedish Meatballs in Cream Sauce give parents ideas for dishes that are not only delicious but engage a child's exploration of the olfactory aspects of food and cookery.
Playfulness is encouraged as well, with whimsical recipes like "Cinderella's Midnight Feast:" a pasta dish that includes ricotta and pumpkin. Role-playing and make-believe, two activities at which children excel are used to help learn manners in a chapter called "The Restaurant Table." Here the authors shine. Recipes from all over the world are presented along with a discussion of how children are brought to the table in each culture. The proper table manners for each culture are explained, with the suggestion that children playact that they are in restaurant serving these foods at the dinner table, while Mom and Dad model table manners appropriate to the country represented at dinner.
(That is fine and good, though I suspect for younger children the continually changing set of table manners might be a bit confusing. For older kids, however, I think it is a great idea.)
From a parent's point of view, the recipes look and sound quite tasty. In addition, most of them are fairly simple, with most of the ingredients being easily accessible at well-stocked local grocery stores. The recipes all look easily doable not only by parents for kids, but -with- kids, whether they are underfoot, slung on the back or helping on a stool at the counter. Even the whimsical recipes sound edible to the adult palate; it is only the names and presentation that are playful. The dishes themselves are solid, real food meant for people who like flavors from all over the globe.
I rather enjoyed the book, and I have to admit that Kat likes it, too. From the first time she caught a glimpse of the book, she grabbed it and started cooing and jabbering to the little girl eating spaghetti on the cover. She thoroughly enjoyed leafing through the book, looking at the pictures of the foods, and the kids eating, cooking and playing with them. I look forward to trying out some of the recipes when she is older, though I will stick with her rice cereal for now. (Soon, though, soon, I will be roasting sweet potatoes and mashing them, and pureeing sweet garden peas with mint.)
Bland and typically American as rice cereal is, I have to admit–I added the tiniest pinch of ground cardamom to it before giving it to Kat. It gave the cereal the heavenly scent of kheer–Indian rice pudding–and I cannot help but think it improved the flavor of it immensely. I cannot help but think that the authors of Food Adventures would be pleased.
(Here is a big thank you to Dan Trout for the great photos he took last night of Kat's first solid meal which are illustrating this post.)
11 Comments
RSS feed for comments on this post.
Sorry, the comment form is closed at this time.
Powered by WordPress. Graphics by Zak Kramer.
Design update by Daniel Trout.
Entries and comments feeds.