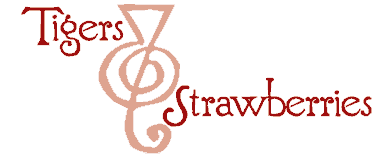 Cook Local, Eat Global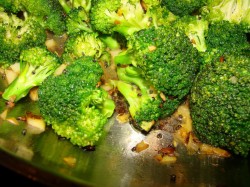 One of the barriers many Americans have to trying to learn to cook Indian food is the feeling that it is too complex, difficult and requires way too many ingredients, especially spices.
That many Indian recipes require more than five or six spices or aromatics is sometimes true. That there are unfamiliar techniques involved in Indian cooking, such as deeply browning onions, and then grinding them into a paste, is also sometimes true. That some of the cooking methods and times are long and slow is also true.
I know that at one time, Indian cookery intimidated me because of its lengthy ingredients lists, its many ways of treating spices and its unfamiliar terminology. However, I took into account that at one time, Chinese cookery had also seemed elusively difficult, with long lists of new ingredients, new, exacting techniques and new terminology which I did not understand, yet, I eventually learned to be competent at recreating dishes I had tasted from the home kitchens of friends and employers. I realized that at first, any new culinary undertaking can be daunting, and that is no reason not to try it.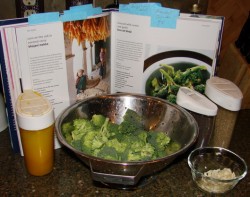 Besides, over a number of years, I have learned every Indian recipe is not necessarily complex, difficult or involves a miles-long ingredients list. In fact, quite a few of them are really simple, yet result in fantastic flavors and textures that make a great addition to any cook's repretoire.
This recipe for Broccoli with Cumin and Garlic, from Monisha Bharadwaj's India's Vegetarian Cooking: A Regional Guide is one such simple recipe. Although she notes that traditionally, cauliflower is cooked in this way, broccoli is becoming more and more available and used as a vegetable in India, and is used in many of the same recipes as its pale-flowered cousin.
This recipe comes from the western region of India which encompasses the states of Rajastan, Gujarat, Maharashtra, and Madhya Pradesh. Bharadwaj suggests eating it with rotis, but I had it with dal and rice and it was lovely.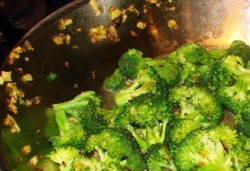 Broccoli With Cumin and Garlic
Ingredients:
2 tablespoons peanut, sunflower or canola oil (Bharadwaj specifies sunflower, I used peanut because that is what I had)
1/2 teaspoon mustard seeds
1/2 teaspoon cumin seeds
pinch asafoetida
3 cloves garlic, minced (Bharadwaj used 2, I used 3 because I love garlic)
1/2 teaspoon ground turmeric
10 ounces broccoli, cut into florets–about 5 or 6 cups
salt to taste
water as needed
Method:
Heat the oil over medium-high heat in a heavy-bottomed frying pan or wok. Add mustard seeds and toast, stirring. When they begin to pop like popcorn, (they do, really–its cool!) add the cumin seeds and asafoetida. Stir, and as soon as the cumin seeds begin to darken visibly, add the garlic and turmeric. Give another stir to incorporate the turmeric, and then immediately add the broccoli and sprinkle with salt. (I used a gentle pinch of salt. Less is definately more here.)
Stir a few times, to get the flavored oil all over the broccoli, then add a couple of tablespoons of water to the pan and loosely cover to allow broccoli to steam. When the broccoli is nearly done to your liking (it should be bright green and tender-crisp), lift the lid, turn the heat up to high and boil off the rest of the water (if there is any left). Stir one more time to get all of the garlic bits and spices on the broccoli and serve immediately, still piping hot.
Note: If your pan is thinner bottomed than mine, please turn your heat down to medium–you want the garlic to be lightly golden brown, not burned dark brown or black. That is the only trick to this dish–otherwise it is simple. Also, if you want to make this dish, but do not want to get three spices–cumin seeds, mustard seeds and asafoetida, then leave out the asafoetida. It will still taste delicious.
Also, in addition to cauliflower cooked this way, cabbage would be good as would brussels sprouts. And collard greens. Rapini. In fact, just about any of the brassicas (cabbage family of vegetables and greens) would taste good with this treatment.
7 Comments
RSS feed for comments on this post.
Sorry, the comment form is closed at this time.
Powered by WordPress. Graphics by Zak Kramer.
Design update by Daniel Trout.
Entries and comments feeds.