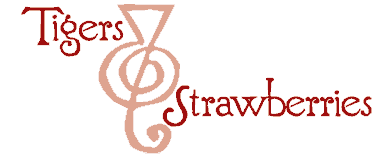 Cook Local, Eat Global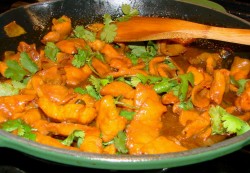 From what I have read and heard from Vietnamese friends, kho dishes are -the- comfort foods of their cuisine. This fairly broad category of dishes consist of braises, either long or short-simmered, which are primarily seasoned with nouc mau and fish sauce. These two sauces combine and cook down into a thick, gooey dark russet-brown glaze full of bittersweet, savory, salty satisfaction that coats the ingredients cooked into it and drips onto rice in rivulets of intense flavor. It is the sauce that defines a kho dish–it is meant to be intensely salty and sweet, in large part because it is meant to be eaten with a great deal of rice.
There are some who say that the origin of kho dishes comes from frugal cooks who used their culinary skills to create a dish which would stretch rare protein resources by saucing them with salty, sweet ingredients that would stimulate the diner to eat a great deal of rice. The result would be that one would need very little meat and sauce to flavor a meal of rice, thus creating a satisfying meal out of very few ingredients. (An illustration of this principle at work is seen in the beautiful Vietnamese film, "The Scent of Green Papaya," which shows the older cook teaching the younger cook to use more fish sauce in a kho when the family they work for is short on cash. In making the dish saltier, the old cook knows that the young sons of the family will be forced to eat more rice, thus sating their hunger inexpensively.)
Whatever the origin, kho is a versatile method of cooking foods, which is well worth adopting to the American kitchen. While most often cooked in a Chinese style claypot, I found that using my Le Creuset pan worked just as well. (My claypot died a sad death a while back and has never been replaced.)
There are two ways to cook kho: fast and slow. They both require the same ingredients, and both methods end up with the same deeply flavored sauce, but the disparate cooking times are used depending upon what protein item one is cooking, how it is cut and how tender it is naturally. Tender meats such as chicken, pork loin, beef sirloin, shrimp and fish, are generally cut thinly and quickly cooked, as is tofu. Larger, less tender cuts, such as flank steak and pork belly, are generally cooked slowly for a long period of time.
Both the fast and slow cooking methods can utilize the addition of aromatic ingredients such as garlic, ginger, chilies, scallions or lemongrass; the way that these aromatics are prepared is the only difference. In both cases, the aromatics are also added to the marinade, which consists of the nuoc mau and fish sauce, in order to add their flavor to the sauce and the main ingredient during the marination period.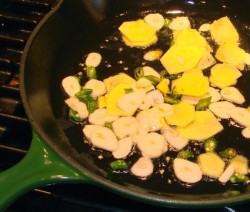 In the fast-braised recipes such as the one I present here, the aromatics are sliced very thinly and are stir fried in vegetable oil until they are lightly browned. Then they are added, along with the flavored oil to the marinating main ingredient. In long-simmered, slow cooked versions of kho, they are also sliced very thinly, but are simply cooked in the liquid along with the main ingredient without any prior cooking in oil.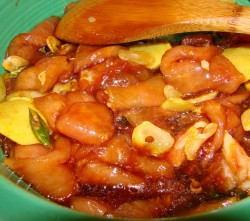 The marinating period, which can last from thirty minutes to several hours to half a day or more, is a necessary step in the process of creating a kho. More tender, smaller cuts of meat or tofu can be marinated for a short period of time; it is easier for the flavors to penetrate thinly sliced tender meats than it is for them to insinuate themselves into larger, tougher cuts of meat.
For my recipe, which uses very thin slices of pork loin, I stir fried thinly sliced garlic, ginger and Thai bird chilies in a small amount of canola oil, and added that to the pork, nuoc mau and fish sauce, then let the whole thing sit at room temperature for about forty-five minutes.
Cooking the kho was a cinch: I simply dumped everything from the marinating bowl, back into the pan I used to stir fry the aromatics, added a few tablespoons of water, brought it to a boil, then turned down the heat to simmer it for ten minutes. The marinade turned into a rich, thick sauce that coated the meat generously, while the meat took on a satisfying, slightly chewy texture that was full of flavor. For more tender meat, I would have cooked it for only about seven minutes, but both Zak and I liked the contrast of the chewy, flavorful meat with the fluffy, aromatic steamed jasmine rice.
At that point, it is traditional to add a great deal of freshly ground pepper–however, since I am allergic to that, I skipped it. (That is why I added the chilies earlier, after all.) I simple stirred in a generous handful of roughly chopped cilantro, and served it forth with a dish of stir-fried vegetables.
How was it?
Beautiful, soulful and satisfying. I can easily imagine making this again and again, with various different ingredients. I cannot wait to make tofu this way; the sauce was sweet with caramel and garlic, hot with chile and ginger and savory-salty with fish sauce. Tofu cooked with black mushrooms in this way would be lip-smacking delectable.
And did we eat a lot of rice with our kho?
Indeed we did. And we loved every bite.
Quick-Braised Spicy Caramel Pork
Ingredients:
3/4 pound lean pork loin, most of the fat trimmed away and sliced into very thin 1″X1/2″ slices
7 tablespoons fish sauce
7 tablespoons nuoc mau
1 1/2 tablespoons canola oil
4 medium garlic cloves, peeled and thinly sliced
3-5 fresh Thai bird chilies, thinly sliced (to taste–optional–you can leave these out and just use a lot of freshly ground pepper at the end if you like)
2″ square chunk fresh ginger, peeled and thinly sliced
3 tablespoons water
handful of fresh cilantro leaves, roughly chopped
freshly ground pepper to taste (optional)
Method:
Put the pork in a bowl, then pour fish sauce and nuoc mau over it, and toss together with clean hands until they are well combined.
Heat the oil in a one quart claypot or heavy cast iron pot and add garlic, chilies and ginger. Stir fry on medium heat until the aromatics are nicely browned and smell very fragrant. Pour the entire contents of the pot over the pork and marinade, then stir well to get it to combine. Cover well and allow to sit at room temperature for forty-five minutes to an hour and a half. (If you marinate any longer, put in the refrigerator. And if you refrigerate it, when cooking the dish, you will have to double the amount of water to take into account the longer cooking time–unless you bring the meat to room temperature before cooking.)
Pour contents of bowl back into the pot, and add three tablespoons of water. Bring to a boil over high heat, then turn heat down to low and simmer for seven to ten minutes, depending on how thickly you sliced your pork (mine was thinner than 1/8th inch) and how tender or chewy you want your meat to be. For thinner meat, cook less, for tender meat, cook less. For thicker slices or more chewy meat, cook longer.
When meat is done and marinade has reduced to a thick, gooey sauce, remove from heat, scrape into serving bowl, and stir in cilantro. If using pepper, stir in at this time. Serve immediately with lots of steamed jasmine rice and a vegetable dish.

11 Comments
RSS feed for comments on this post.
Sorry, the comment form is closed at this time.
Powered by WordPress. Graphics by Zak Kramer.
Design update by Daniel Trout.
Entries and comments feeds.