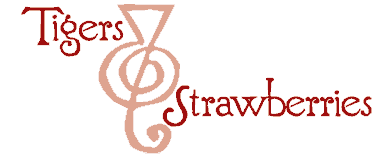 Cook Local, Eat Global
I wanted to let folks know that the pierced finger is pretty well healed. It hurt like crazy; the only reason I didn't yelp when it happened was because I knew Kat had just gotten to sleep and I didn't want to wake her up!
But, it is fine now–just two little pinprick holes–one through my nail and one on the other side of the finger. Thankfully, it went in diagonally and missed the bone entirely. It barely bled.
My head is fine. I hit my chin when I landed, and rattled myself nicely, but no lasting damage was done. That is the advantage of having a hard head, I guess.
Now–I was going to post on Thursday–I had the next bit in the series half written, when Morganna and I went to start cooking dinner.
But, while we were prepping, she said to me, "You know, I think I have just about gotten my knife skills back up to speed…."
Then, about five seconds later, she said, "Ouch! Oh, shit."
She cut her finger, through her nail (the same finger on the same hand I pierced with the sewing machine needle….) and diagonally.
She ran to clean it out, and called out to me, "I think it will be okay."
I looked at it, and sent her and Zak to the ER to get it stitched. They actually used surgical glue on it, but still…oy. It has been a bad week.
Yesterday, though, I went out and got a new sewing machine. Finally, I will be able to finish Kat's baby quilt, and some other projects I have laying around, as well as start some new projects that I will be sharing here later.
Today, there was a wedding shower at our house for a friend, so this is the first time I have gotten to sit down and rest.
I'm going to go read the manual to my new pretty now!
4 Comments
RSS feed for comments on this post.
Sorry, the comment form is closed at this time.
Powered by WordPress. Graphics by Zak Kramer.
Design update by Daniel Trout.
Entries and comments feeds.