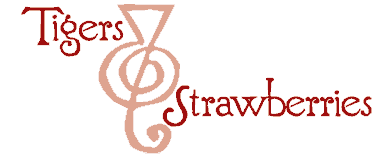 Cook Local, Eat Global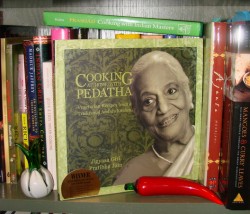 "From food all creatures are produced. And all creatures that dwell on earth, by food they live, and into food they finally pass. Food is the chief among beings. Verily he obtains all good who worships the Divine as food." –Taittiriya Upanishad
This quote is the text chosen as the opening to Jigyasa Giri and Pratibha Jain's absolutely gorgeous, award-winning book, Cooking At Home With Pedatha: Vegetarian Recipes From a Traditional Andhra Kitchen, and it sets the tone for the entire work, which is the exploration of the soul of a cuisine through the memories and orally-transmitted recipes of one amazing woman.
Who is Pedatha?
Her name is Subhadra Krishna Rau Parigi, and she is the eighty-five year old eldest child of a former president of India.
She is known fondly among friends and family, however, by the nickname, Pedatha, which loosely translates as "eldest auntie," and she is a font of culinary wisdom rooted deeply in her home state of Andhra Pradesh in the south of India. She also is a woman who understands innately that cooking is a deeply spiritual act which is intimate and intensely personal, yet which is so often treated as something to be taken for granted as simply impersonal "fuel" for immediate consumption and gratification without any reflection upon the holiness of the acts of cooking and eating. She is an embodiment of the philosophy of "Slow Food;" when asked by the authors how long it would take to cook a certain dish she answered, "As long as it takes for a good dish to be ready."
While Pedatha gladly gave very precise measurements to the authors as they translated her orally transmitted recipes into book manuscript form, when pressed about timing, she would say, "Do not look at the time, look at the pan."
A wise cook knows that she is right, of course. How long a certain dish takes to cook will depend on how and where it is cooked. How high is the heat on your stove? If it is higher than Pedatha's, it will cook faster. If it is cooler than Pedatha's it will take longer for the same dish to cook properly. A wise cook and reader will recognize that Pedatha's advice, while seeming to be evasive are nothing more than a simple truth: not every bit of cookery can be measured, quantified and recorded perfectly and accurately. Cooking is not wholly a science and thus is entirely subject to the clock, the thermometer, the scale and the measuring spoon. It is also an art that is dependent upon the senses of the cook: her eyes, her nose, her hands, her ears, her mouth, to tell her when something is cooking properly.
But enough about Pedatha, already! I can hear my readers thinking this–tell us about the recipes!
Ah, but you see–the book is as much about Pedatha as it is about the recipes. The way they are written, and the way the book is put together, with lovely photographs of ingredients and finished dishes, along with evocative portraits of Pedatha's mobile and ever-changing face–I swear, it seems as if I can hear her voice on every page. It is like having her in the kitchen with me, telling me how to temper spices, or how to tell when curry leaves are cooked enough, or what these pickles will smell like when they are done.
The recipes are detailed, and precise, for all that cooking times are fluid. The cookbook is completely vegetarian, though not vegan in orientation, as ghee and yogurt are used in many dishes. (And I have to admire Pedatha for admonishing the authors and the readers to not skimp on the ghee! She sounds very like my own Gram, who after WWII's rationing forced her to eat margarine, would only eat butter after that, and a lot of it. And she, like Pedatha, was quite healthy, slender and pretty, well into her eighties.) Many of the dishes are highly spiced, and there is an entire chapter on the making of podi-powders, which are used to season rice and other foods. There is also a chapter on sweets, but I am more excited to try the chutneys and pickles, and the lentil and eggplant dishes. (The recipes chosen for this book reflect Pedatha's own personal tastes, and I am happy to see that she seems to like eggplant as much as I do.)
I haven't cooked yet from this book, but as the summer season begins to progress, bringing its delightful bounty of fresh vegetables, I intend to cook many dishes from this book as I explore and experiment with the flavors and traditions of southern India. Have no fear, I will present the recipes as I test them.
I feel as if, with Pedatha guiding me from the bookshelf and Indira of Mahanandi a keystroke away, I cannot go wrong as I take my first baby steps in learning the ways of the South Indian kitchen.
Not with two such wise and generous kitchen angels looking over my shoulder.
So, dear readers, if you are interested in learning how to cook the vegetarian foods of South India, particularly Andhra Pradesh, I urge you to pick up a copy of this book, sit down and enjoy a good, thorough reading of it. Then, go to the kitchen and start cooking. And then after you have cooked a dish or two, check in on Mahananadi for another dose of inspiration and kitchen wisdom.
You cannot go wrong.
11 Comments
RSS feed for comments on this post.
Sorry, the comment form is closed at this time.
Powered by WordPress. Graphics by Zak Kramer.
Design update by Daniel Trout.
Entries and comments feeds.