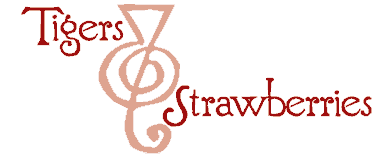 Cook Local, Eat Global
Summer, the season of abundant fresh fruit, is the perfect time for pie baking.
Unless, of course, you are a lazy baker.
Or, like me, you have a small baby who seems to feel the need to be attached to you continually. Or, you have a job, and a bunch of kids to take to soccer games like a lot of Moms I know.
In situations such as these, summer seems like the worst time to bake pies.
But that wonderful, delicious sun-sweet fruit is still there at the farmer's market, beckoning to us, with fresh floral scents and eye-dazzling colors, begging to be turned into pastries bursting with jewel-like juices.
It is times like these, when I want a pie, but don't feel like rolling out and shaping the double crust just so, that I turn to a galette, which is nothing more than a rustic country French tart.
Made with a single lightly-sweetened butter crust, and any sort of fresh fruit one fancies, these little pockets of goodness make the perfect dessert for any informal summer gathering. Picnics, barbeques and potlucks can only be enhanced with the presence of a seasonal fruit galette.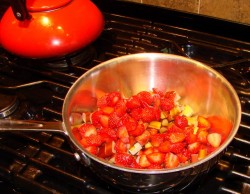 My first galettes were made with autumn fruits: apples and pears, though I have also made them with summer's sour cherries. This weekend, however, I made my favorite version so far using a classic summer pairing: strawberries and rhubarb, and in doing so, used a different technique to make the filling than I had before.
Most galettes are filled simply with sliced fruits with a sprinkling of sugar. However, knowing how much juice both strawberries and rhubarb produce, I decided to first make a very thick fruit compote by boiling down a couple of cups each of sliced rhubarb and strawberries with a tiny bit of water and honey to taste. This mixture I boiled, constantly stirring, until it formed a very thick, jam-like puree. There was no need to add any starch for thickening: I simply cooked most of the water out of the fruit before it ever got near the pastry dough. This helped ensure not only a flavorful galette, but ensured that the bottom crust did not get soggy and take on the unpalatable texture of damp cardboard.
The compote can be made a day or two in advance and kept in the refrigerator until needed. The little bit of tangy crimson puree that was left over from the two galettes we made tastes good spread on toast, scones or heated lightly and drizzled over good vanilla ice cream.
The pastry dough for galettes is simplicity itself. I even have the recipe memorized by now. The dough is quite forgiving of being handled, in large part because it is made only with butter, which stays firm and cold longer than lard, which melts on contact with the hands. Rolling it out and shaping it is a snap, too, since one doesn't have to worry too much about having smooth edges or a perfectly round shape; galettes are supposed to look somewhat thrown together and hand-crafted. They really are the laid-back slacker summer pastries of my repertoire.
I have to admit though–as much as I love galettes–they don't last long. Once they are sliced into wedges, people tend to eat them quickly, picking them up by hand and gobbling them down. (Yes, Karl, I am talking about you.) That is fine with me–I love to see people enjoy the food I make, but it does mean that if you want some for yourself, you might want to make an extra one or two and hide them away.
Ingredients for the Pastry:
2 1/2 cups all purpose flour
1/4 teaspoon cardamom
2 tbsp. sugar
1/2 tsp. salt
1/2 cup unsalted butter, cut into ½ inch pieces and chilled
2/3 cup ice water
Method:
In a large bowl, mix together dry ingredients. Cut in the chilled butter using a stand mixer a food processor or pastry blender until the butter is evenly distributed but still in larger than a pea-sized (sugar cube sized is fine) pieces.
Add the ice water all at once to the flour and butter. Mix together the dough until it begins to come together (If you are using a food processor or mixer, be careful not to over mix), and gather the dough into a ball with your hands.
Cut the gathered dough in half and shape it into two disks. Wrap the disks in plastic and refrigerate for at least one hour. (This recipe makes dough for two tarts–you can freeze one of the disks for future use if you like, up to two months. Thaw in fridge one day before using.) Preheat oven to 400 degrees while dough chills.
Ingredients for the Filling and Pastry Assembly:
2 cups sliced fresh very ripe strawberries
2 cups rhubarb stems (strip the leaves completely–they are toxic), sliced into 1/4″ pieces
1 tablespoon water
honey to taste (this depends on how sour your berries are–I used three tablespoons)
flour as needed to roll out dough
1/4 cup biscotti, shortbread, graham cracker or vanilla wafer crumbs
2 cups strawberries, washed, hulled and sliced in half
2 tablespoons melted butter
1 tablespoon raw sugar
Method:
Put first measure of strawberries into a heavy-bottomed saucepan with the rhubarb, water and honey. Bring to a boil over medium heat and cook, stirring, until a very thick, crimson-colored, jamlike puree forms. It will stick to the pan and the back of the spoon, coating it thickly. (This will take between ten and fifteen minutes to cook, so be prepared to stir a lot.)
Remove from heat and scrape from pan into a bowl. Allow to cool to room temperature. If you are not making the galette right away, cover tightly and refrigerate until needed.
Sprinkle counter or pastry board with flour. Roll out one disk of dough into a rough circle shape–about fifteen inches in diameter.
Sprinkle the center portion of the dough circle with the cookie crumbs, leaving a border of untouched dough that is two inches wide. Spread about 1/4 to 1/3 cup of the fruit compote/puree into the center over the crumbs, leaving the border of naked dough as before.
Starting on the outer edge of the crumb/puree circle, place strawberry halves into the puree in concentric rings, covering the puree completely.
Now, shape the galette: lift the naked edges and fold toward the center of the pastry, pleating the dough to make it fit as needed. This edge will partially cover the filling, leaving an open central portion where the filling will show.
Add a scant teaspoon more of the puree over the exposed part of the fruit and add another few strawberries on top of that, giving the galette a very bountiful appearance.
Dust any excess flour off the pleated edge of the pastry, then transfer to a baking sheet (I use an oversized spatula to do this) that is lined with parchment or a silpat. Brush the pastry edge with half the melted butter and sprinkle with one half tablespoon of raw sugar to make a crunchy, sweet sparkling crust.
Repeat steps to shape second galette.
Bake at four hundred degrees F for forty minutes, (thirty minutes for a convection oven) until the crust is browned and the fruit is bubbling and tender. Remove from oven and allow to cool on the pan for five minutes then transfer carefully to a wire rack. You can serve it warm or at room temperature.
Makes two galettes that can serve up to six people each.
12 Comments
RSS feed for comments on this post.
Sorry, the comment form is closed at this time.
Powered by WordPress. Graphics by Zak Kramer.
Design update by Daniel Trout.
Entries and comments feeds.