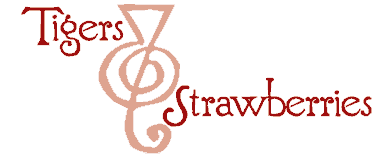 Cook Local, Eat Global
Yesterday, the time I would have taken up with writing, I was in the kitchen, busily whipping up a whopping large amount of baby foods for Kat. Our supply of little frozen cubes of baby meals had dwindled down to nearly nothing (we were down to two cubes of dal and one of blueberry puree), so it was time to spend an afternoon bustling and cooking down fruits, vegetables, herbs and spices into purees that Kat can have for her breakfasts, lunches and dinners.
Ever since we got the green light from her pediatrician to start her on three solid meals a day, we have been sitting her down, often while we ourselves are having a meal, and feeding her some of her own pureed foods, especially prepared for her by her doting mother, using fresh or frozen organic ingredients, local if possible. Most of these foods were made according to the rules of homemade baby food (I bet you didn't know that there were rules, but there are) and with the exception of the coconut milk curry and dal, contained little in the way of spices or seasoning.
However, with each passing day, Kat grows more interested in what Zak, Morganna and myself eat and less in what is before her on the table. Which means that one of the other of us has slipped her a taste of our own food, well mashed or minced, to find that she likes nearly everything except bland food.
This has slowly led me to one-by-one, ditch the rules of homemade baby food and go with what Kat likes. within reason.
One of the first rules of homemade baby food and one of the first ones to go is the injunction not to feed babies highly spiced or seasoned food.
Unfortunately, Kat -loves- highly seasoned food, so much that she ended up eating the chili Morganna, Zak and I were eating for dinner last night, though I did run an immersion blender through it first. What was in my chili? Three kinds of beans, beef, tomatoes, corn, onions, garlic, pepper and spices, including some chili powder. The entire time I was cooking it, she was looking on, and wiggling in her highchair, begging to taste everything that went in it. We sat down to eat and she begged for food. So, I gave her a tiny taste off of my spoon, and she reached for more.
So, I pureed some and gave it to her. And she was so thrilled with it.
I ended up freezing some of it to feed her later. Most authors recommend that if you feed a baby food from your own dinner, you take theirs out before you add any seasoning or even salt to the food, and grind it up. Well, yeah. Um, that is not really happening here.
And the foods I am supposed to avoid feeding her. I am not doing so well with those. The list of foods to avoid are any raw vegetables or fruits (bananas are apparently an exception to this injunction against raw fruits) , and highly allergenic foods such as seafood, egg whites, wheat, uncultured dairy, citrus, wheat, honey, chocolate, strawberries, (berries of any kind other than blueberries and cranberries, actually are forbidden) tree nuts and peanuts. Oh, and root and leafy vegetables that contain high levels of nitrites, such as kale, collards, spinach, chard, broccoli, beets and turnips.
I've been giving her small bits of raw tomato for a month now. And guacamole is of course, uncooked–and it has lime juice in it. And I gave her a taste of strawberries two weeks ago, and she hasn't reacted badly. We were eating them raw, her father and I, and she begged so piteously. She also likes honeydew melon, which of course, I did not cook. And, I have given her spinach, which she loves, and chard and broccoli, though not in large quantities.
I asked Kat's pediatrician about these issues, and she said that so long as she is showing no sign of allergies, not to worry, and to completely not worry about the nitrites issue since I am feeding Kat organic vegetables. The only foods which I am still to consider forbidden are uncultured dairy, tree and peanuts, seafood, and egg whites. I still won't give her chocolate, since I was allergic to it in childhood. I give her cheeses, but none of them that have mold or are from raw milk–I am allergic to moldy cheeses myself.
And I do avoid honey, and in fact, most sweeteners other than fruit puree or juice. (And she still will not drink fruit juices. She hates them, and will drink water instead.)
She has even had wheat, in the form of my simple summer pasta, which she insisted upon eating with us, even though it was quite spicy and had citrus in it. (We all assumed that the flavors would be too strong–but we were wrong. She loved it.)
Oh, and she had a morsel of freshly baked whole wheat bread with a tiny bit of butter on it. And–surprise–she was quite fond of that as well.
So, I am trying to be a good mother.
And I am, in most ways a very good mother. As much as she wants it and begs for it, I won't give her coffee, nor cookies, nor ice cream, though frozen yogurt is a treat now and again. I am certainly feeding Kat a varied diet of all fresh, whole foods, along with breast milk produced by my varied, whole food diet.
She is healthy and growing well, and is now working hard at learning to walk. Her little legs are very strong and sturdy, and I think that if there were problems with her nutrition, she wouldn't have the strength that she has.
And she has started to take the spoon from me to feed herself. With the spoon, not her hands.
I was thinking that perhaps I was too permissive in giving her tastes of nearly everything, but now that I look at her and hear from her doctor, I think we are doing fine. I mean, when her grandparents visited a few weeks ago, part of their main entertainment was watching all of the foods that Kat would eat with glee and great gusto.
It is nice to watch a baby grow up on a whole foods diet, healthy and happy, and see that there is nothing kooky or weird about feeding a child real food after all.
28 Comments
RSS feed for comments on this post.
Sorry, the comment form is closed at this time.
Powered by WordPress. Graphics by Zak Kramer.
Design update by Daniel Trout.
Entries and comments feeds.