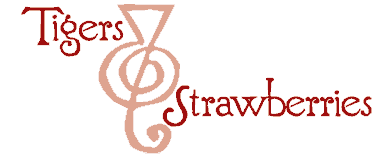 Cook Local, Eat Global
Summer, the season of abundant fresh fruit, is the perfect time for pie baking. Unless, of course, you are a lazy baker. Or, like me, you have a small baby who seems to feel the need to be attached to you continually. Or, you have a job, and a bunch of kids to take to […]
I have come to love chard. Although I still prefer gai lan, collards and kale, chard is fast becoming a favored green in our house. Which is good, because it is prolific here in Athens, and is very inexpensive at the farmer's market. It also has a high amount of vitamins and minerals for the […]
Eating the local foods of early summer should never be anything but a sensual pleasure. I always feel privileged to have grown up tasting the turn of the seasons, my body sustained on what grew from the labors of my family tilling the red clay soil of my grandparents' farm. Our bodies themselves were made […]
I have recently developed a fascination with aprons. Particularly, vintage aprons like our grandmothers, aunts and mothers used to wear. Something about the myriad colors, shapes and textures of the appeals to me. It is fascinating to me how much time was spent in sewing and decorating an item of clothing whose first purpose is […]
We are off traveling for a family reunion somewhere in the wilds of southern Ohio, and will be gone until Monday night. I might post an update while I am gone,but don't count on it. Look for a post on Tuesday at the earliest. Have a good weekend while we are gone!
Powered by WordPress. Graphics by Zak Kramer.
Design update by Daniel Trout.
Entries and comments feeds.