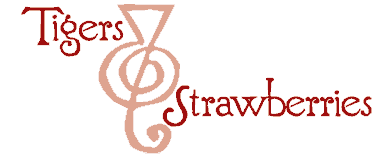 Cook Local, Eat Global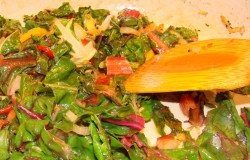 I have come to love chard. Although I still prefer gai lan, collards and kale, chard is fast becoming a favored green in our house. Which is good, because it is prolific here in Athens, and is very inexpensive at the farmer's market. It also has a high amount of vitamins and minerals for the price, so not only is it a local and sustainable crop, it is good for us, too.
I especially love the brilliant colored stems of bright lights chard; the jewel-like tones contrast with the deep verdant green of the buttery leaves. The texture of the stems also adds textural interest because they are crisp and juicy, while the leaves are rich and velvety
The flavor is mild and agreeable, able to be assimilated into many different cuisines. I am particularly fond of using chard in enchilada fillings, but I have also found that it does well in Indian dishes.
Especially simple stir fries like this one: Chard with Panch Phoron.
As noted elsewhere, panch phoron is a Bengali mixture of equal parts of five spices: oniony nigella, musky cumin, sweet fennel, sharp mustard, and nutty fenugreek. Toasted in hot oil, and tossed with vegetables, the spice mixture is a fountain of flavor; when caramelized onions, golden garlic, chiles and lemon juice are added, a simple green like chard is elevated into a revelation of flavor. When the chard is as colorful as "bright Lights" the dish becomes as beautiful as it is flavorful.
And another bonus–it is all quick and easy to prepare.
A perfect dish served with dal, basmati rice and sliced tomatoes.

Bright Lights Chard With Panch Phoron
Ingredients:
3 tablespoons canola or mustard oil
1 medium yellow onion, peeled and thinly sliced
1-3 fresh red or green cayenne or serrano chile peppers, thinly sliced
1 tablespoon panch phoron
3 cloves garlic, peeled and minced
1 pound chard, the very bottom of stems trimmed off, then leaves and stems cut into 1″ wide pieces, then roughly chopped
juice of one lemon
salt to taste
Method:
Heat oil in a heavy bottomed skillet over medium heat. Add onion and cook, stirring, until it is medium golden brown. Add cayenne, panch phoron and garlic and continue cooking until mustard seeds pop and the onions are dark reddish brown and garlic is golden colored.
Add chard, and lemon juice, and cook, stirring until leaves wilt and stems are tender crisp–this should take just a few minutes.
Add salt to taste and serve immediately with rice, a dal dish and other vegetable dishes for a delicious Indian vegetarian meal.
12 Comments
RSS feed for comments on this post.
Sorry, the comment form is closed at this time.
Powered by WordPress. Graphics by Zak Kramer.
Design update by Daniel Trout.
Entries and comments feeds.