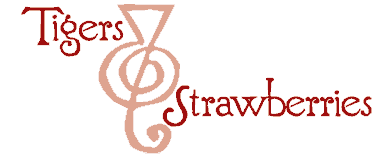 Cook Local, Eat Global
It isn't often that I come across a vegetable that I have not yet tried, but when I do, I nearly always buy some, cook it and see what it tastes like.
Most of the time, I like it pretty well, but sometimes, I find something that I just love.
Chard is one of those "I just love" vegetables.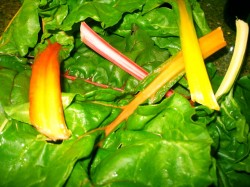 Why have I never had chard until this year?
I have no ruddy idea, really, except that it was not one of the greens we grew when I was a kid, so we never cooked it, so I never ate it. Then, I also have had to contend with a string of folks with whom I live not being the most enthusiastic eaters of greens in the world, so that put a damper on the, "let's just try it and see what happens" mode of culinary experimentation that I favor. It has only been recently that Zak has been willing and even thrilled with trying new greens, at least, so long as they are stir-fried.
So, when I bought the chard two weeks ago that I used in my Ten Steps to Better Chicken From a Wok post, I actually didn't know it was chard. I just thought it looked good. I found that it also tasted good.
Last week at the farmer's market, when I saw "Bright Lights" chard, I nabbed it up, knowing full well what it was, because I had seen it in seed catalogues for the past couple of years and drooled over the gorgeous colors of the ribs and veins of the leaves. They are lovely, aren't they? Red, yellow, orange and fuschia, all framed by brilliant emerald green. This chard is pyschedelic in form, if not in effect–it is dressed in the colors Goldie Hawn used to sport in her minidresses on "Laugh-In." (I am showing my age, am I not?)
Of course, I had to buy it and figure out a stir-fry to feature it in. It was too stained-glass pretty to pass by.
I was in a tofu mood last night, so I pulled out a package of Spring Creek and decided to cook that along with the greens. I added a chicken breast for Zak and Morganna who do not always want just tofu, and then seasoned it all with scallions and green garlic from the farmer's market, as well as three of the Thai dragon chiles I had in the freezer from last fall's market growers.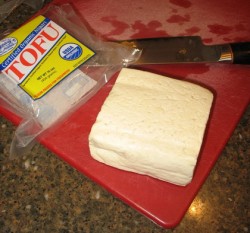 And I -had- to add some fermented black beans. They add so much flavor to the tofu, and their funkiness really compliments the earthy quality of the chard. Besides, I love them with chicken, too.
This particular brand of tofu is great for stir frying, because it really is extra firm, so much so that one needn't press it to push out the water that softens it. It is firm enough to just take from the package, slice up into whatever shapes you like, marinate and then stir fry. Of course, because I was going to be stir frying with chicken, meant that I had to get creative with how to put the dish together–if you stir fry the chicken and then add the tofu, the chicken will get over done while the tofu is underdone, and if you stir hard enough to move the chicken, the tofu gets bunged up and falls apart, even if it is extra firm. Besides, cooking the two at once overcrowds and cools down the wok and that is never, ever a good thing.
What to do?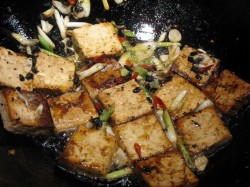 Cook in stages, obviously. Which is what I did–I put the aromatics in first, then the marinated tofu, into a single layer on the bottom of the wok. When the bottom was browned to my satisfaction, I flipped the tofu over once, let it brown on the second side, and then scooped it all into the serving bowl to wait. I left as many aromatics as were not clinging to the tofu in the wok as I could, and then threw in the chicken and cooked as normally. Once the chicken was nearly done, in went the chard stems (I cook the stems a bit longer so they will be tender crisp, while the leaves are velvety-wilty–if you put them in together, the stems will be underdone or the leaves overdone) then, added the tofu back in just before I put in the chard leaves, and finished off the dish.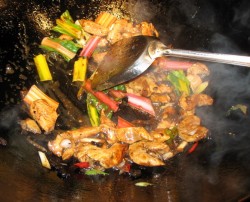 It is all a matter of timing, prioritizing and paying attention to your ingredients.
The finished dish was admirable, and most of it was eaten. The tofu was creamy on the inside, with a bit of crisp laciness on the outside; the chicken was tender and steamy and the chard stems were crisp and watery, and retained their lovely colors, while the leaves were rich on the tongue. The use of dark soy sauce in conjunction with the fermented black beans, scallions and garlic made a deeply flavored sauce that blanketed each bit of food with a clinging coat of deep flavor, while still allowing the natural flavors of the ingredients to shine through.
It was definately a good experiment.
Now I just have to figure out a way to make chard as a side dish to a Western style meal. Maybe sauteed with garlic, scallions and olive oil with a dash of balsamic vinegar? That might be nice.


Tofu, Chicken and Chard Stir-Fry
Ingredients:
16 ounces extra firm tofu
2 tablespoons dark soy sauce
1 teaspoon thin soy sauce
1 1/2 tablespoons cornstarch
1 boneless skinless chicken breast, trimmed and cut into 1″X1/2″ slices
1 tablespoon dark soy sauce
1 tablespoon Shao hsing wine
1 teaspoon honey
2 tablespoons cornstarch
3 tablespoons peanut or canola oil
6 stalks green garlic, trimmed and thinly sliced on the diagonal–white and light green parts
6 scallions, white and light green parts sliced thinly on the diagonal
3 Thai dragon chiles, thinly sliced on the diagonal
2 tablespoons lightly crushed fermented salted black beans
2 tablespoons shao hsing wine
1/2 pound chard, big stems cut into 1″ long pieces, and kept separate; leaves cut into 2″ square pieces
1/4 cup chicken broth
1/2 teaspoon sesame oil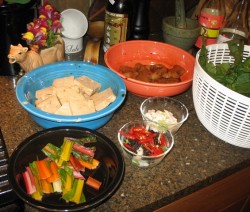 Method:
Cut tofu block into slices, about 1/2 inch thick and 1 1/2″ square.
Mix together first measure of soy sauces and cornstarch to form a thick, dark paste, and rub into the tofu slices and then pour the rest of the thick marinade over them. Set aside to marinate for at least twenty minutes.
Toss chicken pieces with the soy sauce, wine, honey, and cornstarch, and allow to marinate twenty minutes.
Heat wok until it smokes. Add oil and heat until it shimmers–about thirty seconds to a minute.
Add the garlic, scallions, chiles and black beans and stir and fry for about thirty seconds. Slide most of the aromatics up the sides of the wok and add tofu in a single layer to the bottom of the wok. (IF there is any liquid marinade left–reserve it.) Allow to sit undisturbed to brown on the bottom–about a minute and a half. When it is brown, flip over the tofu and allow other side to brown–about a minute. When both sides are brown, remove tofu to serving dish and set aside. (Try to keep as many aromatics in the wok as possible!)
Add chicken to wok, settle it into a single layer, and lay aromatics over it. Allow to sit undisturbed until it browns–about a minute. When it browns, begin stir frying as is normal, until chicken is halfway done. At this point, add the second quantity of wine, and deglaze wok. When chicken is nearly done, add in chard stalks and stir fry for about thirty seconds. Add tofu back to wok, with any aromatics that came with it, stir fry gently for about twenty seconds.
Add chard leaves and any liquid marinades from the tofu and chicken and the chicken broth. Stir fry gently, trying to get the hot chicken, tofu and chard stems on top of the leaves, and as soon as leaves wilt, turn off heat, season with sesame oil, and scrape into a warmed serving bowl.
Serve with steamed rice.

18 Comments
RSS feed for comments on this post.
Sorry, the comment form is closed at this time.
Powered by WordPress. Graphics by Zak Kramer.
Design update by Daniel Trout.
Entries and comments feeds.