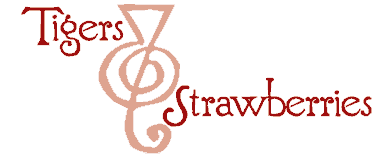 Cook Local, Eat Global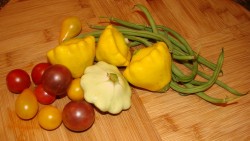 When I was a child, I had a fascination with little things.
I collected miniature figurines of animals, and my favorite dolls were tiny–small enough to fit in my palm. On the shore of Lake Erie on visits to my aunt and uncle's home, I would collect the shells of tiny bivalves and snails, delighting in their jewel-like colors and perfection of form in packages smaller than my pinkie fingernail. I rejoiced in the flowers of chickweed–they look like a cross between wee daisies and stars–and when my Mom would pull the weed from the garden, I would sneak behind her and plant it back, all for the sake of the pretty flowers.
As I became older, I began creating miniature landscapes inside of blown-out eggshells and creating dollhouse furniture in 1/12th scale, including plates of food made from plasticine clay.
So, it should come as no surprise to anyone that I should love and adore "baby" vegetables.
Whether they are true baby vegetables which are harvested very early, as in the case with squash, beets, potatoes and carrots, or if they are naturally small in size when fully grown, such as cherry tomatoes and haricot vert, I have a soft spot in my heart for the perfection of form and flavor of tiny, tender vegetables.
(I have to admit that my favorite baby vegetables to look at are the little pattypan squashes pictured above. They look like miniature UFO's and I used to fly them around Morganna's head when she was little. I figure I will do the same silly thing with Kat, as she gets big enough to know what a flying saucer is….Yeah, I am silly.) But, aren't they cute?)
I like to eat these little gems raw or barely cooked in salads and pasta dishes, but I have also found that they add a great deal of flavor and color to my usual Indian lentil dish made with masoor (split and hulled lentils–also known as pink lentils) and mung (split and hulled mung beans) dal, seasoned simply with a tarka of onion, garlic, cumin and mustard seeds. With a final sprinkling of roughly chopped cilantro leaves, this dal is a very delicious, nutritive vegetarian summer dish.
I used to make this exact dal for my Pakistani and Bangladeshi personal chef clients in Maryland, almost every week in the summer because they kept requesting it. Sometimes, I would add browned cubes of boneless skinless chicken thigh meat to the dal, so that they could combine it with rice and raita and make a complete meal, a very simple lunch or light supper.
I like it myself without the chicken, but you can add it if you want to.
The trick to getting the most flavor from the vegetables is to add them to the tarka and allow them to brown on the outside, forming wonderful caramelized flavors.
A tarka is simply made: all it is is cooking seasonings deeply in oil or butter until they are well browned and toasted, and then pouring this very fragrant mixture over the dal and stirring it in right before it is served. This action is also called "tempering" in some Indian cookbooks, and is the secret to really great, intense flavors in many recipes.
My general method to make a tarka is to brown onions in ghee, butter or canola oil until they are a medium golden brown color. At that time, I add thinly sliced garlic and fresh chilies, and my spices–usually mustard and cumin seeds–to the pan. I keep cooking and stirring until the onions turn deep reddish brown, the garlic is golden, the mustard seeds have popped and the cumin seeds have turned dark brown and everything is fragrant. Then, I stir the contents of the pan into the dish for which they are intended–in my case, usually a dal.
Sometimes I add curry leaves or dried chilies, and sometimes other spices go in as well. In the case of this dal, I also add the baby vegetables, but they go in after the garlic has turned pale golden. The reason for this is because they release a good amount of water, which slows down the browning process of the garlic and spices, so to make up for it, I cook them just a little bit longer before adding the vegetables.
In this recipe, I also added some thinly shredded chard greens, as I had them on hand. Baby spinach would work just as well and would keep the baby vegetable theme intact; however, as hot as this summer has been, all of the spinach has bolted and gone to seed. We won't see any more spinach, baby or otherwise here in Athens until the cool weather of autumn swoops upon us.
Kat really loved this dal. I ended up pureeing the leftovers and freezing them for her to have on nights when we are eating foods which are inappropriate for her–such as rare meats, or for her lunches, when we are eating peanut butter and jelly sandwiches. Morganna liked it as a variation on my usually masoor dal tarka, and liked the way the vegetables added extra color, texture and flavor to the essentially pureed golden lentils.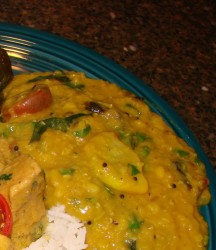 Masoor Dal with Baby Vegetables
Ingredients:
2 cups masoor dal, sorted for stones and foreign objects, and rinsed
1 cup mung dal, sorted and rinsed
1 tablespoon ground turmeric
1/2 teaspoon asafoetida (also known as hing) powder (optional, but I always use it)
1 tablespoon grated fresh ginger
water as needed
3 tablespoons ghee, butter or canola oil
1 cup peeled and thinly sliced yellow onions
1/2 teaspoon salt
3 cloves garlic, peeled and thinly sliced
1 green cayenne chili, thinly sliced (optional)
1 tablespoon brown mustard seeds
1/2 tablespoon cumin seeds
3 baby pattypan squash,ends trimmed and thinly sliced
12 cherry or pear tomatoes, halved
1 handful of haricot vert (tiny french filet green beans) or regular green beans, topped, tailed and snapped into 1″ lengths
1 cup shredded chard or baby spinach leaves
1/2 cup roughly chopped cilantro leaves
salt to taste
Method:
Put dals, turmeric, asafoetida and ginger into a pot, and add enough water to cover the legumes by about two inches. Put on medium heat and bring to a boil, turn heat down to low and cook, stirring now and then, until the lentils soften and break down into a thick puree.
Make the tarka: in a heavy bottomed skillet–cast iron is preferable, heat ghee, butter or oil on medium heat. Add the onions in a thin layer on the bottom, sprinkle with the salt and cook, stirring until the onions turn a medium golden brown. Add the garlic, cayenne chile, and the whole spices. Cook until the garlic is pale golden, the onions have darkened to brown and the mustard seeds have popped. Add the squash, in as close to a single layer as you can manage, and cook until it browns on one side, then turn it over, and add the rest of the vegetables. Turn the heat up and cook, stirring until the rest of the squash is lightly browned, the garlic is fully dark gold, the onions are dark reddish brown and there are browned spots on the beans and tomato skins.
At this point, pour the tarka into the finished dal and stir in the chopped cilantro. Taste for salt and add as needed. Serve immediately with rice and raita for a complete simple Indian vegetarian meal.
For really nutritious baby food, puree and freeze in ice cube trays. Thaw each serving in the fridge and reheat carefully in the microwave. Thin with water or yogurt if needed.
8 Comments
RSS feed for comments on this post.
Sorry, the comment form is closed at this time.
Powered by WordPress. Graphics by Zak Kramer.
Design update by Daniel Trout.
Entries and comments feeds.