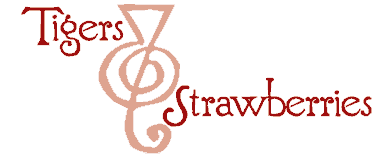 Cook Local, Eat Global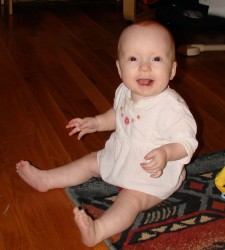 As regular readers have probably already gleaned, Kat has an amazingly open mind (and mouth) when it comes to solid foods. I did try, sort of, to introduce the foods suggested by typical American baby books and pediatricians to Kat: rice cereal, bananas, and other bland fare, but she just really didn't much care for them.
It makes a great deal of sense; when I was pregnant with her, I ate a steady diet of curried vegetables and spicy dals, along with very spicy stir-fried greens and tofu. After she was born, I was told while she was in the hospital by the nutritionist that since I was breastfeeding, I had to be careful what I ate, since babies' stomachs were sensitive to what Mom ate. After she left the room, two pediatricians, one from China and one from somewhere on the Indian subcontinent, came up to me and said, "She isn't right about that, you know. Eat what you like. Where we are from, mothers eat what they always eat, and it is never bland or lacking in garlic–and the babies are fine."
I am happy to report that some American pediatricians are coming around on the issue of feeding babies spicy foods. Here is a great article pointing out that a lot of the "baby food rules" that we American parents have been fed all these years are not based on science, but rather guesswork and cultural bias and may not only be wrong but somewhat harmful.
I was particularly interested by this quote from the article: "Dr. David Ludwig of Children's Hospital Boston, a specialist in pediatric nutrition, says some studies suggest rice and other highly processed grain cereals actually could be among the worst foods for infants.'These foods are in a certain sense no different from adding sugar to formula' and could contribute to later health problems, including obesity, he says."
I wondered about that myself when I first fed Kat rice cereal. It wasn't exactly what one could call a whole grain–and since adults aren't suppose to eat such highly refined grains, why are they so good for babies? Foods like that which are basically pure starch do have as high a glycemic level in the body as sugar, so I was skeptical. But, I did give it to her, oh, about twice–mainly because she really didn't much like it.
So, Kat has been eating curries: Indian, Thai, Sri Lankan, and other spicy dishes from China to Mexico and all points in between second hand since she was conceived. And she seems to be fine.
As you can see from the photo above, she is growing like a weed, and has started building some nice long (and strong) legs. And she is healthy and happy. And she still really doeasn't care for bland food, so now that she is able to eat meats, I decided to make some chicken curry she could enjoy with us–essentially baby-safe curry.
What does baby-safe curry consist of? Well, I tend to use less chilies than I usually do, because Kat hasn't caught up with us when it comes to the truly hot stuff. I don't like to use dairy in her curries, though yogurt would be fine, so I tend to make them based on coconut milk. Which is fine–the fats in coconut milk are reputedly good for babies, being as it is very digestible. I also tend to use a good amount of very browned onions, garlic and ginger, which I have ground to a paste, in her curries: not only do they add flavor and color, they add healthy nutrients as well. The sulfur compounds in onions and garlic are quite healthy and have antibiotic properties, and the ginger helps aid digestion.
I think it is best avoid tree nuts (and oils made from them–in this curry I used the cream from the coconut milk as cooking oil, but I could have used canola oil, too, or ghee), peanuts, milk or cream and other highly allergenic substances, but everything else is fair game. That means no korma for Kat for a while, but there are plenty of other curries, based on coconut milk, tomatoes, or tamarind, that she can have.
The spices I like to use for Kat include cinnamon, fennel, cloves, coriander seeds, a tiny bit of black pepper, green cardamom pods and a little bit of fenugreek seeds. I carefully grind them all to a powder, and mix them with the pureed browned onions, ginger and garlic, so that there are no lumps in the curry she could choke on. All of these spices have health-improving qualities, and they all tend to have a gentle, sweet flavor profile, especially when combined carefully together. The pepper and fenugreek are the exceptions, and their bite and slight bitterness add depth to the masala. The mixture comes out quite flavorful–but not overpoweringly hot. A curry flavored with this masala is wonderfully fragrant, and gentle with a nurturing quality that I quite like.
Finally–I do use a bit of dried cayenne chile, some paprika and turmeric, all fully ground into a powder, to add the final flavoring and color to the curry. I don't like my curries to be technicolor productions, but I do like them to have some appetizing color, and the turmeric and paprika take care of that, while the turmeric also adds its own antiseptic qualities, and the chile adds zing.
That is all. I think that my feelings on making curries for a baby are this: whatever the baby likes, use it. Go easy on the spices–but don't be afraid to use them, especially if you have been eating them all through pregnancy and nursing. Your baby is probably already used to tasting them, and will note their lack if you restrain yourself too much. Just make sure to grind your spices well, and make certain that they are all cooked carefully before the baby eats them. Raw spices are awfully hard on any digestive system.
If by chance you make the curry too strong, you can always add more yogurt or coconut milk to tone it down a bit.
Whatever meat you use, if you give your baby meat, make certain it is fully cooked, and can be ground into a puree for the wee toothless ones. I used chicken breasts from locally raised organic free-range chickens, and while these birds were well-exercised and the meat was firm and somewhat tough (and very tasty) it ground up perfectly fine after it was cooked in our Sumeet grinder.
Of course, we folks with full dentition ate ours in chunks and chewed it, but it was nice to make one dinner for all of us. All I had to do was grind up Kat's portions and we were all together at the table eating the very same meal.
And Kat loved it–she felt like she was part of the action, and she didn't feel like she had to cadge food off my plate, once she found out we were all eating the very same thing.
I loved it because I didn't have to make two meals, and because I could grind up extra and freeze it for days when we wanted to eat something inappropriate for Kat, like something with seafood or tree nuts or the like.
And Morganna liked it because she got to ask me if baby curry is made from real babies.
It makes her feel a bit like Wednesday Addams when she says things like that.
Ingredients:
19 ounce can Mae Ploy Coconut Milk
2 cups thinly sliced yellow onions
1 teaspoon salt
1 cinnamon stick
1″ cube fresh ginger, peeled and minced
4 large cloves fresh garlic, minced
4 whole cloves
5 green cardamom pods
1 tablespoon coriander seeds
1/4 teaspoon fenugreek seeds
1/4 teaspoon black peppercorns
1/2 teaspoon fennel seeds
2 teaspoons turmeric
1 teaspoon paprika
1/8 teaspoon ground cayenne pepper
1 pound boneless skinless chicken breasts, cut into 1/2″ cubes
salt to taste
1/2 cup fresh cilantro leaves, roughly chopped
handful of quartered cherry tomatoes for garnish
Method:
Scrape about 4 tablespoons of coconut cream off the top of the can of coconut milk. Melt it in a heavy-bottomed deep pan over medium heat. Add onion slices, and sprinkle with salt. Add cinnamon stick, and cook, stirring continually until the onions are medium brown. Add the ginger and garlic and keep cooking, stirring, until the onions are dark reddish brown and fragrant.
Scrape the contents of the pan, including half the cinnamon stick (discard the other half), into a spice grinder and add other spices. Grind all into a thick, dark reddish brown paste.
Heat the rest of the coconut cream in the pan until it melts. Brown the chicken cubes well. When they are half browned and half still pink, add the masala paste, and cook, stirring, until the chicken is brown and the spice paste is fragrant. Add the rest of the coconut milk, and stir well. Turn the heat down and simmer until the chicken is completely cooked through.
Add salt to taste, and stir in cilantro leaves and cherry tomatoes just before serving.
For a baby, puree the chicken and sauce together and thin with a little bit of coconut milk or water before serving.
29 Comments
RSS feed for comments on this post.
Sorry, the comment form is closed at this time.
Powered by WordPress. Graphics by Zak Kramer.
Design update by Daniel Trout.
Entries and comments feeds.