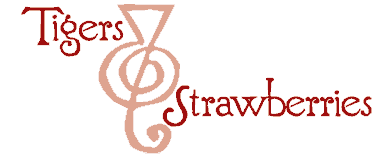 Cook Local, Eat Global
I guess it is obvious that I have not posted anything in over a week.
There is a reason for that.
It all started last Friday night.
Kat developed a fever. When we woke up Saturday morning, it was up to 104.1 F.
This was upsetting, obviously, not only because we didn't know what was causing it, but because this is the first time she has been sick, and of course, the pediatrician's office was not open.
(Why is it that kids only get really sick when the doctor's office is closed?)
So, we called the doctor's answering service, and he called back quickly. We had sponged her off and given her Tylenol and the fever had come down to a more acceptable 101.5. He said we were doing the right thing, and to keep doing it, and he suggested we use Motrin in addition to the Tylenol if the fever went above 103 again. And we were only supposed to go to the ER if the fever soared and would not come down or if she manifested any symptoms other than the sniffles.
Well, we held on until Monday, keeping her dosed up on anti-inflammatories and giving her plenty of fluids. Then we took her to the doctor, and he checked a urine sample, because he had caught some kids with this virus which has been going around with UTIs, which are really bad for babies.
Meanwhile, Tristan, my thirteen year old Siamese cat, died on Saturday night. He has been sick with chronic upper respiratory disease his entire life, and it was finally too much for him. We had been medicating him, but the stress of being medicated did him in. I found him Sunday morning.
Morganna came back from her work housesitting and dogminding with asthma and allergy issues from the dog hair, so she was not feeling well.
The kitten fell into the toilet, which thankfully, was flushed and clean.
Then, she jumped onto my bed, because that is the first place to go if you fall into water, apparently.
Kat's fever stopped abruptly, and we felt like all was well.
Morganna developed a UTI.
So, off to the doctor Morganna went.
They prescribed her with sulfa, because she, like me, is allergic to penicillin.
She has developed an allergy to sulfa, too, just like I have. She broke out into spots and then started vomiting in the wee early morning hours.
Kat also broke out into a blotchy red rash.
And then Kat's doctor called us to tell us that her urine culture had come back with a high amount of bacteria. So, back to the doctor both of them went. (Meanwhile, another cat is sick, and my allergies go into overdrive–some sort of pollen must be out and about attacking me viciously.)
Zak is now on a first name basis with the pharmacist.
We still have a cat who is sick.
Kat had what is called "roseola," which is caused by one of the gazillions of herpes viruses that lurk around and attack humanity. All it really does is give a high fever, some sniffles, loss of appetite, body aches, crankiness and sleepiness. The worst is the fever, which can cause complications. Then it all goes away, and the rash comes on.
As for her urine culture, they took a second one on Thursday, and we will hear the results of it on Monday after it has had a chance to grow all weekend.
It may be that there is a structural problem with her urinary tract, but until we know for certain, I won't go into it.
Morganna is fine, and is back at her dogsitting post. No more sulfa for her ever again.
Next week, she will be going to New Hampshire and NYC with Zak's parents.
One cat is still sick, but it is probably nothing.
My allergies are still awful, but I can live with it.
The kitten has not fallen into any toilets recently, but she keeps trying to get stepped on. Currently, she is trying to destroy an area rug which apparently needs to be attacked violently and mercilessly. It must be an evil rug.
So.
The upshot of all of this is that I will be back to talking about food, Chinese food in particular, on Monday or Tuesday. I promise.
God willing, and the creek don't rise, as they used to say back home in West Virginia.
31 Comments
RSS feed for comments on this post.
Sorry, the comment form is closed at this time.
Powered by WordPress. Graphics by Zak Kramer.
Design update by Daniel Trout.
Entries and comments feeds.