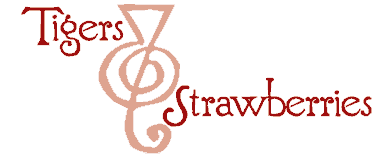 Cook Local, Eat Global
If you have ever eaten good wheat-based soup noodles or pan-fried noodles at a Chinese restaurant or noodle shop, one thing that you cannot help but notice is the texture of them. In soup, they are always springy, flavorful and firm, never mushy or overcooked, and when they are pan fried, they are toothsome on the inside, crispy on the outside and absolutely delicious. If soft fried for lo-mein, they always have a bite to them without being undercooked, and are resilient without being crunchy.
There is a secret to making good fresh (store-bought or homemade) Chinese wheat noodles better, and it is simple–so simple anyone can do it.
All you need is a bamboo steamer, a pot of boiling water and about ten to fifteen minutes of time, and you can pre-steam your noodles so that their fresh flavor is enhanced and preserved, and so that they are impossible to overcook into pallid mushiness. If you want, you can take fresh noodles, steam them, and then after they are cooled, you can pack them into plastic bags for your freezer or refrigerator. In the freezer, they will keep for two months, while in the fridge, they will keep for two weeks–much longer than they would otherwise. Or, if the weather is dry, you can allow the steamed noodles to dry completely to the touch in the air, and then pack them into airtight plastic bags to be used within three to four months.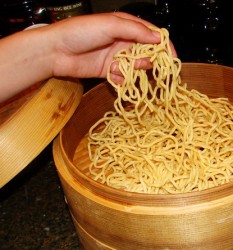 To use pre-steamed noodles, you just cook them as you would normally–but be aware that to boil steamed noodles, either dried, thawed frozen or refrigerated–that they take a little longer to cook than they would if they were pre-steamed. They will cook in about three to four minutes, using my method for boiling noodles outlined here.
After they are boiled, they can drained and used in lo mein, topped with sauces, or made into a cold noodle dish, just as if they were plain boiled noodles. The difference being, however, a superior texture and flavor, all managed with just a few extra minutes of cooking time–which can be done hours, days, weeks or months ahead of time.
Method:
For one pound of fresh homemade or store-bought Chinese noodles (plain or egg noodles–it doesn't matter which), bring water in a wok or a large pot to the boil. Divide your noodles into two portions, and spread each into a round nest in the bottom of a bamboo steaming basket. (If you don't have a bamboo steamer, you can improvise by using a plate, a pot with a lid and an empty food can with the bottom and top cut off–you put about an inch and a half of water in the pot, put the can in the center standing up on its end, arrange the noodles on the plate and set it on the can. You need to make sure the can is shorter than the pot by at least one inch. Then, when the water boils, you put the lid on the pot and steam as directed.)
Fluff the noodles and loosen them as shown in the photo above as you arrange them, but make certain that the nests are not any taller than one inch. After they are arranged, bring the water in the pot or wok to boil, and set the two steamers, stacked on top of each other with the lid on the top basket, on top of the boiling water–make certain that the water doesn't touch the bottom of the basket, and steam.
For homemade noodles, steam for ten minutes. For store-bought, steam for fifteen minutes. When they are done, they will be slightly darker in color, and shiny, and they will have a dense, springy texture. After you take the baskets off the pot, open them up, and remove the noodles, fluffing them with your fingers. Arrange each portion into a circular nest on a plate to cool and dry–be careful, because the noodles are quite hot when they first come out. (My fingers could take the heat, but if yours cannot, use chopsticks or tongs to remove them to the plates.) You don't want them to cool in the baskets because they will stick together.
After they are dry and cool, each nest can be packed away in plastic bags and frozen or refrigerated, or they can be set on the counter to dry thoroughly, then packed in an airtight bag in a cool dry place.
Or, they can be used in any noodle recipe immediately.
8 Comments
RSS feed for comments on this post.
Sorry, the comment form is closed at this time.
Powered by WordPress. Graphics by Zak Kramer.
Design update by Daniel Trout.
Entries and comments feeds.