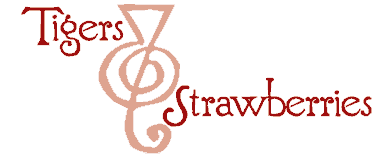 Cook Local, Eat Global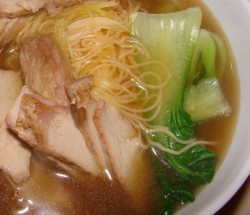 In many cultures around the world, a steaming bowl of noodle soup is the next best thing to a mother's embrace. Noodle soup can be spicy or mild, filled with vegetables, or meat, or seafood or tofu, or made of just broth and noodles–it can be simple and stark, or elaborate and dressed to the nines with garnishes. Whatever form it takes, noodle soup is nothing less than comfort in a bowl for countless people across the world.
One of my favorite versions is the Chinese noodle shop standby, roast pork noodle soup. Made with thin fresh or dried wheat and egg noodles and a chicken and pork broth simply seasoned with a bit of salt, sugar, soy sauce, and toasted sesame oil, with thin slices of char siu, Cantonese roast pork, and blanched greens of some sort, this soup is an amazing restorative. If I feel under the weather it perks me up, if I am down, it makes me smile, if I have a headache, it clears my sinuses (especially if I add chile garlic sauce or chili oil at the table!) and if I am nauseous, it settles my stomach.
It does the same for Zak who loves the soup even more than I do. Something about the sweet barbecued pork combined with the savory broth, firm, springy noodles and sweet, lightly crisp greens just sings to him, and he tells me he would eat this dish every day if he could.
If we lived nearer to a noodle shop, I reckon he would, but since I have to make it from scratch, we eat it now and again, and treasure it all the more.
In truth, once the soup stock is made and the pork is roasted, the soup is simplicity itself to put together. All you need to do is pick out a nice green to be blanched to go in the soup, and cook some noodles.
My favorite greens for this soup are choy sum and baby Shanghai bok choy. Shanghai baby bok choy are the ones that have pale jade green stems and dark green leaves, and are only about two and a half inches tall; regular baby bok choy has white stems and deep, almost pine green leaves. I think that the Shanghai variety has more flavor and is slightly sweeter.
This time around, I used baby bok choy; they were extremely fresh and are very sweet this time of year and are so easy to prepare. Just cut off the bottoms of the tiny cabbage cousins, where the leaves all come together. Rinse them well under cold water and bring a big pot of salted water to a brisk boil. Dump the bok choy in, and stir to get them covered with the water. As soon as they wilt a bit–which will take all of a few seconds, pour out the leaves and water into a colander in the sink and rinse them thoroughly with very cold water to instantly stop the cooking. The result should be leaves that are barely cooked and softened with lightly wilted stems which have darkened slightly. The stems should still have a nice tender crunch to them.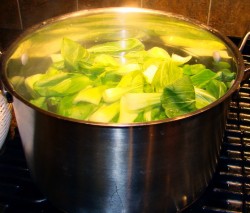 After you deal with the greens, you need to pick out your noodles. My favorite for this soup are fresh thin wonton noodles from Twin Marquis. They are available in the refrigerated sections of many Asian markets, and they are the closest to the very thin, flavorful, pliant yet springy egg noodles used in Chinese restaurants and noodle shops. I neglected to photograph the package before I tore it open to cook the noodles, but there is a photograph of these noodles as you will see them in the stores on the Twin Marquis website–just look at the noodles on the extreme right in a styrofoam tray wrapped in plastic wrap.
If you use these noodles, be very careful–when the cooking instructions say that they cook in 60 seconds, they are not kidding. Have a big pot of water boiling, then take each of the four bundles out of the package and carefully detangling the noodles with your fingers, sprinkle them over the boiling water into the pot. Work quickly, stirring between bundles, until they are all in the pot, then start timing. I take them out at fifty seconds, personally, just to be certain.
I scoop them out with a skimmer and tongs, and instead of putting them into a colander, I set them in a very large metal bowl. (This is because they are so fine, they would slither right through the holes in most colanders!) When they are all out of the water, i rush them to the sink, and rinse them in very cold water, filling the bowl up and swishing them around with my hands to make sure they are all separate and not sticky with starch. Once they are cold, I drain out the water, and toss the cold noodles with about a teaspoon of sesame oil to keep them from sticking to each other. (This entire process works with many kinds of Chinese wheat noodles and is outlined here. In addition to rinsing the starch from the outside of the noodles, soaking them briefly in cold water brings a great chewiness and resilience to the noodles without making them tough or gummy.
Once you have the soup stock flavored and boiling, and the pork sliced, the greens prepared and the noodles cooked, you are ready to put everything together. But, before you do that, you might want to add one more little fillip, one little grace note that I add to my own version of Roast Pork Noodle Soup. I cut a single peeled fresh garlic clove and a similar sized piece of peeled fresh ginger into tiny julienne–pieces as wide as a blade of grass–to be sprinkled on top of the noodles. These tiny aromatic bits cook instantly as soon as the boiling hot soup stock hits them and give just another layer of nuanced flavor. If you don't mind the cutting, give my idea a shot and see what you think.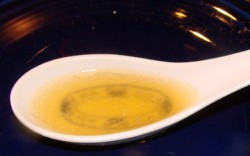 After this–it is all a matter of assembly. Pre-warm the bowls by running hot water into them and then pouring it out. Set them on the counter next to your soup pot. Layer a serving of noodles (the Twin Marquis twelve-ounce package of thin wonton noodles is enough to feed four adults and a baby) into the bowl, and then top with a tiny sprinkle of the slivers of garlic and ginger, if you are using them. Arrange thin slices of pork over the noodles artfully, and drape the blanched greens along the interior edges of the bowl. Drizzle a scant 1/8 teaspoon of toasted sesame oil over the noodles, and then carefully ladle the boiling stock into the bowls–using enough to cover the noodles, pork and greens fully, without completely drowning everything in a tide of soupy goodness.
That is it. The only thing left is to season your individual bowl to taste with garlic-chili sauce or chili oil, and then slurp and enjoy.
Ingredients:
2 1/2 quarts soup broth made from Chinese chicken and pork stock
salt and white pepper to taste
sugar to taste
light or thin soy sauce to taste
Shao Hsing wine (or dry sherry) to taste
12 baby Shanghai bok choy, bottoms cut off to loosen leaves
12 ounce package Twin Marquis thin wonton noodles (or 12 ounces dried or fresh thin egg noodles)
12 ounces char siu, sliced thinly
1 large clove fresh garlic, peeled and cut into very fine julienne (optional)
1 piece fresh ginger–the same size as the garlic clove, peeled, cut into fine julienne (optional)
2 teaspoons toasted sesame oil
chili garlic sauce and chili oil (served on the side)
Method:
Bring soup broth to simmer. Season to taste with the salt, white pepper, sugar, soy sauce and wine.
Bring a large pot of water to a boil, and drop in the bok choy. As soon as the leaves wilt, drain and rinse in very cold water. Drain and set aside.
Bring another large pot of water to a boil. Remove noodles from package, one bundle at a time (they are packed in four bundles), loosening the noodles as you sprinkle them over the boiling water and into the pot. Working quickly, put all four bundles into the pot, and stir with chopsticks. Cook forty-five to sixty seconds. Remove noodles from boiling water with a skimmer and tongs, and put them into a large bowl. Rinse in very cold water, soaking the noodles briefly to firm them up. Drain the noodles and after wiping a dab of sesame oil over your palms, massage it into the noodles to keep them from sticking together. (You don't need much oil for this.)
Bring soup broth to a full boil.
Warm four bowls in hot water, then dry. (You can also warm them in the dishwasher on the heat dry cycle, or in a warming oven if they are oven safe.)
Divide up the noodles into four portions and lay them in the bottom of the bowls. Arrange equal portions of pork along the top of the noodles, and add equal portions of bok choy leaves along the edges of the bowls. Sprinkle the tops of the noodles with small amounts of garlic and ginger. Drizzle 1/2 teaspoon of sesame oil over the noodles.
Ladle boiling soup over the bowls, covering the contents. The soup must be boiling in order to warm up the rest of the ingredients.
Serve with chili garlic sauce and chili oil so each diner can add as much or little as they desire.
6 Comments
RSS feed for comments on this post.
Sorry, the comment form is closed at this time.
Powered by WordPress. Graphics by Zak Kramer.
Design update by Daniel Trout.
Entries and comments feeds.