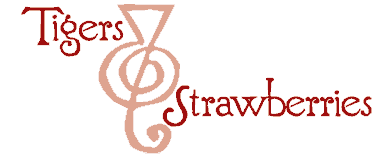 Cook Local, Eat Global
Aren't they so pretty? They look like a pile of tiny dragons to me–all fierce with pointy scarlet and pinkcarapaces and claws and long graceful antennae. I can easily imagine them soaring among the roiling clouds of a thunderstorm, tossing balls of shimmering blue lightening back and forth at each other, their tails curling up and around in sinuous swoops and whorls.
Not too many Americans outside of the Gulf region have seen, much less eaten heads-on shrimp. Shrimp fishermen of course have not only seen shrimp with their heads intact, but have probably also eaten a few of them. Regular folks may have eaten some shrimp heads at sushi bars where they are often served deep-fried (apparently, they are shatteringly crunchy and taste like the ultimate shrimp chip–I will have to try one at my nearest opportunity) and Asian-Americans are probably quite familiar with shrimp heads and their fantastic flavor, but for the rest of us–especially those of us who were born and raised in landlocked states–shrimp heads are an unexplored territory consisting of the mysterious and possibly frightening innards of a crustacean.
I know that I had never eaten the head off a shrimp before in my life, but when I bought a pound of live shrimp at the farmers market on Saturday, I didn't have much of a choice, really. In order for shrimp to be sold live, and thus completely and utterly fresh, they must have their heads attached to the rest of their bodies. It is just the way of things–decapitated shrimp cannot be sold alive.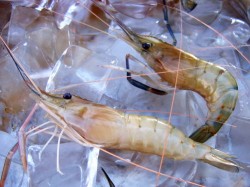 I bought them, and the faculty member of the Hocking College Fish Management and Aquaculture Program who'd help hatch and tend them, sold them to me handed me a plastic trash bag filled with ice and shrimp. I put them in the trunk of our car and merrily danced off to home where I lovingly placed them in the refrigerator with another heaping pile of ice to put them into a tranquilized state. And then, we went off to do more errands, and I tried to put the thought of the shrimp heads out of my mind. But really, even as we browsed in the bookstore, and even as I showed Kat picture books, and shopped for magazines, in the back of my brain, I was thinking, "I know Zak won't eat the heads. And no matter how good they are, I cannot possibly eat the heads from a whole pound of shrimp on my own…so what do I do?"
See–the thing is–even though Zak was born in Baltimore and raised in Miami, Florida, his taste for seafood was acquired at a very late age, and blossomed under my influence. That means he spent the first twenty years of his life in two places known for fantastic crustaceans, and he never touched a single one of them. And though he is a serious danger to boiled shrimp now, and I have seen him peel and eat his way through a pound of them all by his skinny lonesome self, those shrimp were sans heads. I was pretty sure that I could never sell him on the idea of twisting off the head of one of the wee beasties, and sucking out the treasures that lay hidden inside, no matter how sweet and intensely flavored they were.
When it was time to cook them, we called our friend Dan, and he came over to help us out with the shrimp eating. He also stayed in the kitchen to watch me clean, cook and partially shell the shrimp, and he helped take some of these photographs you will see here. I didn't bring up the issue of the heads as I pulled the shrimp out of their bed of ice, and lay them in a colander to give them a good rinse under cold running water. What I did notice, because it was impossible to miss was the fact that several of these beautiful crustaceans were females–it was patently obvious that they were because of the copious amounts of roe–eggs–they were carrying in their back swimming legs.
I felt like a natural history lecturer as I pointed out to Zak, Kat and Dan the female shrimp and their roe (that would be those orange splotches along the tails of some of the shrimp in the photo of them raw in the colander). Now, I have never eaten shrimp roe, but I have eaten caviar, salmon roe, flying fish roe and crab roe, so I knew it would be tasty. I just wasn't sure how my dining companions would feel about it.
They did crowd around to see the eggs when I pointed them out, and there was commentary about it, but no declarations of desire to eat it were forthcoming.
So, I decided that what I would do was cook the shrimp whole in a boil flavored with beer, lemons, cayenne chiles, whole black peppercorns, garlic wakame seaweed and Chesapeake Bay Seasoning. After they were done (a process which would take bare minutes), I would fish them out of the boiling liquid, and dismember them, cutting off their heads, which would be tossed back in the pot, and scraping off the roe, which would also return to the simmering liquid.
When the shrimp were shelled, I'd add the shells, too, and let this mixture simmer for about an hour, until an intensely flavored shrimp stock was produced. This, I figured, I would use to make shrimp etouffee next week if the shrimp folks were back and selling their delightful little dragons again. (And, if they aren't, I will order some really good Gulf shrimp from an online purveyor, because I am not wasting that stock on some pallid frozen nasty things from the supermarket.)
So, that is what I did. I made the boil up–two bottles of Sam Adams beer that the in-laws bought when they were here last, three lemons, juiced, and then cut into quarters and tossed in with the beer, four fresh cayennes, cut into chunks, six cloves of garlic peeled and crushed, a teaspoon of black peppercorns, two tablespoons of dried wakame seaweed, about three tablespoons of Chesapeake Bay Seasoning and about a cup or so of water. (I could have used Cajun-Creole seafood seasoning, but as both Zak and Dan were born in Baltimore, Maryland, I think that there may have been a mutiny on my hands if I had suggested such a thing. As it was, Dan had to run down the hill to his house to fetch his jar of Chesapeake Bay seasoning because mine was hiding,) This mixture was brought to a boil in a medium sized pot over high heat.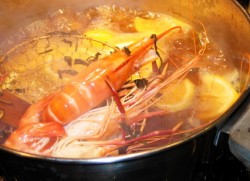 Then I put the shrimp into the boiling liquid a few at a time. The cold from the ice had sedated them to the point that I believe that while they were alive, they were in torpor–probably unable to feel a thing. I put them in a few a time because they were not of similar size–they were not sold graded by size at all, so I only cooked a few at a time so I could pull them out when they were just done. I don't like overcooked shrimp, so I stood over the pot, vigilant for the brightening of the shells as they went from grey-blue to pink and red.
After they were all cooked, I turned the heat down to low so that the pot barely simmered.
This took about two minutes, and after each shrimp was done, I would scoop them out with my wire skimmer and pop them on top of a mountain of ice I had waiting in a serving bowl. There they waited until all of their brethren were cooked, and I could finally pop the question to Dan and Zak: "So, are we going to suck the heads out of these seabugs or not?"
The answer was, quite simply, "Not." Just as I figured.
No matter–I began the beheading process. Considering that the shrimp had already given their lives to the boiling pot, I wasn't too worried. All I had to do was put my knife at the back of their heads, where the head meets the tail, and cut between the plates of chitin. After that, I tossed the head back into the pot, and then start clipping through the shell that curved over the back of the shrimp so I could devein them. But low and behold, after I clipped a few shrimp, I realized that the aquaculture students had purged the shrimp before selling them. This means that they withheld feed for a short time before bringing them to market so there would be nothing in their digestive system to clean out. Amazing!
Some viscous yellow fluid seeped from some of the shrimp heads–I figured it was the brain or some organ or another–I couldn't remember my crustacean anatomy very well from high school. It looked exactly like egg yolk and had a similar rich, unctuous flavor. I felt that I had scored a major victory when I got Dan to taste it. I scraped what was left on the cutting board into the pot, unwilling to lose a single drop of richness and flavor.
I did squeeze the head of one of the smallest shrimp into my mouth. I have to admit to liking it just as well as the crawdad heads I had sucked gleefully from their shells in the past, though the shrimp isn't as rich and fatty. But the head has the sweetest, most complex flavors–which meant that the stock was going to be fantastic when it was done.
So, I just kept beheading shrimp. I began to feel rather like Robespierre, sending these poor innocent shrimp to the guillotine, -after- boiling them to death. No matter, I kept to my work, though in my head I would name each shrimp with the name of a French aristocrat who died during the Revolution. As I scraped the roe into the simmering stock, I began wondering of a giant, foppish masked shrimp named The Scarlet Pimpernel would come to try and save these defenseless crustaceans from my wicked clutches, but no–they were left to my tender mercies until they were all headless, cleaned and enthroned on a mountain of ice to chill.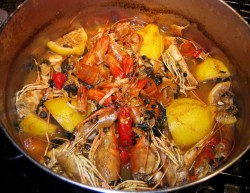 So, while the shrimp stock simmered, I put together a simple cocktail sauce–some ketchup, some grated horseradish, some lemon juice, Chesapeake Bay Seasoning and a generous squirt of Rooster Sauce–aka–Sriracha Hot Sauce blended into a crimson incendiary condiment.
How were they?
Amazingly sweet. Dan, Zak and I made terrific messes of ourselves peeling and gobbling down those little headless aristocratic water dragons. The sauce was a spicy foil for the sweet, tender meat, and it was a great appetizer. The shells went back into the quietly simmering stock.
The largest regret I had was that we couldn't let Kat have any for fear that she may be allergic to shrimp, though neither Zak nor I, nor anyone in our families, is allergic to them–it is best to be cautious with such a potentially lethal allergen She watched us with great big, pleading eyes, but had to content herself with the bread I had torn apart for her to eat. I felt bad because we generally share most foods with her, and she didn't understand.
Someday, we told her, you, too, can engage in crustacean killing.
How did the stock turn out?
Well, after an hour, I strained it by pouring it through a very fine sieve, pressing down hard on the heads, shells, and other solids to extract every droplet of liquid loveliness I could possibly manage. The rich brown fluid was amazingly complex–flavored with the essence of shrimp along with sparkles of cayenne and lemon, with hops and barley notes warming it from below, and a distinct richness from the roe. The spices danced around the edges, teasing the palate. It will make an great pot of etouffee.
(And I will have to buy extra shrimp so I can also make Thai Chili Basil Shrimp–a dish which is only eclipsed by Chili Basil Squid–but we are fresh out of squid around here.)
When I gave a tiny sip of it to Dan, his eyes rolled back in his head and he tapped a happy rhythm with his hands–which is a supreme expression of gustatory joy for him.
So, the stock is in the freezer, waiting to see if we can pick up a few more pounds of shrimp this coming Saturday for another feast of Ohio aquaculture seafood.
19 Comments
RSS feed for comments on this post.
Sorry, the comment form is closed at this time.
Powered by WordPress. Graphics by Zak Kramer.
Design update by Daniel Trout.
Entries and comments feeds.