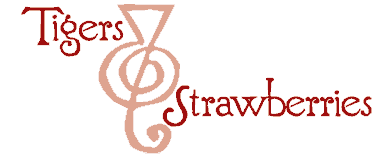 Cook Local, Eat Global
I read this article in the New York Times last night, and I thought it was interesting. Apparently, a research team, led by Dr. Lucy Cook, an epidemiologist at University College in London, has determined that most children who are picky eaters come by their neophobia (fear of new foods) honestly: through their genes. Apparently, the team is the first to use a standard scale to determine what portion of neophobia comes from genetics and environment, and their findings indicate that it is 78% genetics, and 22% environmental factors.
Of course, the New York times piece doesn't go into the methodology that the research team used to come up with these numbers, and I would be interested to hear about them; I know that most journalists would consider such things to be only so much gobbledygook that the average reader cannot fathom, but in truth, one cannot really intelligently evaluate the possible validity of the research without understanding how the data was gathered.
And what, exactly, does the research team mean by "environment?" Do they mean the home environment, including what the parents eat, how they present foods, both new and known, to their children, and what sorts of mealtime rituals are followed? Do they investigate how much television the children watch? What about the parents' shopping habits? What about their habits in regards to dining out?
Without knowing any of this, I cannot intelligently evaluate how much of the team's data I am willing to believe is possibly true, much less how much of it is probable.
I do know that the examples given in the Times article sounded much more like cases of environmental issues, than genetics. One set of parents profiled in the article even changed their vacation plans in order to accommodate their eleven year-old child's eating preferences. Another set of parents allow their five year old kid to eat nothing but noodles, and pizza crust without sauce or cheese.
These cases sound more like kids being spoiled by indulgent parents than cases of a genetic predisposition. That genetic component may well be active in these cases, but the ways in which the genetic predisposition is being dealt with is dysfunctional, and has led, at least in the former case, to a dysfunctional family dynamic.
I know that a typical period of pickiness in children starts after the age of two, and lasts until the kid is four or five; this is a typical pattern which is believed to be evolutionarily advantageous. Neophobia keeps newly independent (meaning not attached to Mom, Grandma, Auntie or Big Sister) kids running about on their own from picking up just any old plant, dead animal, rock or tree bit and putting it into their mouths. This keeps them from eating environmental poisons such as mushrooms, berries, toads and the like, while also helping them to avoid choking hazards. This behavioral phase tends to end when a kid is old enough to know what is safe to eat and what is not.
However, when a fifth grader refuses to eat any meat other than frozen chicken nuggets from the grocery store, there is something other than genetic and evolutionary neophobia going on.
Let's put it this way–if the kid didn't know that chicken nuggets existed in the first place, she wouldn't be eating them, now would she?
In other words, her parents had to have put them in front of her as an acceptable food at some point, or else she would not be eating them. The same goes for any junky, highly processed pre-packaged, fat-laden and nutrient deficient foods–if you don't let a kid eat them int he first place, then they won't know that they can obsess over them.
In my experience, picky food behaviors in kids are probably related to control issues within the family.
Children have very little control over their lives. That is a simple fact. They have very little autonomy, and when you have a pre-teen kid whose day is micromanaged to the nth degree with school, sports, after school activities and very little free time as tends to be the norm these days, is it any wonder that the child might want to assert his or her independence and autonomy in the only way they have, and in as disruptive a fashion as is possible? Often, about the only real control a child has over his or her environment is in the clothes they wear and the food they eat.
So, should we be surprised that there are a lot of picky kids out there these days in ages long past the generalized picky phase that most kids go through?
Also, we have to take a look at the American myth of "children's food," and how advertising has affected our and our children's perceptions of food.
If you travel to other countries in the world, or even talk to folks from these countries, you will note that there isn't as much of a cultural concept of a separate class of food which is made expressly for, and marketed toward kids. (This is changing, by the way…some American marketing techniques which target kids as pre-consumers are spreading across the globe.) In Italy and France, for example, you don't see children's menus in most restaurants, with foods like hot dogs, macaroni and cheese and french fries taking the place of the food that Mom and Dad are eating. Instead, kids get food from the regular menu, eat it and like it. In India, kids eat spicy foods, though when they first start out, they eat it diluted with yogurt. Thai kids start out eating the less spicy curries and noodle dishes, but eventually gain a taste for chilies, and at a quite early age, begin eating exactly what their parents eat.
So why are American kids so different?
I think it is because culturally, we have all bought into the myth of a separate class of food made specifically for and marketed towards children as being not only appropriate nutritionally, but desirable. Nursing mothers are warned to avoid eating spicy foods, because they may "upset baby's tummy." (This is bull right here–none of what I have ever eaten has bothered either of my kids, and frankly, I have heard from plenty of women from all over the world that they never restricted their diet to avoid spices because they were nursing. They are pretty sure American doctors are full of crap–and I agree with them–when it comes to that piece of advice.) Parents are advised to give their kids rice cereal for their first food–which tastes exactly as wonderful as wallpaper paste. After that, babies are expected to advance to pureed, plain vegetables and fruits, with no seasoning whatsoever.
And after that, kids eat finger foods. Cereals, and often, cut up bits of hot dog, bits of processed cheese.
Look–it is simple–if you don't want your kid to be a hot-dog eating pickypuss, then don't give them hot dogs in the first damned place. Then, even if the tyke has a genetic propensity toward being a picky eater, they will eat something other than hot dogs, thank god. Hopefully, something more nutritious.
And while you are at it, limit the amount of commercial television you let your kid watch. And if you do let him or her watch it, then watch it with them. Don't let the children's food marketers get to your kids while you have your back turned. It is as simple as that. Oh, and don't even go down the cereal aisle when you have the kid at the grocery store with you, at least not until you can have a rational discussion with them over why you absolutely will not buy them Fruit Loops or Coco Puffs.
The problem with seeing picky eating in children as the result of genetic factors is that it might make parents feel hopeless, and they may give up. Experts quoted in the article warn against this natural reaction and state, "Biology is not destiny. Keep trying."
Which is sound advice for every parent, in many circumstances.
I guess that the reason I am so skeptical about the genetic factor to a child's eating habits is that Dr. Lucy Cook started investigating genetic factors because as she states flatly, "I came from a position of not wanting to blame parents."
That is fine, however, in every instance quoted by the New York Times, and in the blog post I linked to, the kids in the examples may have genetic propensities towards neophobia, but these have been exacerbated by the ways in which the parents have chosen to deal with it.
Genetics do not let parents off the hook. They are not an excuse for instilling bad nutritional habits in kids. They are a factor in children's food preferences which we parents need to know about and understand, but they are not a "Get Out of Jail Free" card that abdicates our parental responsibilities.
My favorite part of the article, though, was the link to a blog, gastrokid. kept by Hugh Garvey, one of the editors of Bon Appetit Magazine, which chronicles his family's food struggles and triumphs with an omnivorous kid and a picky kid.
His most recent post, Free to be You and Me (with anchovies). Or: Don't Cook Down to Your Children tells us a very relevant story when it comes to the issue of getting kids to try new things: don't assume your kids won't like something and not offer it to them, or worse, offer it to them with the qualifier of "you probably won't like this, but…" (How many of us heard that as kids? How many of us have said that to a kid, whether ours or someone else's, in our lives? I know I am just as guilty as probably every other adult reading this blog of having said that at one time or another.)
Hugh had been making pizza with three different flavor zones for his family–one with plain cheese for the picky kid, one with onions and sage for the not picky kid and one with anchovies and red pepper flakes for he and his wife. As he was cleaning up, his kids spied the anchovies, and wanted to know what they were. Dad said, "Salty little fish," and prepared to put them away. To his surprise, his kids not only insisted on tasting them, they liked them. No, they didn't like them–they loved them.
He said quite eloquently, "Moral of the story: Even if you think they won't like something, give them a chance. Don't cook down to your children. If you do, you might be depriving them of their favorite food, the one they haven't met yet. I know my kids are anchovy freaks now, and I couldn't have predicted it."
I can end with no better words than that–don't ever cook down to your children. (Or, to anyone else, for that matter.)
40 Comments
RSS feed for comments on this post.
Sorry, the comment form is closed at this time.
Powered by WordPress. Graphics by Zak Kramer.
Design update by Daniel Trout.
Entries and comments feeds.