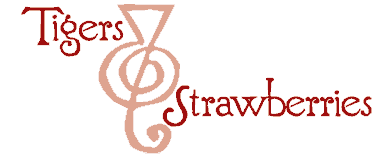 Cook Local, Eat Global
Before I ever went to culinary school, I knew how to make a roux.
I didn't learn it at my mother's knee, or at my grandmother's stove; rather I learned it from Julia Child, but I learned it, and learned it well, nonetheless, such that folks always wondered why my gravies, pan sauces and stews had such a silky-smooth texture, and browned, nutty flavor.
By the time I got to culinary school, I could make a roux with one hand tied behind my back and my eyes mostly closed, so I got to help teach the kids who had never even heard of one before make theirs.
"What's a roux?" some of you may be asking.
It is a French thickener for hot liquids, made of roughly equal parts of fat and flour, cooked over low heat at least long enough to cook out the raw flour taste, or so long that the flour darkens to a mahogany color and the flavor is a combination of nuts and caramel. Roux-thickened sauces and gravies are permanently thickened, and the thickening power of roux depends much about how long it is cooked. The shorter the cooking time before it is added to the liquid, the greater the ability is has to thicken liquid. Thus, if you use a dark-colored roux, which not only thickens a sauce, but enhances color and flavor, you will have to use more of it to thicken the liquid than you would if you used a pale colored roux.
Roux can be made ahead of time, cooked to whatever color you like, and then refrigerated or frozen until needed. If you do this, you must reheat the roux in a pan before adding it to a hot liquid, lest you end up with what an aunt of mine once called "gravy biscuits"–unsightly, throat-cloying lumps of flour in the middle of a nice, thick gravy.
Roux takes time to make properly. I know that there are methods to make it in the oven that require less tending, but I have never used any of those methods. I know that you can also make roux on higher heat, which cuts down on the standing and stirring business that one must go through in making roux, but cooking it over high heat also risks burning the roux.
And once roux is burned, it is utterly ruined. There is nothing to be done but to throw it away and start all over again.
So, until you have the hang of cooking roux, may I suggest that you do it the old fashioned way, on top of the stove, on medium-low heat, while standing over it and stirring all the while. There is nothing more dishearteningn than having to start all over on a lengthy, sweaty, labor intensive job like roux making, just because you got careless and turned the heat up too high, or stopped watching it for just one second too long.
What sort of fat does one use to make a roux?
Well, that depends on what fat you have, what you are using the roux to thicken and what kind of flavor you want to impart to the finished dish. Butter, or clarified butter, is what we most often used in culinary school, and it is a classic choice. But, in Cajun country, lard is just as likely to be used, or a combination of lard and butter. Rendered duck or goose fat are also commonly used in French country cookery, and I have even used olive oil when I wanted to go for a monounsaturated fat option, though I have to admit that the color of the roux had a greenish cast which was somewhat unsettling. (It did taste good, though.)
You could use hydrogenated vegetable oil to make roux–but why? It has no flavor to speak of, and since roux isn't just a thickener, but adds a flavor element to the finished sauce or gravy, use a fat that is going to give a flavor punch to your finished dish.
The flour to use is all purpose flour–it most likely is in your kitchen and works perfectly for the job.
How do you go about making a roux?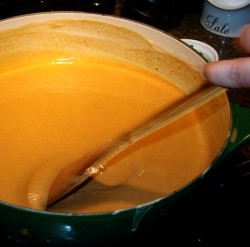 It really is simple.
All you do is take a heavy-bottomed skillet of a size appropriate to the amount of roux you are making, and heat it up on a medium-low fire. This is the time to use cast iron, enameled or plain, if you have it, by the way. It heats evenly, which for this purpose, you really want. A hot spot on the bottom of your pan while making roux is an invitation to burning it, and ruining the entire batch.
Once your pan is hot, you put your measured fat (you can do this by weight or by volume) into the pan to melt or heat up until it is somewhat bubbly. You then add your measured (again by weight or volume–just keep your measuring method consistent for both fat and flour) flour, all at once to the pan, and begin stirring.
What you use as a stirring utensil is up to you; I prefer a wooden or bamboo spoon or paddle. Other folks like a whisk. A silicone spatula could be used as well–just don't use a regular rubber spatula. It might melt, and that would make a really nasty, stinky mess. Also, if you use a large metal spoon, be aware, that it will likely get quite hot and might burn your hand eventually.
You stir the flour into the fat until a pasty mass is formed–it should at first look rather like wet sand. The perfect texture is the kind of sand and water mixture you would use to make a sand castle–I got that piece of advice from several chefs in culinary school and beyond. Anything less solid will be what is termed a "slack roux" and it will, as it cooks, become too thin and will lack much thickening ability. If your roux is too liquidy from the beginning, add a bit of flour–a tablespoon or so at a time, to correct the texture. Sometimes the fat will absorb a bit more flour than an equal amount. Don't worry about it, just stir it in, and keep stirring.
Keep stirring.
Keep stirring.
And when I say keep stirring, I mean, you want to make sure your implement gets all around that pan, on all sides, and across the center. I do a sort of serpentine motion with my wooden spoon, scraping the bottom in undulations across the bottom of the pan, then ending with a sweeping circle all around the edge of the pan.
Why do I do this?
Because the way roux cooks, is it cooks from the bottom up. The flour-fat mixture on the bottom begins to brown, and if you leave it on the bottom, without stirring it back into the rest of the mass of roux, it can burn, and then ruin the entire batch. So, the purpose of stirring is to continually move the roux that is cooking off the bottom and into the rest of the roux, thus allowing more of the cooler, uncooked roux to get into contact with the hotter, bottom part of the pan.
This action makes the roux cook evenly.
How long do you cook your roux?
Until it is done, obviously.
How do you know when it is done?
Well, that all depends on what color you want your roux to be.
In classic French cookery, there are three colors of roux. There is roux blanc, which translates to white roux, which is barely cooked. It has the most thickening power of any roux, and it has a very thick, creamy texture. You can see it in the first photograph illustrating this post. This particular roux was made with half unhydrogenated lard and half butter, and as you can see, it is creamy white, and very thick, like a boiled custard. It has just been cooked out of the stage where roux looks like sand, and has smoothed itself into a texture which easily coats the back of a spoon and is silky smooth. Depending on how much roux you are cooking at one time–this was four cups of roux–cooking to the stage of roux blanc can take anywhere from three to seven minutes, I would say. But rather than looking at the clock, use your eyes and nose to tell when it is done. Roux blanc has lost that raw flour smell–what you start to smell is more of a cooked odor, mostly from the fat, and is a creamy white, with a smooth consistency.
Roux blanc is used to thicken bechamel sauce and all derivatives of it–because it keeps the sauce's pale color intact. I have also used it to thicken cream soups and cream sauces not based on bechamel.
The second color of roux in French cuisine is roux blonde–golden roux. It is the second picture–a nice golden color–I like mine a deep gold, rather than a pale one–that comes after about ten to fifteen or twenty minutes of diligent stirring and cooking. This is probably the most commonly used color of roux, it being the one used to thicken veloute sauces (sauces based on roux-thickened stocks), and many stock-based soups and stews. It adds a slight touch of "browned" flavor to the sauce or soup, and it adds a gentle color and a wonderful silken texture. The texture of roux blonde is a bit thinner than roux blanc–like a boiled custard mixture that hasn't yet been boiled all the way.
The third color of French roux is roux brun–brown roux. It is the color of peanut butter, and is thinner in texture–less custardy, and more like melted ice cream. It still coats the back of a spoon, but it is definitely thinner and will run faster. It takes anywhere from twenty to forty minutes to make roux brun, and I must warn you that once you come to this stage–you must stir carefully and watch the roux like a hawk for little blackened flecks which look like commercial ground black pepper. If your roux develops a peppered appearance on its own, with or without a scorched scent, you have burned it, and have to throw it out.
Once roux comes to the roux brun stage, it is very easy to burn it. It is best, then, to turn the heat down and stir a bit more quickly, though you must have a care to not splash any roux on your skin. It sticks and burns–I call it "kitchen napalm," for that reason, and have had some nasty blisters from it.
Roux brun is used to thicken brown sauces such as the mother sauce, espagnole, which is a brown stock with added tomato product, then thickened with roux brun. Espagnole sauce can be used to make various other French sauces such as sauce chasseur or sauce aux champignions. I use it to thicken stews, like beef or lamb stew.
The French-based Cajun and Creole cuisines in south Louisiana use a fourth color of roux which is much darker than the three types of classical French roux. It is cooked beyond brun, to a shade anywherefrom mahogany to chocolate. This rich, highly flavored roux has very little thickening power, per se, but is the basis for the flavor and texture of south Louisiana dishes from gumbo to etouffee.
In order to make this dark roux, you simply turn your heat down a bit more once it is the peanut-butter hue of roux brun, and keep stirring. It usually takes anywhere from forty-five minutes to an hour to make dark Cajun/Creole roux.
Once roux is made to the color you desire, you either add it to the boiling stock or sauce while it is hot, and stir like made to keep it from making lumps as it thickens, or you can pour it into a glass or metal bowl to cool. If you do the latter, and you have a formica or Corian countertop–don't leave the bowl on the counter–the heat of the roux will melt it. Once it is cooled, you can tightly cover the roux and put it in the refrigerator or freezer. It keeps in the fridge for about a month, and in the freezer for about a year.
There you are–instructions on making roux–an integral component in any French or French-based culinary system which is quite simple to make once you know and understand the basic skills involved.
23 Comments
RSS feed for comments on this post.
Sorry, the comment form is closed at this time.
Powered by WordPress. Graphics by Zak Kramer.
Design update by Daniel Trout.
Entries and comments feeds.