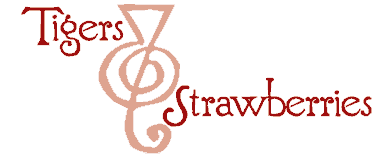 Cook Local, Eat Global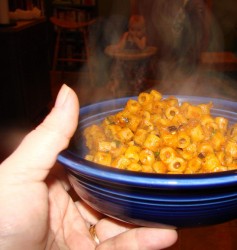 When it is lunchtime, and a Mom has a hungry baby on her hands, she has to work fast.
It's a thing.
But, I am too lazy of a Mom to want to cook something for Kat, and then something for myself and whoever else is around during the lunch hour, so, I just improvise, and cook something we will all enjoy. And since I am blessed with Kat who has an open mouth and mind when it comes to flavors, I can get away with quite a bit of creativity in the kitchen.
Like yesterday, I needed to make a fast lunch for Kat and I while her Dad and Big Sister were out having a driving lesson and bonding session. I was lucky in that I had my very own homemade convenience food sitting in the fridge, thawed out and ready to use: previously frozen homemade marinara sauce. It is like opening a jar of store-bought spaghetti sauce, but it tastes so much better because the ingredients it came from were fresh, and they are in proportions which I like: lots of caramelized onions, lots of garlic, very fresh basil and dry red wine, along with plump, meaty fully-flavored Roma tomatoes. I bought twenty-five pounds of them–organically grown–at the farmer's market one weekend this September for eighteen dollars, and turned them into about eight quarts of this voluptuously delicious marinara. Since I didn't have my canning set-up going at the time, I poured the sauce into one quart contatiners and stuck it into the freezer.
Homemade convenience food rocks.
I also had a pasta shape which is great for babies who have not but two teeth in their heads–ditalini. Ditalini is a tiny, tube-shaped pasta, with or without ridges on the outside–the version I bought had ridges. I like it because it is a pasta shape that I do not have to fold, spindle, mutilate or otherwise cut for Kat to eat it safely. I also discovered that it is not only easy to feed to Kat, but it is fun to eat as well.
It is just all around good stuff.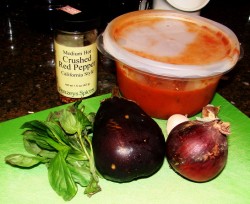 I could have made just plain pasta marinara, but I also had in the fridge some delicious baby eggplants, some kale, onions, garlic and fresh basil which I might as well use. It is better than letting it go to waste, right?
So I decided to make a sauce with these ingredients, and started by dicing the onions and eggplant very finely–in French the term is "brunoise" I then minced the garlic, kale and basil finely, and started heating up olive oil in my skillet.
I started by cooking the onions until they were a deep golden color, then added the eggplant. I cooked these together, stirring, until the eggplant had started to brown and the onions were a deep mahogany color. Then into the skillet went the kale and garlic, which I cooked, stirring all the while, until the garlic was golden, the eggplant was mostly browned and the onions were dark brown and sweetfly fragrant.
Then, to stop the browning process and slow the cooking, I ladled into the pan about a cup and a half of the marinara sauce.
While all of this excitement was going on, I had the pasta water boiling. I dumped the pasta in about halfway through the process of the onions browning, and cooked it for the five minutes it took to finish off the sauce. I drained the pasta while the sauce sizzled in the pan. I tasted the sauce and was astounded at the layers of flavor it had–the eggplant was rich, the onions were sweet and the garlic was sensual. The basil floated like a descant over the other flavors while the kale anchored everything with a touch of green bitterness.
There was only one problem–I hadn't thought about how tough the eggplant skin was–and I had not peeled it. Kat's two little teeth could do nothing with it, so I took out the immersion blender, and after scooping the sauce into a bowl, pureed it into a slightly chunky, very assertively flavored sauce.
Next time, I will definitely peel the eggplant.
Once the sauce was pureed, I went ahead and rinsed out the skillet it was cooked in, and set it on the stove to dry.
I wasn't originally going to put any cheese with this dish, but considering that cheese is one of the few ways in which Kat will enjoy milk that comes from any mammal but myself, I decided to grate about two tablespoons of Parmesan. It turned out to add richness to the overall dish, without being overpowering. Vegans could leave out the cheese if they wanted to, and I don't think it would be particularly missed. The eggplant, kale and tomato sauce was awfully good on its own in the first place.
Tossing the drained pasta into the pan, I stirred it over low heat so it could dry, then tossed in the cheese and basil, and stirred it in thoroughly. Then, I ladled in about a cup of the sauce, and about two ounces of water, and stirring over very low heat, coated the pasta well with the sauce.
The intended effect of tossing the pasta first with the cheese and basil is to infuse the pasta with basil flavor, while the cheese melts slightly, bonding to the pasta, making the ridged surface more attractive to the sauce than it would be plain–the sauce stuck beautifully to the pasta, coating it with a silky-rich layer of eggplant, tomato and kale puree.
What did Kat think of the pasta? Well, let her expressions as she tastes it tell the story–she was patient up to the very last moment as I carried the bowl we were to share over to her, she finally started to wail in frustration and hunger. (Though, it was only about fifteen minutes from start to finish to make this dish–babies just don't have much in the way of patience.)
At first, she was curious, especially about the shape of the pasta, as she had never had ditalini before. As you can see, she was trying to see what was on the spoon as it went into her mouth.
She tasted it, considered thoughtfully, while refusing to let the spoon go, and then swallowed, immediately popping her mouth open to demand more like a little bird, with little churbles and squeaks and excited bouts of hand gesticulation.
About halfway through our bowl, Morganna and Zak got home from driving, and were famished. I directed them to the skillet on the stove, and both of them dove upon it, gobbling up bowls of the pasta gleefully. Even Zak, who usually only eats eggplant as baba ganoush, liked it, so I considered it a triumph of improvisation, and not bad for a quick nutritious lunch which I hadn't really planned on making. I will definitely be making it again.especially since Morganna and I adore eggplant in any way, shape or form it comes.
There really is no moral to this story, except that it is good to have homemade convenience food on hand, and you shouldn't be fearful of pairing vegetables you haven't really thought about as going together. The eggplant and kale, which I had never really pondered before, got put together because they both needed to be used up, but they ended up tasting really special.
So I guess my point is–be fearless when concocting pasta sauces, and feed them to everyone, the baby included. (Even our cats liked this one, and there wasn't even any meat stock in it. Either the sauce was great, or our cats are weird–or it was a good sauce -and- the cats are weird.)
(I must admit that this post was inspired by Mark Bittman's article,"Serving Pasta? Forget What You Learned," in the New York Times where he suggests that cooks turn the "proper" Italian way of serving pasta on its head by drowning a little pasta in a lot of sauce. I ended up not following his advice–this is a little sauce on a lot of pasta, but it was his idea of using lots of vegetables in sauces that percolated in my brain until lunchtime rolled around and I ended up digging through the vegetable drawer with an eye to saucing that ditalini. )
Anyway, here is the recipe: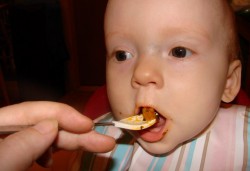 Kat's Ditalini with Eggplant, Kale and Caramelized Onion Sauce
Ingredients:
8 ounces dried ditalini pasta
2 teaspoons salt, divided
3 tablespoons olive oil
3/4 cup red onion, diced finely
1 1/2 cups finely diced peeled baby eggplant
1 teaspoon dried crushed red chile flakes
2 cloves garlic minced
1/2 cup fresh kale leaves, large stems removed, minced
1 1/2 cups homemade or store-bought marinara sauce
2 tablespoons freshly shredded or grated Parmesan cheese
1/4 cup fresh basil, finely minced
Method:
Bring a pot of water to boil, and salt it with one and a half teaspoons of the salt. When it boils, add the ditalini and cook until it is al dente–about five minutes. Drain, retaining a quarter cup of the cooking water, and set aside.
Heat olive oil in a heavy bottomed skillet that will hold all of the ingredients, including the pasta, comfortably. Add the onion and cook until it is golden, then add the eggplant, and cook, stirring, until the eggplant browns partially and the onion is a mahogany red color. Add the garlic and the kale and keep cooking, stirring, until the onion browns completely, and the garlic turns golden and fragrant.
Add the marinara sauce, and cook, stirring until the sauce reduces slightly and thickens. At this point, if you wish, you can remove the sauce from the pan to a bowl and puree it with an immersion blender into a mostly smooth sauce with some small lumps. Or, you can do as I originally intended and keep the sauce chunky. If you do puree it, wipe the remaining sauce out of the pan with a towel and set it back on the heat. If you don't puree, leave the sauce in teh pan.
If you pureed the sauce, throw the drained pasta into the sauce skillet over medium heat and dry it thoroughly. Then toss with the cheese and basil until the former melts and the latter is well distributed among the ditalini. If you didn't puree and the sauce is still in the skillet return the pasta cooking pot to the heat and toss the pasta in it to dry the excess water, and toss with the cheese and basil as above.
When the pasta is well tossed, either add it to the sauce skillet or pour the pureed sauce over it, and stir to distribute the sauce evenly over, around and through the tiny pasta tubes. If the sauce is too thick, add a tablespoon or two of the cooking water to thin it.
When the sauce is thoroughly coating the pasta, remove skillet from heat and scoop pasta into serving bowls. It makes about three small portions that are enough for lunch, especially if served with a green salad and maybe some olives. For stouter appetites, this recipe would serve two.
13 Comments
RSS feed for comments on this post.
Sorry, the comment form is closed at this time.
Powered by WordPress. Graphics by Zak Kramer.
Design update by Daniel Trout.
Entries and comments feeds.