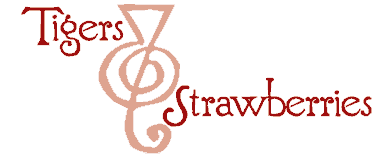 Cook Local, Eat Global
Alice Waters' The Art of Simple Food is not just a cookbook.
It is also a primer of essential culinary techniques, with basic recipes for the neophyte to memorize and expand upon creatively.
It is also a guide to building up a pantry with basic items which will allow one to cook good, simple food from any fresh, seasonal ingredients available; it also gives a ground-up lesson on the most simple, basic kitchen tools needed to cook well and easily.
It is also Waters' personal food philosophy and lifestyle manifesto, which boils down to these admonitions emblazoned on the back cover of the book:
Eat locally and sustainably; Eat seasonally; Shop at farmers' markets; Plant a garden; Conserve, compost and recycle; Cook simply; Cook together; Eat together; and Remember food is precious.
The Art of Simple Food is a literary distillation of the Slow Food Movement, and embodies everything that is beautiful about the worldwide food revolution. Before even opening the book, this aesthetic adherence to the principles of simplicity in food are evident (and not just because the word, "simple" features in the title.) The hardcover book features no shiny dust jacket, nor any flashy food porn photographic illustrations. Instead, the spine is bound in sundried tomato-colored fabric, with the embossed, turmeric-hued boards of the cover finished to a smooth matte embellished only by the title, subtitle and author in a classic, somewhat Victorian font, and an elegant black and grey line drawing of a market basket brimming with bread and produce.
These detailed drawings continue to the end papers and are sprinkled liberally throughout the text, illustrating techniques, ingredients and concepts while also lending an air of old copper engravings and woodcuts of botanical subjects common a century and a half ago.
This artistic harkening back towards a golden age of food, farming and cookery continues throughout the text of the book, where Waters waxes rhapsodic on the superior nature of truly fresh vegetables, fruits and herbs, and the nearly divine provenance of a newly laid chicken egg. Her writing is luminous with poetic word choice which is very turn of the century, but what most stood out to me was her somewhat neo-luddite tendency to eschew the use of any electrical kitchen appliances in her cookery, preferring instead to use whisks, wooden spoons, box graters, and a mortar and pestle to take the place of mixers and food processors.
The Art of Simple Food is a truly wonderful cookbook, and an important one, but the truth is, I probably would never buy it for myself. (I was sent a review copy by the publisher.)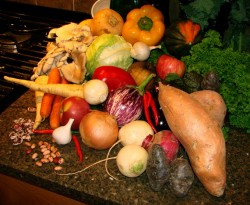 This is because, as I read it, I felt like Waters was preaching to the choir. It was at that moment I realized that I am not the true audience for this cookbook; I am already doing my best to live by her admonitions and I sing the same sorts of tunes Waters does on an every day basis. I don't need lessons on how to shop at farmers' markets, how to make a pate sucre, and how to roast a whole chicken or how to make a vinaigrette. I can do these things with my eyes closed, barefoot in the snow with one hand tied behind my back. That is just who I am. And Waters was not writing for me.
But while I would not buy this book for myself, what I plan on doing is buying several copies of it as gifts for my friends and family who are interested in learning to cook simple things that taste good, or who used to cook simply, but have fallen into the rut of using convenience foods and the microwave too often for their health, or for those who have forgotten, or worse, never known what good, fresh food tastes like.
It is for these people Waters is writing, and I think she does a very good of job of gently easing them into a different lifestyle, one where food is not just fuel for our bodies to be wolfed down quickly and without thought between jobs or on the road to another meeting. She takes readers by the hand and helps them slow down, and realize that food is much more than that–it feeds not only our bodies, but our soul, and it has the capacity to lift us up and bring us together. It not only can bring health (or disease) to the body, it can bring wholeness to the mind and heart as well.
As she leads her reader along this winding path towards treating food as a precious gift instead of a worthless commodity, Waters writes in a clear, distinctive voice which reminded me of none other than Julia Child. She has the same clarity in her explanations of technique and a very similar ability to describe the cooking process in a visceral way which not only teaches the neophyte cook to use every sense while they cook, but also makes serious cooking seem unstuffy, easy and yes, even fun.
Consider this passage, a sidebar to her basic instructions on how to make risotto:
Listen to the sounds the risotto makes as it cooks. The crackling sizzle of the rice tells you it's time to add the wine, which makes a gratifying whoosh; and the bloop-bloop of the bubbles popping signals it's time to add more broth.
While her onomatopoeic description is certainly droll, it is also a perfect description of what making a risotto sounds like. This sort of earthy, lightly humorous prose really helps loosen up a new cook in the kitchen, giving them something concrete to grab onto as they sail the uncharted seas of a new recipe. It is almost as good as having a seasoned cook standing close by, whispering advice into your ear.
In short, while I would never buy this for myself, The Art of Simple Cooking is an altogether lovely cookbook, worthy of a place in every budding locavore's and newbie cook's kitchen shelf where it can easily be referred to again and again. It is also a book worth curling up beside a warm fireplace to read while autumn's evenings grow longer and cooler, while in the kitchen a soufflee rises in the oven and a tart cools on the counter.
I predict that it will become a favorite cookbook to give and receive in the coming gift-giving holiday season.
16 Comments
RSS feed for comments on this post.
Sorry, the comment form is closed at this time.
Powered by WordPress. Graphics by Zak Kramer.
Design update by Daniel Trout.
Entries and comments feeds.