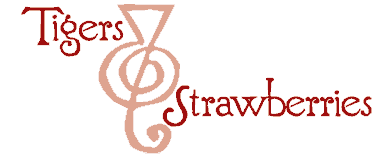 Cook Local, Eat Global
I had no idea so many people hated Alice Waters.
I mean, I thought Hilary Clinton was the American woman everyone all along the political spectrum loved to hate, but after reading the comments on Salon's recent interview with Waters entitled, "Go Ask Alice," I may have to revise my viewpoint on that matter. Maybe Hilary is now the second most hated woman in American, right behind Alice.
So, whassup with the hating? Why are a bunch of liberals and progressives frothing at the mouth over at Salon on the subject of Alice Waters and her desire that everyone in America try to eat locally and sustainably, making an effort to eat as fresh food as possible, cooked simply and eaten with our loved ones? I mean, that philosophy is hardly something out of Mein Kampf. It isn't like Alice is saying, "I want everyone in America to take up eating babies. Yes, babies. But only if they are locally and sustainably produced and are as fresh as possible, and then are cooked simply and eaten by families and loved ones all gathered together in peace and harmony."
Good lord, some of the posters over there sound as shrill as Ann Coulter braying about the horrific evils of democrats, progressives and liberals.
You know, folks like Alice Waters.
I should have read the subtitle to the Salon post, because it would have given me a clue as to what was going on in the letters section. It reads: "Are Alice Waters' gastronomic principles — shop locally, eat organically — too hard to live by? A frank talk with the renowned guru of fresh food."
Once I read the first sentence of the subhead, I realized what was happening. Folks were taking Alice Waters and her ideals dreadfully personally. At that moment, everything fell into place and I understood that what I took to be a bunch of liberals reacting to the recent full moon in a bizarre fit of sudden onset Tourett's Syndrome, is actually a case of a bunch of folks filled with liberal guilt all trying to defend their food choices all at the same time. In other words, quite a few of them feel bad that they either do not, or feel that they can not eat locally and organically, so they become defensive, and then skewer the messenger -and- her message, vilifying Waters as nothing more than a "hippie-dippy California foodie elitist." (I just want to say right here and right now that if anyone ever starts a public vilification of me, I hope that instead of characterizing me as some sort of hippie-dippy food elitist, I get to be called something cool like "a tin-plated dictator with delusions of godhood," or something to that effect. Geek points to those who catch that reference.)
How elitist is Alice Waters, really? Where is it that she says, "I only want the rich to eat good food. The plebs and the rabble can just go eat cake."
She doesn't say that, ever. She doesn't believe that good food should be expensive, and in many cases, it isn't that expensive. She believes that everyone should have access to good food, rich, poor and in between.
Besides, I find it ironic in the extreme that it is now considered elitist for people to eat like I did when I was growing up as a lower-middle class Appalachian farm kid. Sure we ate well, (even when we were poor because Dad was laid off for more than a year–the farm food saved us that year) but we saved money while doing so, and we did so out of a sense of frugality, as much as because of taste and nutritive value. So, I cannot help but laugh when I hear or read folks going on about how it is elitist to eat farm-fresh food.
In fact, this irony is a symptom of just how messed up our current food system is in the US. It is just whacked. Not even two generations ago, it was quite different, and in many cases, better. Heck, even I can remember grocery store chicken tasting better than it does now, and I am only 42.
Yeah, so here I am, saying that if Salon readers think that Alice Waters is an elitist, either they are not aware of the definition of that word, or they are just feeling defensive about their own food choices.
And that is okay–one problem with Waters is that she is an idealist–an uncompromising idealist at that–and folks who not only espouse idealistic philosophy, but also -live- by it, make everyone feel inadequate and defensive when they compare themselves to the idealist. Frankly, I think that the uncompromising idealism that Waters espouses is probably detrimental to her overall message. Folks tend to stop listening when they get the idea that an idealist is saying something which runs counter to the listener's experience, and often seems to invalidate that experience. This is not conducive to good communication.
And that really doesn't help get Waters' message across to the folks who most need to hear it, which includes middle-class liberals and progressives–you know, like the folks who read Salon.
Besides, when idealists will not compromise on principles, it makes others think that what the idealist wants them to do is just too hard. It becomes an all or nothing proposition. Either you eat all local, fresh food, or you are a failure, and evil person, is what people hear, even though it is not what Waters has ever said.
A glance at a few generalizations gleaned from the comments section at the Salon article, may illustrate what I mean.
Readers said that Waters can eat locally all the time because she is in Northern California where there is a mild climate so there is always fresh food. They said they cannot afford to pay five dollars for a bunch of radishes. They said that they refuse to eat only sauerkraut and sausages or turnips and beets all winter long, because "that is all that is in season." They said only the rich can eat that way, and the rich are the only folks Waters cares about. They said that there are no farmers' markets near their homes, so Waters should use her celebrity to go to the government and make those markets appear instead of bugging them about changing their own lives and food habits.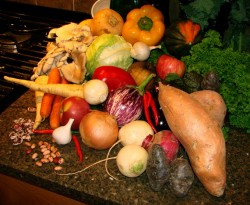 Let's examine those statements. First of all, yes, Waters lives in California, and yes, there is a veritable plethora of amazing produce grown there, year round in the very mild, even climate there. That is all quite true.
What is also quite true, is that there are lots of places in the country where a large amount of crops can be grown nearly year round, too.
As proof, I suggest everyone take a look at the photograph above. It represents a mere fraction of the fruits, vegetables, herbs and fungi available at the Athens, Ohio, Farmer's Market in late October. I didn't include any of the preserves, cheese, meats, eggs or other animal products, nor the ciders, nor many other varieties of fruits and vegetables. It is just a representative sample of what I picked up this past Saturday, on an average October day. Three kinds of potatoes, sweet potatoes, two types of turnips, cabbage, mustard greens, collards and kale, sweet and hot peppers, apples, Asian pears, pears, dried horticultural beans and dried Christmas limas, carrots, parsnips, radishes, cilantro, basil, oyster mushrooms, and two kinds of winter squash.
Anyone could make a week's worth of varied, interesting meals out of that pile of produce if they knew anything about cooking. And honestly, fruits and vegetables of this quality are not that hard to cook and make taste good–they taste so good on their own. No one is going to be stuck eating turnips all winter long here. No one. Unless you like turnips, that is–and in that case, one would hardly be "stuck."
Oh, and while I am at it–none of these radishes cost five dollars a bunch. The Athens Ohio Farmers' Market has produce quite reasonably priced, because we are in the poorest county in Ohio. Yes, people, Athens, Ohio, is a small town in the middle of dirt-poor white trash Appalachia, yet, we have local food year round here, and because folks here are poor–not only are the prices good, many farmers accept WIC coupons, food stamps and food vouchers given to the elderly.
Everybody shops here at the market–rich and poor alike–in a way in which Alice Waters would take pride. (Remember, she has never said that only the rich should eat fresh food.)
Does that make us all elitists like Alice Waters? If that is so, then every kid who grew up on a farm in Appalachia, eating fresh food, is an elitist, too.
And the idea of us hillbilly farm kids as food snobs just cannot help but make me laugh until I am about to wet my pants. It is just too funny.
Now, that is not to say that there aren't places where it is hard to eat locally all the time, but does anyone really think Alice Waters is going to hate them forever if they eat frozen vegetables in the winter months? No. She isn't going to hate them, and neither am I, but the fact remains that in the summer time, in most parts of the US, there is a growing number of farmers making a surprising amount of local produce available to the public, at prices much less than five dollars for a bunch of radishes.
Look folks, just because Alice Waters is uncompromising in her personal life doesn't mean she will despise you and look down on you if you make compromises and only eat partially locally. She will just be happy you are making an effort, as will I and your family and your taste buds and your stomach.
As for Waters using her celebrity chef status to try and change the current food system in the US so that more people can get food from farmers' markets–uh, what the heck do people think the woman has been doing all of these years? Hello–Earth to Salon readers! Take a look at some of the stuff Waters has done with her life, and then tell me that your assertions don't sound like the worst of a lazy, ill-informed American's sense of entitlement. (Which makes y'all sound, oh, I don't know, pretty elitist yourselves…you know?)
Long before Jamie Oliver had the idea to improve school lunches in the UK, Waters' Chez Panisse Foundation started an initiative called "The Edible Schoolyard Project." This program, meant to be a pilot prototype for other, similar projects around the country, involves a one acre garden plot on the grounds of a public middle school in Berkley, where kids grow the food as part of class, then learn to harvest, cook and eat it.
This program was put specifically in place in a public school district where kids of many income levels and ethnic backgrounds all learn together.
Tell me, if Waters was really an elitist who only cared about rich people and lining her own pockets and food snobs, wouldn't she have started her project in a private school which only accepts rich kids as students?
She has continued her work with The School Lunch Initiative, which is a program which has successfully removed 95 percent of the junk food from her school district's lunch programs. That is nothing to sneeze at. Again, if all she cared about was rich folks, she wouldn't be doing so much work on behalf of lower, middle and upper middle class school kids.
She has done all this because she is a celebrity chef, but other programs copying her success have sprung up around the country, including here in Athens, Ohio, which are NOT started and run by celebrities. The local food scene here in Athens is as big as it is because committed citizens made it so. Consumers wanted good food, farmers and food producers wanted to make a decent living, so people went to work to make it happen. And it has happened and it is still happening. And we have no Alice Waters here, making it happen–just concerned citizens willing to do the work.
I think that is what stung some people. Seeing someone who is such an uncompromising idealist working hard to make things happen tends to sting some folks' consciences, and it makes them feel a tad bit cranky and so they lash out. Instead of using that crankiness to go forth and do something good in the world to improve their own situations, and the situations of those around them, they instead complain, and lash out against the idealist who is pointing out the path to them.
After reading that pile of invective against Waters, I decided to glance around the 'net and see if every liberal in the world hated her but myself, and I found a similar blog entry from last month's Diner's Journal on the New York Times. Here, readers, even when they criticized Waters, were a lot more gentle in their wording and less dismissive in general. And I was happy to see that there wasn't much of the fawning praise and declarations of Waters as "Saint Alice" that I had seen heaped about her elsewhere. (Okay, people, get this–folks get to be saints after they die. That's right. No living saints. Ask the Pope, he will tel you. Yes, I talk about Saint Julia all the time, but that is because she is dead. And, I only half mean it when I call her that.)
That said, I do want to point out a little Alice Waters faux pas. Just so you know I am not one of those folks who worship her toe jam and think she can do no wrong. No–she is human, just like the rest of us and buggers things up every now and then like everyone else.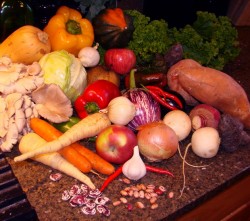 Recently, it seems, she has buggered up big time and may have done something which will only fuel the "Alice Waters is an elitist food snob" fire like gasoline poured onto a charcoal grill.
Over at The Ethicurian, a terrific food blog, there is a post written by novelist Charlotte McGuinn Freeman where she asks the legitimate question, "Why is Alice Waters involved in the building of a gated community in Montana?" The developer promised to use green building and conservation techniques, but this appears to have turned out to be a case of greenwashing. There is supposed to be a staff farmer growing food on the site, but the locals are concerned about the fact that the proposed McMansions are going to use way more water resources than the arid climate can sustain.
How is Waters involved? Apparently, the holiday edition of the Neiman-Marcus Catalog includes the offer that if anyone purchases a ten acre building site in the Ameya Preserve, Alice Waters will come and cook dinner for them and their friends.
Oh, and supposedly, she gets to open her own culinary school in the gated community.
It all sounds pretty shady to me, and has led to quite a few of Waters usual supporters (including myself) to ask a few questions, and notice that our culinary idol may well have feet of clay.
I think I may have figured out how she got involved with the Ameya Preserve project, though…back in May on Michael Bauer's blog, Between Meals, there was a post announcing Alice Waters' involvement in Carlo Petrini's 2008 Slow Food Nation expo in San Francisco. The event promises to be fascinating, and full of food and fun and all that good stuff, but what I found most interesting was the mention, down near the end of the post, that the first major donotion to Slow Food Nation was "a $500,000 gift from the Ameya Preserve in Montana, which is an 11,000-acre plot of sustainable land. It was also announced that the site will be the home of the Alice Waters Culinary Institute."
For those who are wondering why Waters may have gotten involved in what sounds suspiciously like an elitist land development project, I think we have seen the answer. They offered a generous donation to her new pet cause, Slow Food Nation, and offered her land on which to build her culinary institute. They probably highly touted the sustainability of the project, and I suspect that Waters trustingly accepted, the temptation of the donation for her pet project being too sweet to turn down.
So, knowing all of this, is Alice Waters just another elitist celebrity chef? Has she done more harm than good? Is she the worst thing since sliced bread?
Or, is she a saint of all that is edible, the Goddess of America's Kitchen, the bringer of all that is holy, local and sustainable?
Or, is she just human, like the rest of us, trying to do good, but every now and then, screwing something up?
If you cannot guess it, I vote that she is only human: mostly good, some bad, doing her best, and often, doing a great deal of good in the process of living her life.
I like Waters; she is one of my favorite chefs in the country. I think that she has done a lot to help revolutionize American food and cookery; as much as Julia Child has done certainly. Though, I think that Waters has had more of an effect on other chefs than on ordinary home cooks, which is where Child really had a great deal of influence.
I also had one of my favorite restaurant meals in my life at Chez Panisse back in about 1995 or so. It was a fantastic experience–one of my best restaurant experiences ever, and I have to say, it was life-changing for Zak as well. He discovered at that meal that not only did he like fresh green lima beans, he really liked good olives. In fact, he discovered that the only reason he hated olives was that he had only eaten bad ones during his childhood, and so knew no better. Now, he eats good olives with great glee and gusto.
No one in her restaurant staff acted like snobs to us–in fact, they were down-to-earth, and the entire atmosphere was very earthy and friendly. They were gracious and graceful in their service. I just cannot believe that if their employer was an elitist, that they themselves could possibly be so open, accommodating, and delightful, not only as staff–but as people. I know that this will sound insufferably Californian, but these folks had a great vibe to them, and the restaurant was filled with good energy. I think that if Waters was as uncaring and awful as the opinions flying thick and fast at Salon would indicate, that Chez Panisse would not be as amazing an experience as it was.
So, I do like Alice Waters, and I cannot really believe that she is truly an elitist food snob.
That said–I do think that she may have some serious explaining to do about her involvement with the Ameya Preserve development.
44 Comments
RSS feed for comments on this post.
Sorry, the comment form is closed at this time.
Powered by WordPress. Graphics by Zak Kramer.
Design update by Daniel Trout.
Entries and comments feeds.