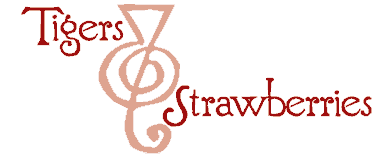 Cook Local, Eat Global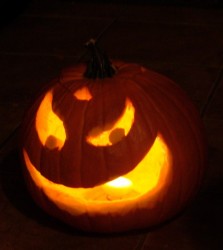 Today was my first day of work at Salaam, so that is why I am late wishing everyone a happy Halloween. By the time I got home, went to the grocery store to pick up candy for the trick or treaters, went on another errand, then got home, got together with Zak, Morganna and Kat to carve Jak, whom you see pictured above, and then made dinner and ate it, and then went back out to the grocery store to pick up the frozen waffles Morganna needed for an art project, it was already All Saint's Day.
So, hence my late All Hallow's Eve greeting.
It was a great day at work–it is good to be back in a restaurant kitchen. I am going to have fun making up dinner and lunch specials and putting them together. It will be nice to make stuff that I think would be great, but which are just not going to fly here at home because of limitations on what folks like. (Stuffed eggplant or squash–uh, no way, not here. At Salaam, though, such things are all to the good!)
The best part of the day, however, was carving Kat's first pumpkin, named Jak. It was a very messy, very fun, family activity in which we all participated–even the cats.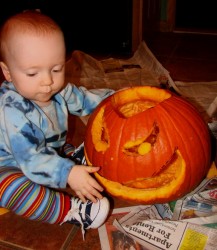 When he was done, as you can see, Kat had to hug him.
This weekend, I will post more pictures of the action, but for now, I will leave you with these two images. Just to whet your appetite, so to speak.
Oh, and the lunch special today was none other than Moroccan Pumpkin Soup. Dennis made it, and it turned out fantastic–rich, smooth and filled with flavor. We garnished it with toasted fennel and nigella seeds, which added a texture, color and flavor contrast–the sweet fennel and oniony nigella were perfect with the rich, velvety smooth pumpkin soup.
I'll have to copy down the recipe Dennis used and make it here–because I bet Kat would like it. She kept trying to eat bits of Jak–I think she thought he smelled good. Unfortunately, he didn't taste nearly as good as that lovely soup. (Guess what I had for lunch!)
5 Comments
RSS feed for comments on this post.
Sorry, the comment form is closed at this time.
Powered by WordPress. Graphics by Zak Kramer.
Design update by Daniel Trout.
Entries and comments feeds.