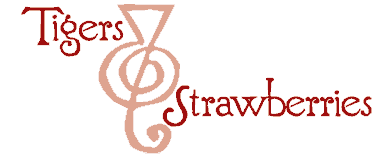 Cook Local, Eat Global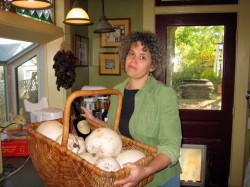 Peggy and the Puffballs sounds like a sixties pop group name, doesn't it?
In celebration of local Athens food, food producers and food lovers, I have decided to do a Saturday feature, maybe not every Saturday, but close to it. It will be a photo of a local foodie and some of their favorite food, and a little story about them both.
I am proud to have Peggy as my first foodie–but I cannot take credit for this photograph. It was sent to me by Hillarie, the owner of Restaurant Salaam, and it shows Peggy with her wild mushroom harvest right after she got back from picking them.
Look at the incredible size of these giant puffballs! The one I photographed was among the smaller ones–some of these are easily the size of adult human skulls. Amazing. They really look like something from a fairytale, don't they? One would almost expect to see little woodland gnomes frolicking amongst them, or a little pixie piper perching atop one, playing a sprightly tune.
As I noted previously, these mushrooms cook up to be meltingly soft, fluffy: almost like clouds. They absorb the flavors of whatever they are cooked with, and they contrast perfectly with a stronger-flavored and chewier textured mushroom such as fresh or dried shiitake.
Here's a big thank-you to Peggy for gifting me with the incredible experience of cooking and eating these delectable children of the meadow.
2 Comments
RSS feed for comments on this post.
Wow! That is an amazing photograph. We used to have puffballs in our front yeard, but I never knew you could eat them until I had left home.

Comment by Diane — November 17, 2007 #
Sorry, the comment form is closed at this time.
Powered by WordPress. Graphics by Zak Kramer.
Design update by Daniel Trout.
Entries and comments feeds.