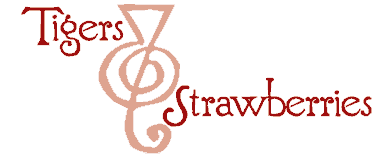 Cook Local, Eat Global
"Alas, poor Yorik, I knew him well?"
No, no, I am not holding a skull in my hand there–that is a giant puffball.
Which, for those who have never seen one, is a wild meadow mushroom, Calvatia gigantea. The one you see in my hand here is a not very large one–some of them can literally be the size of a human skull, some larger, and they can weigh up to 20 kilos.
Even so, this one is pretty impressive, isn't it, being as it is about the size of Kat's head. I know this, because when Peggy gave it to Zak and I at the farmers market on Saturday, Kat nabbed it from his hands, and hugged it close. She buried her face against the fungus, breathing its heady woodland scent with a huge grin on her face.
The backstory on this particular puffball is that Peggy, a friend of Hilary, who owns Restaurant Salaam where I work, was wandering the hills and dales of Athens county and came across a whole bunch of these gorgeous mushrooms, some of them easily Yorik-sized. So, of course, she harvested some, and called Hilary to ask if she would want some for the restaurant. And, of course, Hilary said yes. I told her that I could make my Kashmiri Wild Mushroom Curry out of them, and she was thrilled. The next day when I came to work, I brought in about 8 ounces of dried shiitake mushrooms to go with the puffballs, so that there would be a distinct contrast in flavor and texture. Besides, I wanted the shiitake soaking liquid to make mushroom broth for the curry.
The texture of the giant puffball is very interesting. While I was peeling them–they have a tough skin, I thought that the interior felt spongy, but not in an unpleasant way. The mushroom was sort of springy as I cut them into thick slices, and then diced those. I cut the rehydrated shiitake caps into thin slices, and when I sauteed them together in the onion, garlic and spice-scented butter, I was fascinated to watch how the two very different fungi reacted. The shiitake browned slightly, but the puffballs soaked up the butter, and released a tiny bit of water that came out as steam.
Once cooked, the puffballs were like little clouds–they were tender, light and airy–and filled with buttery goodness. The shittake were chewy and meaty and deep with dark woodland mushroomy goodness.
That night, we utterly sold out of the special. Every last drop of it was gone–Peggy apparently got the last little bit–though as the finder of the treasures, I felt as if she should have gotten a bit more.
Morganna and James tried to go down to Salaam to get some of the curry, but they were so busy, the kids couldn't get a table.
So, I decided to make another wild mushroom curry for them tonight.
This curry is a bit different than my usual Kashmiri recipe–I used quite a collection of mushrooms for it–including locally cultivated oyster and shiitake mushrooms, and dried shiitake.. In addition, I decided to add a bit of tomato to the curry, more chilies and some minced spinach along with the minced fresh spinach. I think that next time, I will use more spinach (I used what I had) and for Morganna, maybe add some chicken. Though, I really like the deep mushroom flavor of this curry–I think it is deep, dark and mysterious in a way that only fungus can be.
Speaking of mysterious fungus–don't go out mushroom hunting unless you know what you are doing. Peggy is an experienced forager, and we have lots of great foragers here in Athens, finding morels, shaggy inkcaps, puffballs, hen-of-the-woods and many other fungal treasures. Giant puffballs don't tend to look like anything other than what they are, but still–it is better to be safe than sorry. Try to learn mushrooming from an experienced person, or at the very least, take a good mushroom guidebook with you when you go traipsing about sniffing for fungalicious delights.
This curry can easily be made vegan, too. You can just skip the dairy ingredients, and use a bit more mushroom soaking liquid or you can add some vegetable broth. To give it a creamy tinge, you could add some almond milk–that would taste really good, in fact. I wouldn't add any rice milk or soymilk–those would change the flavor profile too much. I bet you could use coconut milk, though, for a delicious curry.
Extra herbs could also be added to this curry–mint would be great, as would lfenugreek or emon balm. I like the idea of adding a lot of spinach, though, and the next time I make this curry that is what I will probably do–add up to a half pound of minced fresh spinach leaves. Just be sure to add the herbs and spinach at the very end of cooking, after the pan is off the heat, so that they fresh flavors and green color is retained.
Forager's Wild Mushroom Curry with Spinach
Ingredients:
2 medium onions, peeled and thinly sliced
8 tablespoons butter
4 tablespoons canola oil
1 teaspoon salt
1 head garlic, peeled and thickly sliced
2″ cube fresh ginger, peeled and thickly sliced
5 whole green cardamom pods
1 black cardamom pod
1/2″ piece cinnamon stick
5 cloves
1 teaspoon black peppercorns
1 tablespoon coriander
1 teaspoon fennel seeds
1/4 teaspoon fenugreek seeds
1 teaspoon ground turmeric
1 tablespoon paprika
5 cups mixed fresh wild or wild and cultivated mushrooms, including at least 1 handful dried shiitake soaked in a little over two cups hot water
2 cups soaking liquid from shiitake mushrooms
scant half cup heavy cream
2 tablespoons tomato paste or sauce
1/2 cup whole milk yogurt
up to 1/2 pound fresh spinach, minced
1/2 cup minced fresh cilantro
salt to taste
Method:
Heat 1/2 of butter in a heavy bottomed pan, and add onions. Sprinkle witht he salt, and cook, stirring, until onions brown to a deep reddish color. Scoop onions out of the pan and put in a blender, spice grinder or food processor, along with garlic and all the spices, up to and including the paprika. Process to a smooth paste.
Heat the rest of the butter and canola oil the heavy-bottomed pan. When it is hot, add the mushrooms, and cook, stirring for about three minutes, allowing the puffballs to soften and shrink slightly. Add the ground up spice mixture, and stir and fry until the mushrooms are softened and the spice paste has begun to stick slightly to the bottom of the pan.
Gradually deglaze the pan with the mushroom soaking liquid, stirring it into the mushroom mixture as you go. (If you are vegan, skip the instructions for the dairy products.) After all of the mushroom liquid is in the pan, stir in the heavy cream and tomato paste or sauce.
Bring to a simmer, and allow to cook for about ten minutes, stirring as needed.
Add the yogurt, fresh spinach and cilantro, and stir to combine well.
Taste for salt and correct seasoning as needed. Serve over basmati rice.

12 Comments
RSS feed for comments on this post.
Sorry, the comment form is closed at this time.
Powered by WordPress. Graphics by Zak Kramer.
Design update by Daniel Trout.
Entries and comments feeds.