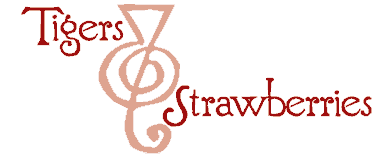 Cook Local, Eat Global
The first time I ever tasted a pasta sauce that could truly bear the name "ragu bolognese" was in Providence, Rhode Island in a little restaurant up on Federal Hill. That is the old Italian section of town, and literally, you can walk into any little eatery there and get fantastic Italian food–food that tasted just as good as the meals Zak ate all over Italy in his travels during his youth. I don't remember the name of the place I tried it at, but it was small, dimly lit, and inexpensive, but the food–it was to die for.
And the ragu bolognese–the meat sauce of Bologna, Italy, was heavenly.
Later, back in class at Johnson & Wales, I learned how to make it from an Italian chef. He didn't follow the famed recipe of Marcella Hazan–which I dare not change for fear of Internet foodies descending upon me with torches, wooden spoons and meat forks–but his method makes a sauce just as good as hers, if not slightly better, because the meats end up with a silken texture that is simply delectable.
But, over the years, I have fallen from grace, and have been known to fiddle with the sacred ragu recipes and have come up with a version I call "Hillbilly Ragu Bolognese." It's hillbilly because I replace the pancetta with plain old bacon from Ohio pigs, and I know that is, according to most Italian chefs, a big no-no. Smoked pork products supposedly upset the delicate balance of the ragu, but, in my opinion, and in my experience, if you are using a lightly smoked bacon, and rinse it, then pat it dry before using it, a lot of the salt and some of the smoky taste is washed away with the water. Besides–pancetta is thin on the ground around here, so bacon it became.
I also use equal parts ground beef, pork and veal. Supposedly, you should use more beef than the other two, but I think it tastes just as good my way. (Otherwise, why post the recipe, really?) Using equal amounts of all three meats makes the recipe easier to remember–I don't have to keep arcane proportions in my head.
I am also wicked and add some dried herbs and garlic to the sauce as it cooks. Garlic, especially, supposedly messes up the flavor of the sauce, but this hillbilly thinks that a little bit of garlic, added while the meat is simmering, makes it all taste meatier. Garlic added to beef makes it beefier, pork, porkier and veal–well, more veally. And that is a good thing, in my book. It isn't like you taste the finished sauce, and the garlic hits you–it doesn't. What does happen is that it makes everything else taste better without making a nuisance of itself.
My recipe, just like all other bolognese recipes, starts with a sofrito, or what the French would call a mirepoix: finely diced onion, celery and carrot, cooked in a mixture of rendered pork fat (from the rinsed, and dried bacon, or pancetta, if you prefer), and olive oil, over low heat until they turn a nice golden brown and release a good bit of their vegetal juices.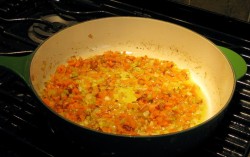 In that sense, I do not break from tradition. A lot of folks might think that celery and carrot have no place in a pasta sauce, but they are wrong. They add a sweet mellowness that melts into the meat flavors, supporting them the way a corset makes a proper foundation garment for a Victorian ball gown. Without the sofrito, a ragu bolognese tastes somewhat flat, just as without a corset (and hoops), a Victorian ball gown would be a limp, pathetic bunch of fabric.
You will notice that the garlic doesn't get cooked with the sofrito. There is a reason for that–if I were to cook it with the other vegetables, the oil would extract much more of the flavoring oils in the garlic, and then it might well be too strong and unbalance the dish. I add it later, with the meat, while it is simmering, so the oils are extracted by water, not oil, which leads to a much gentler, sweeter, less harsh garlic flavor.
After the sofrito is cooked to a nice golden brown, I add the meats, along with a generous sprinkle of salt.
The salt is necessary to help draw the juices from the meats so they can become part of the sauce. A sprinkle of dried oregano, thyme and marjoram go in now, as well as a bay leaf. (Oh, I am an infidel.)
I don't brown them in the oil, however. Immediately after adding them to the pan, I pour enough milk into the pan to cover the bottom with about 3/4 inch of milk. Then, I break up the meat and let it simmer in the milk, and I cook it, stirring constantly, until almost all of the liquid has simmered away.
This method results in the super-silky, very fine and tender minced meats that I think make a superior ragu. Browning meat in oil toughens up the proteins in the meat, and when you are cooking ground meat, it can cause it to clump up and makes for a lumpy ragu. But, if you simmer the meats in milk, the individual bits of mince fall apart, and the milk helps tenderize them so you end up with a sauce with a very soft texture.
After the milk and meat juices have simmered away, then I add dry red wine–about 3/4 cup. The milk helps keep the acid in the wine from toughening the meats as well–and then I add some canned, diced tomatoes and a small amount of tomato paste. I never add crushed tomatoes or tomato sauce–the tomato is not the point of the sauce–the meat is–and I want it to be at center stage. Too much tomato product and it overpowers the meat flavors–too little, and the sauce lacks character. I have found that for three pounds of meat, a fourteen ounce can and a half of diced tomatoes with their juice and about three heaping tablespoons of tomato paste do the trick.
Then, I turn the heat down to low, and leaving the pan covered only by a splatter screen, I let it simmer once again until most of the liquid is gone.
At that point, in goes a cup or two of meat broth–beef is best, but chicken will do if that is all I have. (I had beef broth today, and my was it good!)
Then, I let it simmer until it is almost dry again, then finish it off with about a quarter to a half cup of heavy cream. (Once again–there are some recipes that use cream and others which do not. Mine does, and I like the results.)
I taste the sauce and if it is a little bit flat, I add a spare teaspoon of anchovy paste–which inevitably perks it right up and sends it over the edge.
Traditionally, it is served over fresh tagliatalle–but I often use the handmade fettucine from Rossi Pasta. Zak, however, prefers penne, which he can eat without tying his long, curly hair back. Because he had a stressful day, I let him have his favorite pasta shape, tradition be damned. (Which is easy for me to say since I have thumbed my nose at tradition throughout the entire recipe.) A sprinkle of the last of our fresh parsley from our deck garden, and a few shavings of Parmesan cheese finish it off, making it pretty, and even tastier, if that can be believed.
Hillbilly Ragu Bolognese
Ingredients:
2 tablespoons drippings from pancetta or bacon (If you want, you can dice up the pancetta or bacon to go in the sauce–mine went to my cat, Ozy, who was feeling poorly today, being as he is older than dirt.)
2 tablespoons olive oil
1 cup finely diced onions
1/2 cup finely diced celery (I cut the strings out of mine because neither Morganna nor Zak like the texture of them)
1/2 cup finely diced carrot
1/4 teaspoon salt
1 pound finely ground sirloin
1 pound finely ground veal
1 pound finely ground pork
1/4 teaspoon salt
3 cloves garlic, minced
1 teaspoon of mixed dry thyme, oregano and marjoram
1 bay leaf
about 1 cup of milk–it depends on how big your pot is, really. More or less, it won't hurt the sauce
1 cup dry red wine
1 1/2 14 ounce cans diced tomatoes with their liquid
3 heaping tablespoons tomato paste
1-2 cups meat broth or stock–beef is best, but pork or chicken will do if that is what you have
1/4-1/2 cup heavy cream
1 teaspoon anchovy paste (optional)
salt and freshly ground pepper to taste
fresh roughly chopped flat leaf parsley
and freshly shredded Parmesan cheese
Method:
Heat drippings and oil in the bottom of a heavy-bottomed braising pan or Dutch oven over medium low heat.. (Cast iron is great for this.) When they are hot, add the onions, celery and carrots. Sprinkle with a bit of salt and cook, stirring, until the vegetables turn golden brown and are soft.
Add the meats, and sprinkle witih salt, garlic and herbs. Throw in the bay leaf.
Immediately add milk until the bottom of your pan is covered to about 3/4 inch in depth with milk.
Break up meat with a wooden spoon, and stir it into the milk, and simmer until none of the meat is pink anymore. If your milk all simmers away before the meat is done, add more. It won't hurt anything to do that.
When the meat is no longer pink, add the wine, the tomato products and turn the heat way down to what we hillbillies call "granny low." Granny low is as low as you can go without the fire going out. Cover the pan with a splatter shield and simmer until all of the liquid has simmered away. Stir now and again and don't let the pan simmer all the way dry so that the meat burns and sticks.
Add meat broth, and once again, cook, stirring now and again, until most of the liquid is gone–this constant cooking down business should take at least three hours all told. If it doesn't you need to add more liquids and keep cooking, and turn your fire down–I told you granny low–so that your liquids don't cook off so fast. This is slow food, for sure.
When most of the liquid is gone, add the cream, and stir, and allow it to simmer until it lightly thickens. Taste, add salt and pepper to taste, and if it is a bit flat–add that anchovy paste–and you will notice that it immediately perks right up.
Serve over your pasta of choice, and sprinkle with the fresh parsley and cheese just before serving.
10 Comments
RSS feed for comments on this post.
Sorry, the comment form is closed at this time.
Powered by WordPress. Graphics by Zak Kramer.
Design update by Daniel Trout.
Entries and comments feeds.