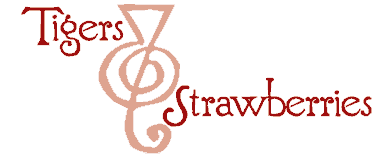 Cook Local, Eat Global
Usli ghee, or as it is more commonly known, ghee, is the Indian style of clarified butter. It is a rich, delicious, nutty-flavored pure butterfat product which not only has a higher smoking point, so it makes a good medium for frying, it adds an amazing depth of flavor to Indian foods. Many Indian vegetarians use ghee a great deal as a cooking oil, but also as a flavoring agent. In Ayeuvedic medicine, ghee is considered quite healthful and in Indian culture, it is considered among the purest and most sacred of foods.
You can buy ghee at the Indian market, but it is not hard to make at home and the end product has a fresher, more nutty flavor than the commercial product.
Making it just takes a bit of time and attention.
You start with a pound of butter–unsalted cultured butter is best for an authentic flavor. However, if you are unused to the flavor of cultured butter, which is made by allowing the cream to sit and be inoculated with a bacteria similar to the one which makes yogurt, then, I would say that you should make your first batch of ghee with sweet cream butter. The butter pictured here is from our new local creamery, and judging by the slightly cheesy aroma and tangy flavor, it is cultured butter.
All you have to do is put it in a pot, and melt it over medium low heat.
Don't stir it. Once it is melted, turn the heat down to low, and watch, smell and listen.
What are you watching for?
You are watching the some of the milk solids float to the top in the form of foam–which you skim off and discard, and sink to the bottom, where they form a layer of ook on the bottom of your pot.
The goal is for that layer of ook to brown without burning while the butter bubbles along, boiling away the water that is inherent in butter.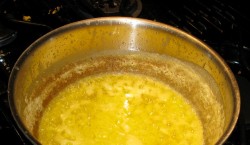 Your job is to keep turning the heat down so that your milk solids can brown slightly–which gives the finished ghee a delicious, nutty aroma and flavor, and to listen for the burbling sound of the water cooking off to stop. In the second photo, you can see how the milk solids have begun to brown, not burn. Burned milk solids will fill your house and your ghee with a bitter, acrid aroma, which is, to put it nicely, not desirable either in a comestible or a domicile.
Once the bubbling stops, and the milk solids are browned, the ghee is finished.
All you have to do is pour it through a fine mesh strainer or several layers of cheesecloth to catch any wayward milk solid bits which are either left floating on the surface of the ghee or which might detach themselves from the bottom of the pot and try and sneak into your container.
What is left is pure butterfat which will solidify at seventy degrees–or room temperature. I seal mine up in a canning jar and keep it at room temperature in a cabinet next to the stove. It doesn't need to be refrigerated and if you do–it is harder to remove a specific amount from the jar. Chipping away at it with a table knife or spoon is tedious and results in bits of it flying from the jar and landing on your face, your hair, the countertop and possibly even your cat. And while your cat might not mind–especially since he or she would get a nice taste of ghee while they cleaned themselves up–you might mind your hard work going to waste. (Though if you get some on your face, rub it in. It makes a nice moisturizer. Though, if you fall asleep with it there, you may awaken to a cat's raspy tongue licking it off.)
It lasts for months if you keep it tightly sealed and away from light and extreme heat. I would say three to six months, really.
All fats will go rancid if not handled properly–even vegetable fats. (Nuts are a big culprit for going rancid–ick!) If there is any doubt about your ghee–if it has an off scent, then taste it. If there is any bitterness to it, or an unpleasant–dark, dank smell and flavor–it has gone rancid. Throw it out.
You can keep it in the fridge to keep it longer, but, you have to remember to take it out long before you use it to soften it up so you can get it from the jar. Yes, you can microwave it to soften it, but repeated heating and cooling will make it not last as long, so you lose the benefit of keeping it in the fridge.
Now that you know how to make ghee, I can tell you very easily how to make clarified butter in the French fashion. Do the same stuff you do for ghee, except don't let your milk solids brown on the bottom. The French don't seem to care for that nutty flavor that I think makes ghee so special and delicious.
What do you do with ghee once you have it?
I love to use it in making tarkas to enrich the flavor of dals, but you can use it in any Indian recipe you like.
The possibilities are endless.
10 Comments
RSS feed for comments on this post.
Sorry, the comment form is closed at this time.
Powered by WordPress. Graphics by Zak Kramer.
Design update by Daniel Trout.
Entries and comments feeds.