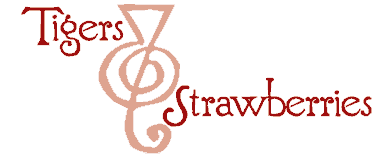 Cook Local, Eat Global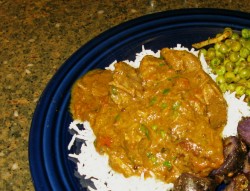 As opposed to a naughty beef curry, I suppose….(I now feel the need to make a curry called Naughty Beef Curry, of course–just you wait and see.)
No, I am just paraphrasing the words of my friend Heather used to describe the curry I made for her birthday supper. She had a second helping of it and said, "This is a really nice curry."
Meaning, it wasn't too hot, nor too bland, nor too spiced, nor too creamy, nor too tomatoey.
It was just right.
I have to admit that I got the inspiration for it (but not the recipe–the recipe is my own) from an out of print (it is out of print in the US, but in print in India) Indian cookbook called Niru Gupta's Everyday Indian. I like the book a great deal, in large part, because Niru Gupta, a lovely woman who looks just like someone's auntie or amma, whom you would trust to give out good recipes, teaches simple recipes for delicious curries do not have huge lists of ingredients. She also organizes her book around menus for everyday suppers–not big feasts–that you might find on the family table in her home in Delhi. She, as an experienced cooking teacher, gives very good step-by-step instructions to help the beginning cook along, which is something that is quite necessary when you are learning a cuisine as complicated as the ones in India.
This appeals to me, because one criticism that many Westerns sometimes rightly make about Indian food is that it is too complicated to even attempt, that there are way too many ingredients and unfamiliar techniques to deal with when you are just trying to get dinner on the table quickly, and it is just hopeless to try.
Well, now, some dishes, like Shahjahani Biryani are indeed complex. But then, Indian home cooks only make that for festivals, feasts, weddings and holidays. The problem is that in the US, we go to Indian restaurants and eat the complex dishes which are easily made by professional chefs in restaurant kitchens and expect that all Indian food is made that way. So, we get books that contain recipes for our favorite restaurant meals, we read the instructions and nearly pass out from the overwhelming amount of work that is proposed by the author.
But Niru Gupta is an author who is not trying to get us to cook those dishes. She is just sharing her recipes for simple, every day foods that she and her family members cook in their homes for family meals.
Her recipes are for simple, homestyle meals that are filled with flavor and fragrance enough for any spice-lover, while providing relatively quick, delicious sustenance for a busy family on the go.
So, I was reading her book, and found ideas for all of the dishes I cooked for Heather, and everything turned out so well, I decided that I must peruse her book more often in the future.
Which is exactly what I will do, the next time I want a nice curry.
I guess that I am on my own when it comes to making up a naughty curry.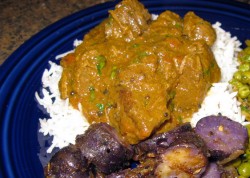 A Nice Beef Curry
Ingredients:
4 tablespoons canola oil
1 1/2 pounds onions, peeled and thinly sliced
1 teaspoon salt
2 tablespoons fresh peeled and minced ginger
4 cloves peeled and minced garlic
2 tablespoons coriander seeds
1/2 teaspoon fennel seeds
1/2 teaspoon fenugreek seeds
2 tablespoons ground turmeric
1 tablespoon ground paprika
pinch cinnamon
pinch cayenne pepper
1 1/2 teaspoons mustard seeds
2 teaspoons cumin seeds
1 whole dried chili pepper–I prefer Sanaam
3 pounds beef chuck, trimmed of excess fat and cut into 1″ cubes
1 14 ounce can diced tomatoes
2 cups whole milk yogurt, stirred
salt and garam masala to taste
1 cup roughly chopped fresh cilantro leaves
Method:
In in a heavy bottomed pot or pressure cooker, heat oil over high heat. Add onions, and sprinkle with salt. Cook, stirring, until the onions are medium brown. While the onions are cooking, grind the next ingredients up to and including the cayenne pepper, into a damp paste, and add them to the onions after they are medium brown. Keep cooking until the onions are a deep reddish brown.
Remove the onion and spice mixture from the pot and puree it to a smooth paste. (This is optional–if you want a smooth curry sauce, with a great deal of brown color, you must do this–if you don't care about it–then don't bother. I like it better smooth.) Set paste aside.
Add whole cumin and mustard seeds to the oil in the pot. Add beef on top, and cook, stirring, until the beef browns and the seeds are toasted and fragrant. Add whole chili pepper, and the onion-spice paste, and cook, stirring, for one minute or so more.
Add to the pot the tomatoes and yogurt, and stir to combine. If mixture is too thick to boil without sticking to the pot, add a bit of water to thin it slightly.
Bring to a boil, and if you have a pressure cooker, put lid on, bring to high pressure and cook for about 45 minutes. Bring pressure down naturally–do not quick release the pressure–it will toughen the meat back up. After pressure is released, open the lid and boil the curry until the sauce thickens slightly–about five minutes. Stir as needed.
If you do not have a pressure cooker, go out and get one. No, really, it will make your life easier. But, until then, cook this in a big, heavy bottomed Dutch oven or soup pot, and after you add the tomatoes and yogurt, bring to a boil, then turn down heat so that the curry simmers. Close lid and cook, stirring as needed until beef is tender–about two hours or so. Make sure it doesn't burn or stick to the bottom, adding watter or yogurt as needed to keep this from happening.
Just before serving season to taste with salt and garam masala, and stir in the cilantro leaves.
You could add potatoes to this curry, or turnips. I'd have added turnips if I had them around the house. Mushrooms would be tasty also.

19 Comments
RSS feed for comments on this post.
Sorry, the comment form is closed at this time.
Powered by WordPress. Graphics by Zak Kramer.
Design update by Daniel Trout.
Entries and comments feeds.