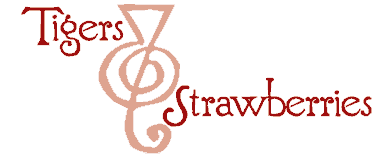 Cook Local, Eat Global
While technically, last year was Kat's first Christmas, at that time, being only a few months old, she didn't really give a damned about it. So long as she was nursing, she was happy.
This year, on the other hand, she helped us decorate the tree, bake cookies and wrap presents.
And, as you can see, while she was technically able to unload her own stocking–she got a little bit of help from a friend.
That's because two of the presents in her stocking were feather wand kitty toys, and Delia was all about them. I needed to get new ones because between Kat and Delia, the last one we had became completely denuded of feathers.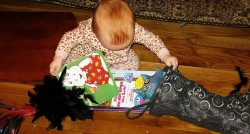 Eventually, Kat figured out that she didn't need Delia's help to get the stocking unstuffed.
I really enjoyed reading her Max's First Word; the Ruby and Max stories were favorites when Morganna was a kid, and many of the books are out of print, so I was thrilled to find a copy of this one, which is really funny. Ruby and Max are still around, mind you–they, in fact, have their own show on Nickelodeon, but I don't like the new way they are drawn. The original art was much better. The new Max and Ruby look way too sweet and cutesie for my taste.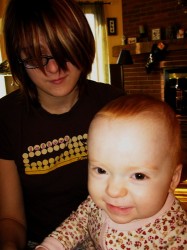 Morganna and Kat were both very cute in the morning, as you can see–we awoke to smiling faces and laughter, and it pretty much continued throughout the day. Which is the way Christmas should be. Fun and frolic, and happy kids.
Now, Morganna is still happy here, just dismayed at the hood-hat thing that Kat pulled out of her stocking. While it is certainly cute, the problem with it is that Kat cannot take it off as it is a combination of jester hat and balaclava. It will certainly keep her warm, if irritated, all winter long.
(No, we did not gift Morganna with a similar hood-hat thing, although even if we did, she couldn't complain much. She has a jester hat with bells and tassels with the word, "Pooka" embroidered on the front, as well as her cosplay bunny-ear hat, both of which she wears quite often, even when it isn't particularly cold outside.)
Kat enjoyed opening presents, though, in the way of little kids everywhere, she liked the paper and boxes as much or more than the goodies inside. Typical, typical. The cats had fun playing hide and seek with their new catnip mousies among the mountains of paper, and pouncing out at Kat, Morganna, Zak and I.
Kat's favorite present was this one–her new Radio Flyer riding toy. She had the plastic car, but it was so wide that she couldn't get her feet on the floor well enough to push it around easily, and the wheels were sticky–they didn't turn well. And, there was no way to steer the thing. I saw this one on Amazon, and read the reviews and the only bad thing anyone said was that it was very small. Hrm. That made me think it would be perfectly sized for my wee Kat–and it was. She has gotten really good at whizzing around the living room on it, and can even steer it.
7 Comments
RSS feed for comments on this post.
Sorry, the comment form is closed at this time.
Powered by WordPress. Graphics by Zak Kramer.
Design update by Daniel Trout.
Entries and comments feeds.