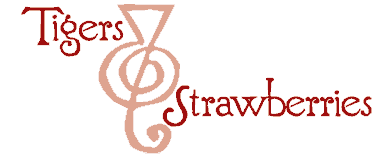 Cook Local, Eat Global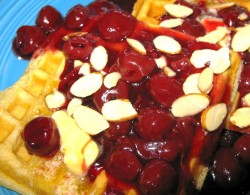 I was shocked when my father-in-law admitted to us a few years ago that he had never, in his life, had a waffle. (When we asked why, he said he wasn't sure why he hadn't eaten a waffle, except that he figured they just couldn't be that exciting.)
We therefore, took him to eat at our favorite Waffle House in Columbus, forthwith, and ordered for him a waffle with a side of sausage.
He took a bite, and declared quite distinctly, "I like waffles. I should eat more of them."
So, we went to the Waffle House again the next morning.
He had a lot of waffles to catch up on.
Now that we live in Athens, there is not a Waffle House close by.
So, when we get a hankerin' for a hunk of waffle, I must hie myself off to the kitchen and whip some up.
Which is what I did this morning, although I didn't feel like making my usual recipe which involves buttermilk (which I don't have on hand) and beaten egg whites. I was too lazy for egg-white beating, and having a dearth of buttermilk, I decided to try a different recipe.
The following recipe, which is much easier to throw together in the morning pre-coffee, I adapted considerably from Marion Cunningham's Classic Waffle recipe from The Breakfast Book. I left out the vegetable shortening, and used half whole wheat flour, added vanilla extract, cardamom and cinnamon, and some cream to her already excellent recipe.
I decided that I wanted some fruit to go with my waffles, and as any longtime reader should know, I am of the firm belief that cherries make nearly everything better. So, I dug out a jar of sour cherries in light syrup, and plopped them in a saucepan with a dab of butter, some almond extract a bit of sugar and some cardamom, and cooked them down while I made the waffles. When most of the liquid was gone, I thickened the rest of it with a cornstarch and cold water slurry, then put it all in a sauceboat and served it warm with some sliced almonds on the side.
Not only did the waffles with cherry sauce and almonds turn out to look pretty, they smelled divine and tasted golden and buttery, tart and sweet and crunchy. They were awesome.
While we ate these for a special Sunday breakfast, I think that you could serve these with a scoop of homemade vanilla ice cream for a great homey, comfort-food dessert. And think of the possibilities for a breakfast in bed on Valentine's Day, especially if you have one of those fancy machines which makes heart-shaped waffles. It would make a very pretty presentation with the golden waffles, crimson cherries and maybe some white whipped cream.
Very pretty indeed. And quite romantically tasty as well.
If you want to try a vegan version of this recipe, I suggest exchanging the milk and cream with 1 1/2 cups almond milk, and using canola oil in place of the melted butter. For the eggs, use vegan egg substitutes–they should work fine. I suspect that waffles made with these ingredients will be crisper in texture than those made with dairy products, so adjust cooking time to account for this. Just leave the butter out of the cherry sauce.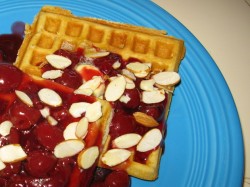 Cardamom Waffles With Cherries and Almonds
Ingredients for the Waffles:
1 cup all-purpose flour
1 cup whole wheat flour
4 teaspoons baking powder
1 teaspoon salt
2 tablespoons raw sugar
1/2 teaspoon ground cardamom
1/4 teaspoon cinnamon
2 eggs, well beaten
1 teaspoon vanilla extract
1 cup milk
1/2 cup heavy or light cream
1/3 cup butter, melted
Method:
Whisk together all dry ingredients until well blended.
Beat vanilla into eggs, then stir this mixture into the milk. Stir in cream.
Mix the wet ingredients well into the dry ingredients until very blended, then whisk in the melted butter.
Following your waffle-maker's instructions, bake your waffles until crisp and golden.
Makes about eight small waffles.
Ingredients For Cherry Sauce:
1 16 ounce jar sour cherries in light syrup (or one pound of frozen sour cherries, thawed)
1/2 tablespoon butter
1/4 teaspoon ground cardamom
1 teaspoon almond extract
1-2 tablespoons raw sugar
1 1/2 tablespoons cornstarch dissolved in 2 tablespoons cold water
sliced almonds
Method:
Pour contents of jar into saucepan and add all other ingredients except cornstarch and almonds. Simmer over medium heat, stirring now and then, until liquid is reduced by half.
Bring cherries to a boil, then add cornstarch and cook, stirring, until thickened.
Remove from heat, and keep warm until you serve.
Garnish with sliced almonds.
9 Comments
RSS feed for comments on this post.
Sorry, the comment form is closed at this time.
Powered by WordPress. Graphics by Zak Kramer.
Design update by Daniel Trout.
Entries and comments feeds.