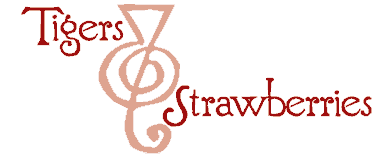 Cook Local, Eat Global
In this case, it is mahi-mahi, but I like it made with salmon, too.
(Salmon is cool, because the color contrasts so nicely–pink fish and green chutney give a technicolor, Bollywood feel to the dish, which I find to be amusing.)
I got the idea for this dish years and years ago, back when I first started working as a personal chef. My first clients were from Pakistan and Bangladesh, and they really liked fish. The original recipe came from Madhur Jaffrey's Quick and Easy Indian Cooking, a really wonderful cookbook that helped me learn how to make great curries without spending all day in the kitchen. (The secret: use a pressure cooker.) My client's mother was very impressed with the fish and was surprised to find that I was an American, not an Indian, the dish tasted so good to her.
This is a very, very simple dish to do, and is nice to make for a multi-course meal or feast where it is combined with other, more involved dishes like biryani, malai kofta or any number of long-cooked curries, because it tastes complicated, but gives the cook a break on the work.
All you need to do is make a green chutney, then coat the fish in it and bake it until the fish flakes. For Salaam, I put each portion of fish–about six ounces–in a casserole dish on top of a bed of basmati rice pilau with browned onions, garlic and chopped cilantro. This not only added a starch element to the dish, it elevated the fish a bit so that the bottom of it didn't get soggy–the extra chutney and fish juices dripped down into the bed of pilau and flavored it, but the bottom of the fish remained flaky and flavorful, not squishy and gross. I think that making a rice pilau, or even just putting plain cooked basmati, or basmati cooked in chicken or vegetable broth rather than water, and using it to line the baking dish would make a fine presentation of the dish at home or a dinner party as well.
You could use any recipe for green chutney you like, but I personally like this one–it has lots of vibrant flavors, and is quite brilliant in color. After being cooked, it darkens in color, but is still an impressively deep green, with flecks of red chilies and tiny diced bits of red onion, which of course, are not red, but are violet. Lemon or lime zest and juice add citrus tang, and fresh herbs, garlic, and ginger add the bulk of the zesty flavor.

Baked Fish with Green Chutney
Ingredients:
2 cups cilantro leaves and stems, roughly chopped
1 cup fresh mint leaves and stems, roughly chopped
5 cloves garlic, peeled and roughly chopped
1-5 green red thai chili, stem removed (Use as many as you like for the heat you like.)
1 1/2″ cube fresh ginger, peeled and sliced
zest of one lime or lemon
1/4 cup lemon or lime juice
pinch ground cumin
1/4 teaspoon ground coriander
2 teaspoons Aleppo pepper flakes
1 tablespoon canola oil
salt to taste
1/4 cup finely diced red onion
4-6 mahi mahi or salmon filets
2 cups cooked basmati rice or basmati pillau
canola oil
lemon or lime slices, halved cherry or grape tomatoes, red onion rings and cilantro and mint leaves for garnish
Method:
Preheat oven to 350 degrees F.
Take the first 11 ingredients, (up to the tablespoon of canola oil) and grind into a fine, green paste in a food processor or grinder. Add salt to taste.
Mix in the diced onion, and set chutney aside. Examine the fish for bones and remove any you find. If you wish, remove the skin from the salmon, though it helps to keep the fish intact during cooking.
Rub the bottom and sides of a baking dish with the canola oil, and put the rice or pilau in the bottom of it in a smooth layer. Pack in lightly.
Coat the fish fillets with the chutney and lay on top of the rice. Cover loosely with foil and bake for ten minutes. Remove foil and cook until done–until the internal temperature is 125-140 degrees F, depending on how well done you prefer your fish to be, or until it flakes.
Garnish as you like with thin lemon or lime slices, cherry or grape tomato halves, onion rings and whole or roughly chopped cilantro and mint leaves and serve immediately. (If you want, you can sprinkle the cherry or grape tomato halves between the fish fillets and use them to cover the bare spots on the rice to keep them from drying out. The baked tomatoes taste quite yummy.)
5 Comments
RSS feed for comments on this post.
Sorry, the comment form is closed at this time.
Powered by WordPress. Graphics by Zak Kramer.
Design update by Daniel Trout.
Entries and comments feeds.