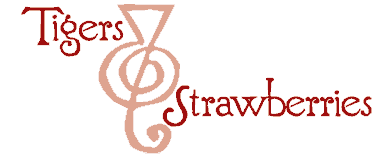 Cook Local, Eat Global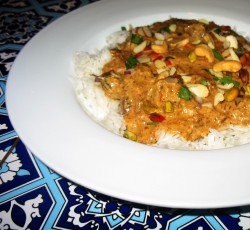 First things first: Lamb Shahi Korma is -not- diet food.
It is not low calorie.
It is not an everyday dish.
But what it is us an utterly sinfully delectable dish of lamb braised in spices, then cooked with a velvety sauce that is fragrant with spices and thick with toasted, ground nuts. It is the most wicked of curries, not because it is hot with chilies, but because it is so utterly, divinely rich.
It is a dish with its roots in the courts of the Mogul Emperors of northern India, and it reflects the royal tastes of the richest, most powerful rulers of that period.
It is something that I make and eat maybe once or twice a year, because if I ate this more often, well, it would be wretched for my waistline, but when I make it, it always disappears. There are never any leftovers, because it is so good, I once had a woman say that if she thought that no one would look askance at her, she would pick up her plate, stick her face right into it and lick it clean, it was so good.
And it is that good.
The sauce is thick and unctuous with cream, yogurt and ground nuts, and subtly scented with sweet spices, and the lamb is falling-apart tender, and filled with its own unique, mildly gamy taste. Garnished with toasted nuts, chopped cilantro and a fine dice of red onion, and red sweet bell pepper, which adds another dimension of flavor and crunch to the dish, Lamb Shahi Korma is a classic that is perfect for holiday celebrations, weddings and any other special events, because it can be made in large quantities, and it can be made ahead of time, then warmed back up just before serving.
In fact, I think that the sauce is only made better by being made a few days in advance. Letting it sit tightly covered in the refrigerator only gives the spices and toasted ground nuts time to become friendly with each other and meld together into a unified, undefinable flavor that is infinitely complex, since it becomes nearly impossible for all but the most discriminating diner to unravel the aromas of each individual spice from each other.
It simply becomes amazingly delicious, and a perfect dish to eat during a celebration of love and unity, because all of the elements of the dish come together into a seamless, perfect whole, giving it a perfect symbolic resonance to the occasion.
That is my kind of dish.
How is it made? Well, in the old days, it was a very laborious process, because not only did the spices have to be ground by hand, but the nuts had be shelled, then toasted, and then ground in large mortars and pestles by hand. The meat was cooked separately, simmered until it was about to fall off the bones, and then it was cut from the bones by hand, and the lamb broth was skimmed of fat and cooled, to be used as the basis of the sauce, which was spiced carefully with onions browned deeply, then ground into a fragrant paste, a paste of wet and dry spices, then enriched first by the addition of first the ground nuts, then cream, and then yogurt, to add a delicate tang which perfectly balanced the very rich ingredients.
Then, the meat was added to the sauce, and allowed to simmer for good long time, until everything was tender, perfectly spiced and fragrant.
Now, we have access to a few shortcuts, like a pressure cooker to cook the meat, and the availability of pre-made nut butters. I like to use both toasted cashew and toasted almond nut butter, although you can use only one if you like. I still take the time to brown my onions very deeply, however, because such long, slow cooking of the onions brings out their nutty and sweet character and removes every bit of sulfurous bite that they posses in their raw state. They also add to the delicate brown color of the sauce, which is nice, because I don't really like the look of a very pale, nearly white lamb korma. It just doesn't look as appetizing to me as the brown-tinted kormas colored with caramelized onions do.
I know that this ingredient list is long. That is just how Shahi Korma is–remember it is a dish that came from the royal kitchens of some of the most powerful, wealthy rulers in the world, and back then, there were folks whose jobs were just to grind spices, mix masalas, and grind up nuts into pastes, not to mention the head cooks, the sauce makers, the grill masters who cooked the game and fowl that came from the royal family's hunting expeditions and the sweet makers. This is a complex dish, and while I know you won't have all of these expert helpers in your kitchen, you have to be thankful that we at least have access to electric spice grinders, food processors, gas stoves and refrigerators.
Besides, this is a once a year, special occasion dish. And for once a year events, such a complicated dish is worth it.
I promise.
Lamb Shahi Korma
Ingredients:
2 tablespoons canola oil
1 pound boned leg of lamb, trimmed of excess fat and cut into 1″ cubes
1 pound boned lamb shoulder, trimmed of excess fat and cut into 1″ cubes
2 bay leaves
1 stick cinnamon
1 black cardamom pod
3 whole cloves
water as needed
4 tablespoons canola oil
4 cups thinly sliced peeled yellow onions
1 teaspoon salt
2″ cube fresh peeled ginger
6 cloves peeled garlic
1″ stick cinnamon
6 whole cloves
1 teaspoon black peppercorns
2 dried Indian chilies
6 whole green cardamom pods with seeds
1 teaspoon fennel seeds
2 teaspoons Aleppo pepper flakes
1/2 teaspoon cumin seeds
2 teaspoons coriander seeds
1 cup toasted almond butter
1 cup toasted cashew butter
2 teaspoons ground turmeric
2 teaspoons paprika
1 cup heavy cream
1 cup full fat yogurt with the fat stirred thoroughly into the yogurt
salt to taste
toasted sliced almonds, cashew halves and pistachios for garnish
roughly chopped cilantro and mint for garnish
very finely diced red onion and sweet bell pepper for garnish
Method:
Heat canola oil in the bottom of a pressure cooker or Dutch oven on medium high heat. Pat lamb meat dry with a paper towel, and add them to the pot and brown them on add sides. Add the spices and enough water to cover the meat by one inch. If you are using a pressure cooker, bring to a boil, lock the lid into place on highest pressure setting. Bring to pressure, and turn heat down and cook on high pressure for twenty-five minutes. Allow pressure to release naturally, and open the lid of the cooker. Make certain that the lamb is tender. Remove the lamb from the broth, and set it aside. Put the broth, either in the pressure cooker, or another container, into the refrigerator, so that the fat will congeal on the top of the liquid–it makes it easier to remove most of it. (This portion of the recipe can be done a day or two before you serve it. Just refrigerate the meat and the broth separately.)
If you do not have a pressure cooker, cook the meat until it is tender, but not totally falling apart tender. You want it to still be a bit stiff so that it won't totally fall apart when you cook it in the sauce later.
In a deep Dutch Oven, put the second measure of canola oil, and heat it on medium high heat. Add the onions, and spread them out into as thin a layer as possible, and sprinkle the salt evenly over them. Cook, stirring until the onions turn a deep reddish brown. When they are done, scrape them out of the pot into the bowl of a spice grinder or blender. Add to them the ginger, garlic, and spices, and grind into a thick paste.
Skim most of the fat from the lamb broth and strain it to remove the whole spices. Discard the spices.
Put the pot you cooked the onions in back on the stove on medium heat and deglaze with one cup of the lamb broth. Add the spice paste, and cook, stirring, until it is fragrant. Add the nut butters, and continue cooking, stirring, for another couple of minutes. Stir about two cups of lamb broth, and simmer to reduce by half. Add the cream, and the lamb, and cook, stirring, until the lamb is heated and the sauce is thick. Add the yogurt, in two tablespoon increments, stirring thoroughly between each addition. Allow each addition of the yogurt to incorporate fully into the sauce before adding the next addition.
After the yogurt is added, you can hold the korma at serving temperature (141 degrees F) for several hours before serving to let the flavors meld, or you could cool it, and store it in the refrigerator for a day or two before reheating it to serve. In either case, it will taste lovely, though I prefer to make it a day ahead so that it goes beyond lovely into sublime.
Serve over plain basmati rice, garnished with a sprinkling of the toasted nuts, some roughly chopped herbs and if you like, the very finely diced onion and pepper for added color and crunch.
This recipe serves 8 people as part of a full Indian meal–12 if it is part of a full Indian feast with six to eight more dishes.

21 Comments
RSS feed for comments on this post.
Sorry, the comment form is closed at this time.
Powered by WordPress. Graphics by Zak Kramer.
Design update by Daniel Trout.
Entries and comments feeds.