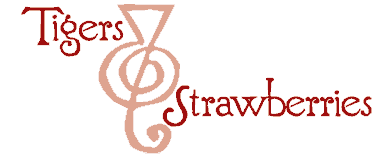 Cook Local, Eat Global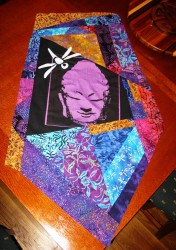 Here is the completed top to the wallhanging I am making for Zak; you can see that I added the appliqué dragonfly two days ago. I drew a pattern on a used piece of printer paper, and cut it out. Then, I applied fusable webbing to the wrong side of two different fabrics–these are really cool–they are iridescent–one is pale ice blue and the other is silvery. Then while the paper for the webbing was still on the back of the fabric, I traced the pattern pieces and cut them out, then peeled off the paper, and placed the pieces on the wallhanging front.
Then, I carefully fused them onto that fabric with a moderately cool iron. Tomorrow, I will do a zigzag stitch around each piece to hold it and to give it a finished edge.
After that, I will cut the batting and the backing fabric–the fabric I am using for it is on the front of the quilt as well, but only in tiny pieces. It is the darkest blue batik with paler leaves and tendrils on it.
Then, I pin-baste the layers together using safety pins, and I start machine quilting. I'll be using variegated purple and indigo thread in a geometric pattern that will follow the larger shapes of the fabric pieces on the top, which I put together in sections, starting with the center piece.
The centerpiece, with Buddha's face, if I quilt it, will be done by hand, as soon as my lap quilting hoops arrive. I tried to work on another wallhanging that I had pieced together ages ago for my Mom in it, but because of the thickness of two layers of flannel and the batting, there was no chance that the embroidery hoops I had could work. They just couldn't keep the tension tight enough for hand quilting. (Which is a skill I am just now learning–it is not hard, but it is not easy, either. I suspect it would be easier on something other than flannel, with a proper quilting hoop or frame. We shall see soon enough.)
And in weather news–it is snowing like mad. We've been in the midst of a winter storm here–it isn't as bad as was predicted, which is not surprising, but still it is pretty bad. Lots of ice, sleet, freezing rain and snow. Which is just wonderful considering that our river in town, the Hocking, has just receeded down from flood stage a few days ago. Wait until all of this melts. It will come up above flood stage again, maybe two more more times this spring, mark my words.
5 Comments
RSS feed for comments on this post.
Sorry, the comment form is closed at this time.
Powered by WordPress. Graphics by Zak Kramer.
Design update by Daniel Trout.
Entries and comments feeds.