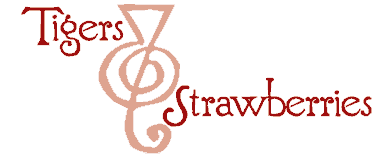 Cook Local, Eat Global
My love affair with Jamaican jerk did not start in Jamaica.
It started in Athens, with the purchase, on a whim, of a book called Jerk: Barbecue From Jamaica, by Helen Willinsky. I found the book, now sadly out of print, in The Little Professor bookstore on Court Street, and intrigued by the brilliant colors and the beautiful smiling face of the author on the cover, I had to check it out. Once I opened the book and read the recipes, I was hooked and immediately plunked down my $10.95 plus tax and scurried off to drool over the delectable recipes in private. (I really think it is declasse to drool over a cookbook in public.)
I started experimenting with the recipes in the book, and discovered much to my and my friends' delight that we all like jerk.
What is jerk? It is a method of grilling, a marinade, a seasoning mixture, and a barbeque meat. It is all of these things and moreover, in Jamaica, it is a way of life.
Central to the flavor of jerk is allspice, also known as Jamaican pimento or pepper. Some folks would argue that scotch bonnet peppers were the heart and soul of jerk, but they would be wrong, according to Willinsky. And since she is a chef from Jamaica and all of the recipes I have used from her book have been fantastic, I think I will trust her on this. (And, having eaten jerk made by other recipes which did not feature allspice as prominently, my tastebuds agree with Helen–the scotch bonnet is a supporting character when it comes to jerk.)
Over the years, I have changed Willinsky's recipe for jerk rub considerably–to the point that I am not sure it even really resembles hers anymore, except in as much as allspice still has the starring role. This is due to my own experimental and inquisitive nature, always wondering, "Would it taste good with ginger in it?" (Yes.) Or, "Could I just use all scallions instead of scallions and onions?" (Yes, and the flavor is much improved that way.)
After messing with the basic jerk rub recipe to the point that it is very different from the original, I also developed a pair of variations: one for boneless skinless chicken breasts, and the other for medallions of pork tenderloin. I'm giving the recipe for all three variants here, because they are just that good, and I am just that nice.
These recipes were just the thing to start off the grilling season yesterday. The sun was out, and while it was cold, there were flowers blooming and the scent of spring, all filled with damp earth and new growth. A perfect afternoon for sweeping the dead leaves off the deck, scrubbing the bits of rust that accumulated on the cast iron grill and making up a triple batch of jerk marinade and grilling up some beef, pork and chicken. (Needless to say, we had to have friends over to help us eat all the good stuff–friends who obliged gladly.
The evening went beautifully–there was plenty of great food, and even though it got cold after darkness fell, the spices from the jerk kept us all quite warm.
Basic Jerk Rub
Ingredients:
1 head garlic, peeled and finely chopped
1 cup very finely minced scallion, both green and white parts
3 tablespoons fresh thyme leaves
2″ cube fresh ginger, peeled and minced
fresh chili pepper, minced–to taste
1 teaspoon whole peppercorns, freshly ground
2 tablespoons whole allspice berries, freshly ground
1 teaspoon whole cloves, freshly ground
1/2 teaspoon ground cinnamon
1/4 whole nutmeg, ground
1/2 teaspoon salt
2 1/2 tablespoons canola or peanut oil
Method:
Mix everything together, then rub into the surface of thinly sliced beef (top round or flank steak is best, cut into 1/4 inch thick slices on the diagonal), pork or pounded boneless skinless chicken breasts. Allow to sit for an hour or two, and then grill over a very hot fire until done. Remember, when you cut your meat very thinly, it cooks quite quickly, so turn it once and keep an eye on it! (I cut the meat into thin slices before rubbing it and cooking it so as much jerk goodness can get in and around it as possible. Thicker slabs get less of the jerk in them, so they don't taste as good.
For the chilies, scotch bonnet is traditional, but use what you have. I used Thai bird chilies because that is what I had. Also use as much as you like or leave it out, and let diners use hot sauce to taste so everyone can have it as mild or hot as they like.
Fresh and Tangy Variation for Chicken
Add to the basic marinade a teaspoon of raw sugar, two tablespoons of Aleppo Pepper, and remove the other chile peppers. Add 1/2 cup minced fresh cilantro and 1/4 cup freshly squeezed lime juice.
Pound the chicken breasts to 1/4″ thickness and let them marinate for at least two or three hours. Grill quickly over a very hot fire and serve immediately.
Variation for Jamaican-Japanese Pork Tenderloin Medallions:
Add 2 tablespoons tamari soy sauce, 2 teaspoons raw sugar, 1/4 cup pureed pineapple and 1 teaspoon sesame oil. Cut pork tenderloin into 1/2″ thick medallions and marinate them in this rub for at least two hours. Grill quickly over a very hot fire, turning once. Serve with a pineapple-mango salsa or relish.
Here is a truly multi-culti fusion way of serving jerk which, oddly enough, works.
Lay a steaming hot garlic naan on a plate. Add a sprinkle of lettuces, and a smear of either Indian lime pickle or Thai sweet chili sauce (which we jokingly call "cracky-crack" sauce at home because it is really addictively good. Sweet, sour, and tingly-spicy). Lay jerked meat of your choice in the center, and wrap it up tightly and enjoy a sandwich that shouldn't exist, but well, tastes damned fine anyway.
The basic recipe and the variations make enough for about a pound and a half or two pounds of meat. If you have leftover rub, you can leave it in the fridge for a week, or freeze it for up to six months.
5 Comments
RSS feed for comments on this post.
Sorry, the comment form is closed at this time.
Powered by WordPress. Graphics by Zak Kramer.
Design update by Daniel Trout.
Entries and comments feeds.