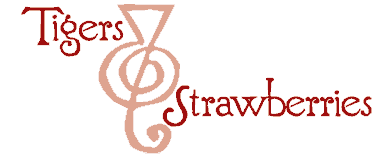 Cook Local, Eat Global
I bet you are wondering why I called this recipe "Kiss, Kiss, Bang Bang," right?
Well, it has nothing to do with either James Bond, the movie with Robert Downey Jr. or the Torchwood episode of the same name.
It has to do with the nature of the recipe I am presenting.
This pasta sauce is such an explosion of strong flavors, that if you were to kiss someone after eating it, you would make a big bang of an impression upon them.
And probably not in a good way.
So, this title is a warning of sorts. If you are in a kissing mood after you eat this spaghetti, I suggest that you choose your target kissee wisely. The best strategy would be to feed your intended recipient of the kiss some of the pasta first, so that the two of you are equally armed when it comes to the strong flavors and aromas left in the mouth. The combination of caramelized onions, ramps, green garlic and goat feta is powerful–delicious, sensual and delightful, really, but you don't really want to share it second hand. (Well, unless you know someone like me who thinks the aroma and flavor of garlic is just about the sexiest ever….) And the combination is strong enough, thanks to the ramps, that it will defeat the liberal application of Listerine, Altoids and Crest. (On the other hand, personally, I'd sooner kiss someone who has just eaten a raw garlic clove than someone who has washed his or her mouth out with Listerine. Listerine tastes like someone has been licking a hospital floor. Ick.)
So, the title is a warning, but it is also an advertisement for those who love big bangin' flavors–if you love the sweetness of caramelized onions, the tang of garlic, the heady aroma of ramps, and the sword-sharp bite of goat feta, then this recipe is for you. Take all of those flavors, add the sweetness of tomatoes and the heat of a little bit of chilies, and you have a great, quick sauce for spaghetti that will not only chase the blues and blahs away, but will chase away anyone else you might want to be rid of as well.
The truth is–you can leave out the ramps if you must–especially if you have no way of getting them. Just add more green garlic or add some regular garlic to the sauce. Or just plain old leave it out. You can also forgo the butter in the recipe and just use olive oil instead, but I find that a bit of butter in addition to the olive oil softens the flavor of all of the alliums, and adds a certain richness to the sauce, making it cling deliciously to the spaghetti. You can also leave out the optional teaspoon of anchovy paste in order to make this dish vegetarian–the anchovy paste adds a great deal of umami flavor, but it isn't necessary. I just think it perfectly rounds out the sauce and ties the different allium tastes together into a cohesive whole.
As for the goat feta, I was lucky enough to get some of the first batch of Chris Schmiel's (of Integration Acres) home made feta from his goats. You may not be so lucky, so if you can't get goat feta, use whatever feta you can get–the creamiest, tangiest, most sharp feta you can find.
One more thing–I used home-canned tomatoes and marinara sauce from last summer's abundant tomato crop, but you can just as easily use store-bought canned tomatoes and jarred marinara. In fact, this would be a quick way to jazz up jarred sauce–just use the highest quality sauce you can buy, one without high fructose corn syrup, so that you get the truest, strongest tomato flavor possible.
Kiss Kiss Bang Bang Spaghetti
Ingredients:
2 tablespoons olive oil
1 tablespoon butter (optional–you could use another tablespoon of olive oil instead)
2 cups thinly sliced yellow onions
1 teaspoon salt
1/4 cup fresh green garlic, white and light green parts only, thinly sliced
1 teaspoon Aleppo pepper flakes
1 teaspoon anchovy paste (optional)
1 teaspoon or to taste chili garlic paste–I used my homemade paste (or use freshly chopped chilies or a few drops of hot sauce)
1/4 cup dry sherry or dry red wine
1 pint canned tomatoes
1 quart marinara sauce
1 cup thinly sliced green garlic–dark green tops only
1 cup thinly sliced ramp leaves
salt and freshly ground black pepper to taste
1 pound thin spaghetti, cooked al dente
1/4 cup crumbled feta cheese
Method:
Heat olive oil and butter in a heavy-bottomed skillet until the butter foams. Add the onions and sprinkle with the salt. Cook, stirring, until the onions turn a deep golden brown. Add the garlic and continue stirring and cooking until the garlic turns golden and the onions are a deep reddish brown. add the pepper flakes, anchovy paste, and chili garlic paste, and cook, stirring for another minute. Add the sherry or red wine, and cook, stirring, until the alcohol boils off.
Add the tomatoes, and cook, stirring, until the juice is boiled off and the tomatoes begin to break down. Chop at the tomatoes with a spoon until they break down, and add the marinara sauce and keep cooking until the sauce thickens slightly. Toss in the green garlic tops and ramp leaves, and season to taste with salt and pepper. Cook until the leaves wilt slightly, then add drained spaghetti to the pot and toss until the pasta is well coated.
Swirl pasta onto serving bowls and top with crumbled feta cheese and serve immediately. (Serves six as a main course with salad.)
Posted by Barbara on May 5, 2008 in Local and Sustainable, Local Athens Food and Foodies, Recipes: Almost Vegetarian, Vegetarian and Vegan, Recipes: American Regional, Recipes: Bread, Pasta, Grains, Recipes: Comfort Food, Recipes: Fruits and Vegetables | 5 Comments
5 Comments
RSS feed for comments on this post.
Sorry, the comment form is closed at this time.
Powered by WordPress. Graphics by Zak Kramer.
Design update by Daniel Trout.
Entries and comments feeds.