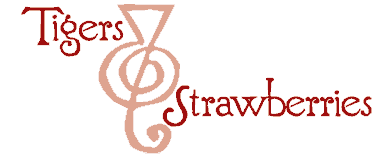 Cook Local, Eat Global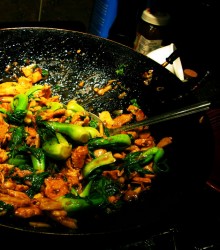 Water chestnuts are not locally grown here in Ohio, at least, not that I know of.
But, when they are fresh, they are truly divine, and I will buy them even if they were grown in California or Florida. Not only will I buy them, but I will buy several pounds of them, and use them in stir fries for a week, and the truth is, they are so delectably crisp and nutty-sweet that none of us ever tire of them. They are just that delicious.
I like coming up with new recipes to use them in, because that is more fun than just making the same several recipes–as good as they are–over and over again.
With super fresh local chicken, cilantro, green garlic and scallions all from the farmer's market, as well as some really fresh baby bok choy, I decided to put together a new twist on the Cilantro Chicken I posted about a few weeks ago.
Here, I substituted fresh water chestnuts for the carrots, and added the baby bok choy along with about a half teaspoon of freshly toasted, ground Sichuan peppercorns. I love the combination of the nutty-sweet water chestnuts and the shimmery, flowery fragrance and tongue-tingling taste of the Sichuan peppercorns. They are amazing together, and I have used them in both Five Fires Beef and Sichuan Chicken with Garlic Sauce. And while these recipes are delicious, and I love making them, there is always room for another stir-fry recipe in my kitchen!
Let's talk a little bit about how to handle fresh water chestnuts before we go on to the recipe. They should look like the ones in the picture here–there should be no sign of mold–no blue green spots, nor fuzzy white spots. They should be plump and firm. Some of them are sold cleaned and shiny, and others have a thin or sometimes thick layer of mud on them–I have found that the mud actually helps keep mold from attacking them. The shiny ones can have mold on the inside that you cannot detect until you start peeling them. The mud seems to seal any cracks in the skin that allow mold entry to the sweet interior flesh.
Store them loosely wrapped in the fridge for only a few days–five at the most–before using them. When you are ready to peel them, rinse them well, then cut off the top and bottom, and with a sharp paring knife, carve off the peel along the diameter of the chestnut. If you see any spots with blue mold or bright yellow flesh inside, cut those portions away, or if it is a big amount, toss that chestnut. The flesh should be bright white with the texture of fresh coconut–it should be quite firm. When you bite into them raw–and I suggest it–they are super crisp and VERY sweet, like the best candy in the world.
After they are peeled, rinse them again to get any flecks of peel off, and then slice them however you like. I tend to cut them into squarish slices, not rounds, just because it is easier to set them on the flat bottom or top and slice through that way than to set them on the round edge and cut round slices.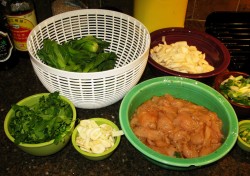 One other note on this recipe–I use fresh Thai chilies in it, but you don't have to use chilies at all, or you can use dry Chinese or Thai chilies instead. You can add more chilies, or less, to your taste–I like a little bit of them, just to add zing that balances the sweetness of the water chestnuts. I like more garlic than ginger in this recipe, but if you want, you could make it the other way around. I will put my foot down and insist on scallions instead of onions for this stir-fry, though. Scallions have a green sharpness that goes perfectly with the cilantro and bok choy and really boosts the fresh flavor of the dish. Onions would be too strong.
Okay, enough stalling. Here is the recipe for you, which I hope you try and enjoy.
And remember, if you cannot get fresh water chestnuts, try using jicama instead. It has the same texture and a similar, if not quite as sweet flavor. Canned water chestnuts just won't do for this recipe, so just pass on them this time around.
Oh, and one more thing–if you want to do a vegetarian version of this recipe, wheat gluten, also known as seitan, makes a great substitute for the chicken.


Cilantro Chicken with Fresh Water Chestnuts and Baby Bok Choy
Ingredients:
1 pound boneless skinless chicken breast or thigh, cut into 1 1/2″ X 1/2″ X 1/4″ strips
2 tablespoons Shao Hsing wine or dry sherry
1 tablespoon dark soy sauce
1/2 teaspoon freshly ground, toasted Sichuan peppercorns
2 tablespoons cornstarch
3 tablespoons peanut or canola oil
2″ cube fresh ginger, peeled and cut into thin slices
2-4 fresh Thai chilies, sliced thinly on the diagonal
8 cloves garlic, peeled and thinly sliced
5 large scallions, thinly sliced on the bias, light green and white parts only (reserve the dark green slices for garnish)
1 teaspoon sugar
1/4 teaspoon salt
1/8 cup Shao Hsing wine or dry sherry
2 cups fresh water chestnuts, peeled and thinly sliced into rectangles
1 tablespoon dark soy sauce
12 baby bok choy, bottoms trimmed, rinsed and dried (I use a salad spinner)
1/3 cup chicken broth
3 cups roughly chopped cilantro leaves (about two big bunches from the store)
reserved thinly sliced dark green scallions
1/4 teaspoon toasted sesame oil
Method:
Toss together the chicken, wine, soy sauce, Sichuan peppercorns and cornstarch and allow to marinate for at least twenty minutes, but no more than an hour and a half.
Heat wok on the highest heat your stove can produce until a thin wisp of smoke rises from the bottom. Drizzle oil into the wok, and allow to heat for about thirty seconds or so, or just until the oil shimmers in the bottom of the wok.
Add ginger and stir fry for about a minute. Add chilies, garlic and scallions and stir fry for thirty seconds.
Spread chicken in a single layer over the bottom of the wok, and allow to sit undisturbed for about a minute. While chicken is browning on the bottom, sprinkle with the sugar and salt. When chicken has browned a bit, stir fry until almost all of the pink is gone from the chicken. You will see that browned bits of marinade have begun to stick to the sides of the wok.
Drizzle the wine around the sides of the wok, and deglaze, scraping up the browned bits.
Continue stir frying until all of the pink is gone from the chicken, then toss in the water chestnuts.
Add soy sauce, bok choy, and chicken broth, and stir fry until bok choy leaves go limp and the stalks are still tender-crisp.
Throw in the cilantro and scallion tops, and stir fry for about one minute more.
Remove from heat and drizzle with sesame oil.
Serve immediately with steamed rice.
11 Comments
RSS feed for comments on this post.
Sorry, the comment form is closed at this time.
Powered by WordPress. Graphics by Zak Kramer.
Design update by Daniel Trout.
Entries and comments feeds.