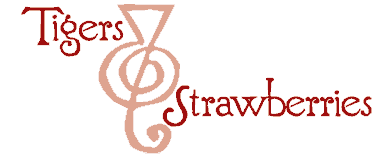 Cook Local, Eat Global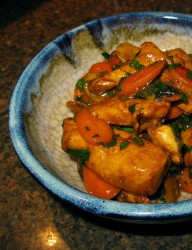 This is one of those easy to put together, simple stir-fries which has a minimum of ingredients but a maximum of flavor that make it perfect for a quick dinner after work.
While this is an original recipe, I didn't come up with the idea myself; I based it on a dish I had at China Fortune here in Athens the other week.
Their version had tiny cubes of chicken breast and thigh, coated in cornstarch and deep fried until crispy. Then, they were stir fried with scallion, garlic, ginger and chilies with a thick, dark brown sauce. At the end, a large amount of roughly chopped cilantro leaves and stems were added, and stir fried until they wilted.
The main flavors are the cilantro, garlic and chilies, and I wanted to do a version that was similar, but with a lighter, less thick sauce, and without the extra step and added fat of deep-frying. I also wanted to add a vegetable so that I could get away with serving it after work without having to go through the added effort of making a second vegetable dish.
And since everyone in our household loves carrots, and their brilliant orange color would go beautifully with the green cilantro, they seemed like a natural choice. Of course, you could add a different vegetable, or entirely leave out the vegetation, with the exception of the cilantro and aromatics.
So, without further blather, he is another simple Chinese stir fry, from my kitchen to yours.
1 pound boneless skinless chicken breast or thigh, cut into 1 1/2″ X 1/2″ X 1/4″ strips
2 tablespoons Shao Hsing wine or dry sherry
1 tablespoon dark soy sauce
2 tablespoons cornstarch
3 tablespoons peanut or canola oil
2″ cube fresh ginger, peeled and cut into thin slices
2-4 fresh Thai chilies, sliced thinly on the diagonal
8 cloves garlic, peeled and thinly sliced
5 large scallions, thinly sliced on the bias, light green and white parts only (reserve the dark green slices for garnish)
1 teaspoon sugar
1/4 teaspoon salt
1/8 cup Shao Hsing wine or dry sherry
2 cups carrots, peeled and thinly sliced on the bias
1 tablespoon dark soy sauce
4 cups roughly chopped cilantro leaves (about two big bunches from the store)
reserved thinly sliced dark green scallions
1/4 teaspoon toasted sesame oil
Method:
Toss together the chicken, wine, soy sauce and cornstarch and allow to marinate for at least twenty minutes, but no more than an hour and a half.
Heat wok on the highest heat your stove can produce until a thin wisp of smoke rises from the bottom. Drizzle oil into the wok, and allow to heat for about thirty seconds or so, or just until the oil shimmers in the bottom of the wok.
Add ginger and stir fry for about a minute. Add chilies, garlic and scallions and stir fry for thirty seconds.
Spread chicken in a single layer over the bottom of the wok, and allow to sit undisturbed for about a minute. While chicken is browning on the bottom, sprinkle with the sugar and salt. When chicken has browned a bit, stir fry until almost all of the pink is gone from the chicken. You will see that browned bits of marinade have begun to stick to the sides of the wok.
Drizzle the wine around the sides of the wok, and deglaze, scraping up the browned bits.
Toss in the carrots, and continue stir frying until all of the pink is gone from the chicken.
Add soy sauce, cilantro and scallion tops, and stir fry for about one minute more.
Remove from heat and drizzle with sesame oil.
Serve immediately with steamed rice.
8 Comments
RSS feed for comments on this post.
Sorry, the comment form is closed at this time.
Powered by WordPress. Graphics by Zak Kramer.
Design update by Daniel Trout.
Entries and comments feeds.